Directions
Yesterday, the temperature outside finally dove into "almost chilly".  It was wonderful!  It's creeping back up into "warm" today, but yesterday sure did feel like fall.  To celebrate the occasion, I decided to put together a dish I'd come across that looked to epitomize fall.  I found this recipe while looking around for ways to use the preserved lemons that I'd made.  When I started the lemons, though, it just wasn't quite time yet for this type of dish.  Now that we're into October, and I can confidently wear jeans and a long sleeved shirt outside without turning into a puddle, we're good to go.
What struck me about this recipe, besides the fact that it was a great vehicle for the lemons hanging out in my fridge, was all of the color.  It's all of the colors, and flavors, of fall nestled into one delicious dish.  Sweet, from the golden raisins and dried cranberries.  Savory, from the onions, tender butternut squash, and toasty pine nuts.  And well spiced, with the added cinnamon and those salty, brined lemons.
I couldn't wait to dive in.
Before I could, though, I made sure to prep everything.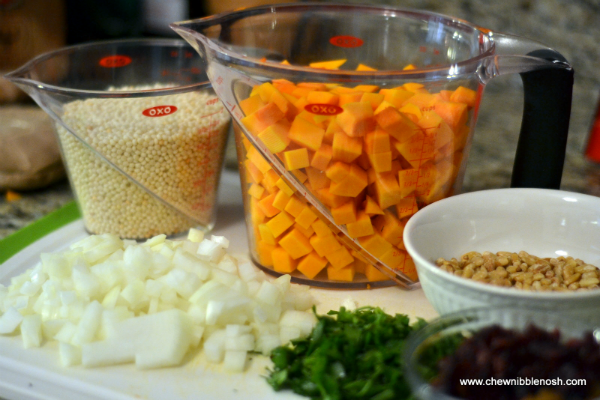 The recipe isn't really difficult, but there are a few different things going on at once, that I could completely see myself messing up, unless everything was ready to go beforehand.  Once it was prepped, it was smooth sailing.
First, I tossed the butternut squash that I'd cubed up with a little bit of olive oil and salt, and then spread it out on a cookie sheet.  Into the oven it went, to roast, for about 15 minutes.  This wasn't long enough to really brown it up, but was long enough to cook it through so that it was perfectly buttery and tender.
As the squash was cooking, I sautéed up my onions in just a bit of olive oil on the stove.
As they were sizzling away, I brought a pot of water to a boil on the stove.  In went the pearl couscous along with a cinnamon stick.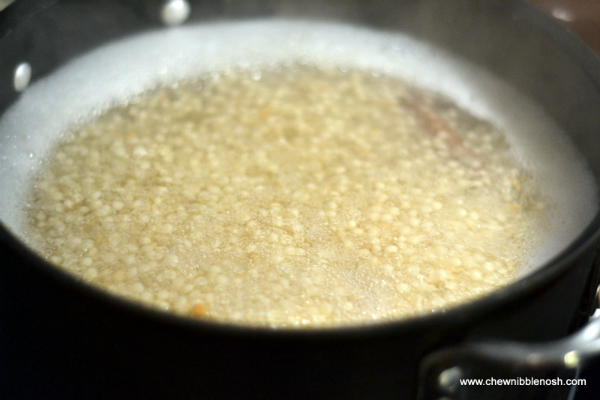 As the couscous bubbled, the squash and onions finished cooking and went into a large bowl, along with my diced preserved lemon.
As the couscous finished up, I drained it well, removed the cinnamon stick from the pasta, and added the couscous to the bowl.  I also added some fresh chopped parsley, sweet golden raisins and dried cranberries, some toasted pine nuts, and a dash of ground cinnamon.
Doesn't it just look like fall fell into a bowl?  Love it!
It was a delicious addition to our dinner last night.  So many flavors working so perfectly together, and that salty-sweet thing I love.  It was the perfect way to warm up our first chilly autumn night.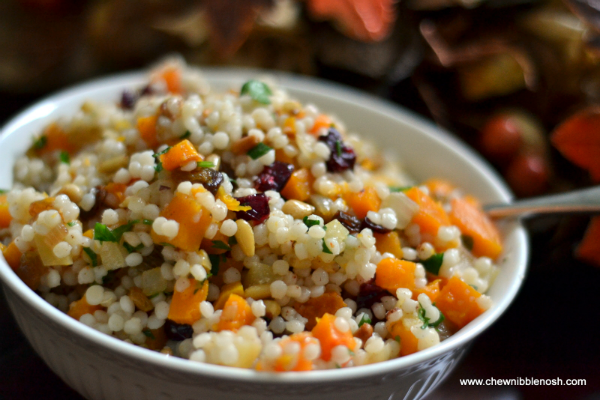 PEARL COUSCOUS WITH ROASTED BUTTERNUT SQUASH AND PRESERVED LEMONS
Adapted from David Lebovitz
Pearl Couscous with Roasted Butternut Squash and Preserved Lemons
Author:
Prep time:
Cook time:
Total time:
Ingredients
1 1/2 lbs. butternut squash, peeled, seeded, and cut into 1/4 inch cubes (For me, this was 1/2 of a big squash, about 4 cups of cubed squash total)
3 Tbsp. olive oil
salt
1 large onion, peeled and diced
1 3/4 cup Israeli (pearl) couscous, or Italian [i]pepe-style[/i] pasta
1 small cinnamon stick
1 preserved lemon
1/2 cup golden raisins
1/4 cup dried cranberries, or cherries, coarsely chopped
1/4 tsp. ground cinnamon
1/2 cup chopped flat-leaf Italian parsley
2/3 cup pine nuts, toasted
Instructions
Preheat your oven to 425*.
Toss the cubed squash with 1 Tbsp. of the olive oil and spread out on a baking sheet. Sprinkle the squash with salt and roast on the upper rack of the oven, for about 15 minutes, or until tender. Do not overcook!
As the squash roasts, heat the remaining olive oil in a medium-sized saute pan over medium-high heat. Add the onion, sprinkle with salt, and saute until translucent.
When the squash is done, scrape the cubes into a large bowl along with the sautéed onions.
Bring a large pot of water to a boil on the stove. Add some salt. Add the couscous and the cinnamon stick. Cook until the couscous is tender, 8-10 minutes.
While the couscous cooks, prepare your lemon. Cut the preserved lemon into fourths and scrape the insides of the lemon out. Dice the lemon rind into 1/4 inch cubes and add them to the bowl with the squash and onion.
Drain the cooked couscous and discard the cinnamon stick.
Add the couscous to the bowl with the squash. Add the golden raisins, cranberries or cherries, ground cinnamon, parsley and the toasted pine nuts.
Stir, carefully, to combine.
It is best served warm, but can be served at room temperature.
ENJOY!