Directions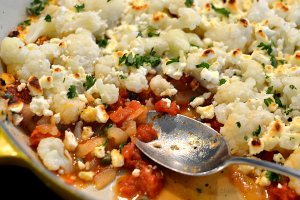 In this house, the side dishes generally play second fiddle to the entrée.  I'm usually spending so much time with the main part of the meal that the side dishes are pretty simple, or sometimes, even an afterthought.  THIS side dish, however, takes center stage, and it was absolutely the most exciting thing we had at dinner that night.
A little while ago, I won a pretty spectacular cookbook in a recipe contest. It's called Vegetarian Cooking for Everyone and it's written by Deborah Madison.  It's not really a guide to being a vegetarian as much as it is a wonderful guide on how to cook any vegetable in every way imaginable.  It's a beast of a cookbook, at 742 pages, and only a few pictures, but if you have a vegetable, and you're looking for ways to cook it, this is an indispensible guide.  I honestly probably never would have picked it up, had I not won it, but I'm so glad that we managed to cross paths.  It's now my go to guide for all things vegetable.  Check it out, if you get a chance.
This was the first recipe I tried from the cookbook, and my family couldn't get enough of it.
I started by prepping my ingredients.  I took a large head of cauliflower and cut it into smaller florets.  I sliced up on onion, minced some garlic, and measured out my dried oregano and cinnamon.  I also brought some water to a boil on the stove top.
I warmed some olive oil in a large ovenproof skillet on the stove, and then added in my onion, garlic and spices.
I cooked this mixture until the onion had softened, about five minutes.  Once my water was boiling, I added in my cauliflower pieces and let that cook for about five minutes as well, before draining it.
Back to the skillet. Once the onion had softened, I added a can of diced tomatoes, and let that simmer for a few minutes.  Then, I stirred in some honey, a tablespoon of salty capers, and some salt and pepper.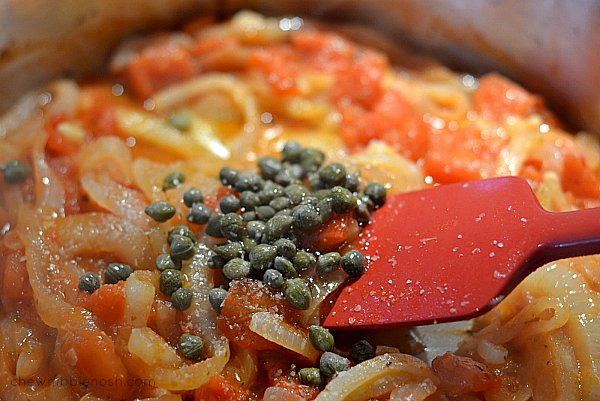 You could start this in a regular skillet and then slide the sauce mixture into a greased 2-quart gratin dish at this point, but I just used the same pan throughout.
Once the sauce was ready, I removed it from the heat and topped the tomatoes and onions with the cauliflower.  I sprinkled it with salt and pepper, and then topped the veggies with a hefty dose of feta cheese.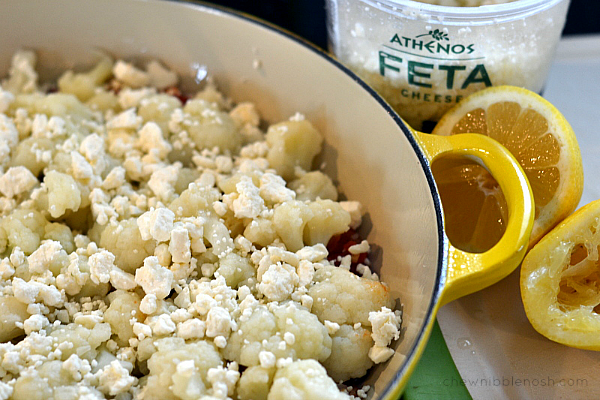 I squeezed a lemon over the top of the feta and cauliflower, and popped the dish into the oven, under the broiler, for about ten minutes.  At this point, the dish was bubbly and fragrant, and the cheese was just starting to brown up a bit on top.
I sprinkled it with some chopped parsley once it was out of the oven and we dug right in.  I honestly can't remember what I served as the entrée that night.  Must not have been anything spectacular, but this simple cauliflower dish was perfectly memorable, and we can't wait to have it again.  In fact, served over couscous or quinoa, it would make for a pretty spectacular meal in itself.  Hmmm…I think I need to get on that.
CAULIFLOWER GRATIN WITH TOMATOES AND FETA
Adapted from Vegetarian Cooking for Everyone
Cauliflower Gratin with Tomatoes and Feta
Author:
Prep time:
Cook time:
Total time:
**The dish can be made ahead, covered and chilled. Bake the chilled dish at 400*F for about 20 minutes until it's bubbly, and then just brown the cheese up under the broiler.
Ingredients
2-3 Tablespoons olive oil
1 sweet onion, thinly sliced
2 cloves garlic, minced
1 1/2 tsp. oregano
1/8 tsp. cinnamon
1 (15 oz.) can diced tomatoes
1 tsp. honey
1 Tbsp. capers, rinsed
salt and pepper
1 large head cauliflower, broken into smaller florets.
juice from 1/2 a lemon
4 oz. crumbled feta cheese
chopped parsley, for garnish
Instructions
Start a large pot of water to boil on the stove top. Once boiling, add the cauliflower and cook for 5 minutes. Drain and set aside
Heat the oil in a large skillet over medium high heat.
Add the sliced onion, garlic, oregano, and cinnamon and cook until the onion is softened, about 5 minutes.
Add the tomatoes, and stir to combine. Cook for 7 minutes more.
Stir in the honey and capers. Season with salt and pepper. If the pan you're using is not oven proof, slide the sauce mixture into a greased 2-quart baking dish or gratin dish.
Preheat your broiler. Move the oven rack so it's 5-6 inches below the broiler.
Place the cooked cauliflower over the top of the sauce. Season with salt and pepper.
Sprinkle with the crumbled feta, and drizzle with the lemon juice.
Place the dish under the broiler and cook for about 10 minutes, or until the sauce is bubbly and the cheese begins to brown on top.
Sprinkle with the chopped parsley, and serve.
ENJOY!