Directions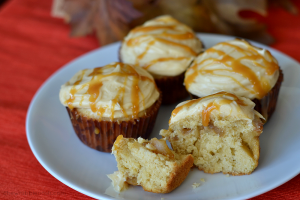 I know, I know.  Thanksgiving is on Thursday and this isn't a recipe for pie.  I hope you'll forgive my holiday faux pas once we get going.  In all honesty, I made these amazing little gems for a Halloween party, and I've had so many requests for the recipe, that I thought I'd present them to you as a possible addition to your Thanksgiving dessert table.  They are deliciously sweet, sticky, and gooey, just the way a caramel apple should be. And, even though they aren't pie, you'll find they're perfect for any fall celebration.  It's not often that adults go nuts over cupcakes, but that was certainly the case when I made these the first time.
Just keep that in mind as you consider them to sit alongside your traditional pie selection on Thursday.
I started by making the caramel apple filling.  I peeled and diced three Granny Smith apples, and sautéed the apple bits in some butter on the stove top.  Then, once they'd softened a bit, I added in some brown sugar, cinnamon, and a dash of salt.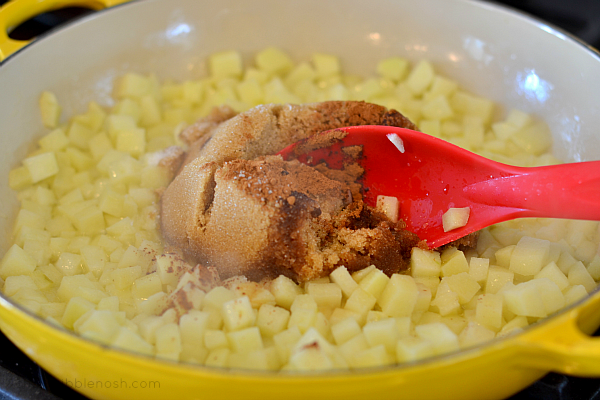 I let the sugar melt in, and then I added some heavy cream, gave the apples a stir, and let them bubble and simmer for about five minutes.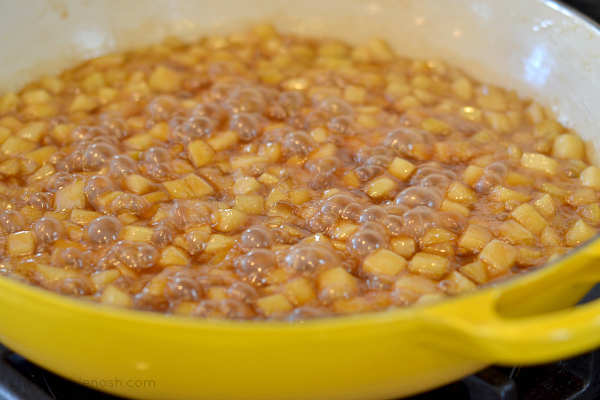 Once the mixture had cooked for a few minutes, I removed it from the heat and set it aside to cool a bit while I prepped my cupcake batter.
I mixed together a rich, delicious batter flavored with applesauce, brown sugar, sour cream, butter and vanilla.  It's not your average cake batter, but then again, these aren't your average cupcakes!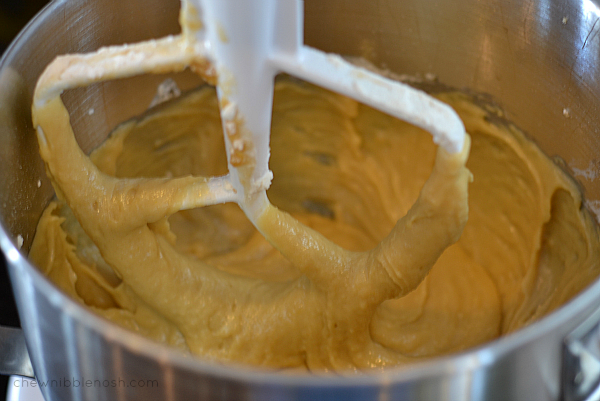 When it was time to build the cupcakes, I put a dollop of batter in my cupcake liners, and then topped each with a spoonful of the caramel apples.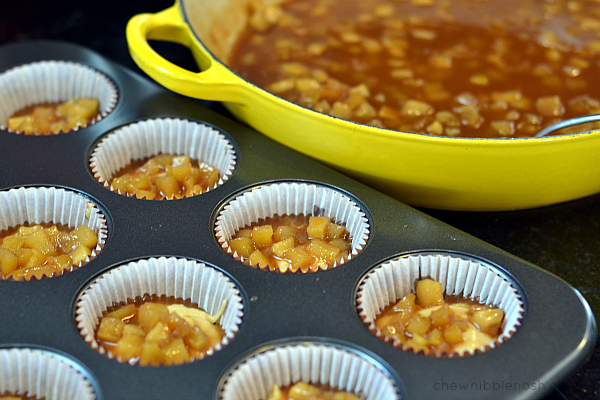 (Both times, I have had leftover caramel apples.  Just between you and me, they are delicious re-warmed and poured over vanilla ice cream.  I'm just sayin'.)
I topped each spoonful of apples with another dollop of batter, and popped the cupcakes into the oven.
They need to bake for about 15-20 minutes, and the caramel will bubble up a bit.  The cupcake liners end up a bit sticky with caramel, but that just adds to the authenticity, right?
Once the cakes are done, I removed them from the oven to cool on a wire rack. And then, I got working on my salted caramel frosting.
Butter, powdered sugar, and salted caramel sauce.  That's it.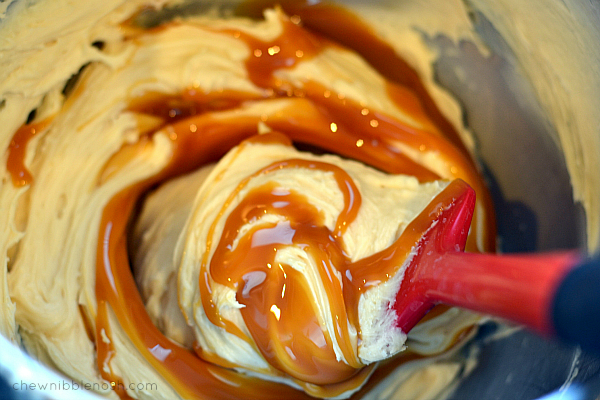 I beat the butter until creamy, blended in the powdered sugar, and then added some of the caramel sauce.  Then, after tasting it, I decided to add a little bit more to really bring out that caramel flavor.
Once the cupcakes were cooled, I spread a generous amount of the buttery frosting over each little cake.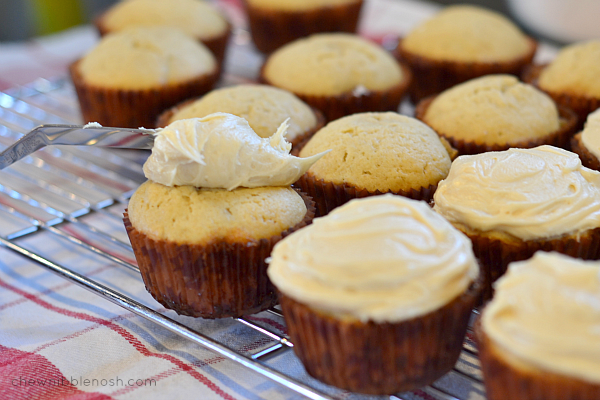 To finish them off, I warmed a little more of the caramel sauce, and gave the cupcakes a good drizzle, letting some of the caramel ooze down the sides, making them extra delectable.
Happy Thanksgiving, Everyone.  May your hearts, minds, and bellies, be full and happy.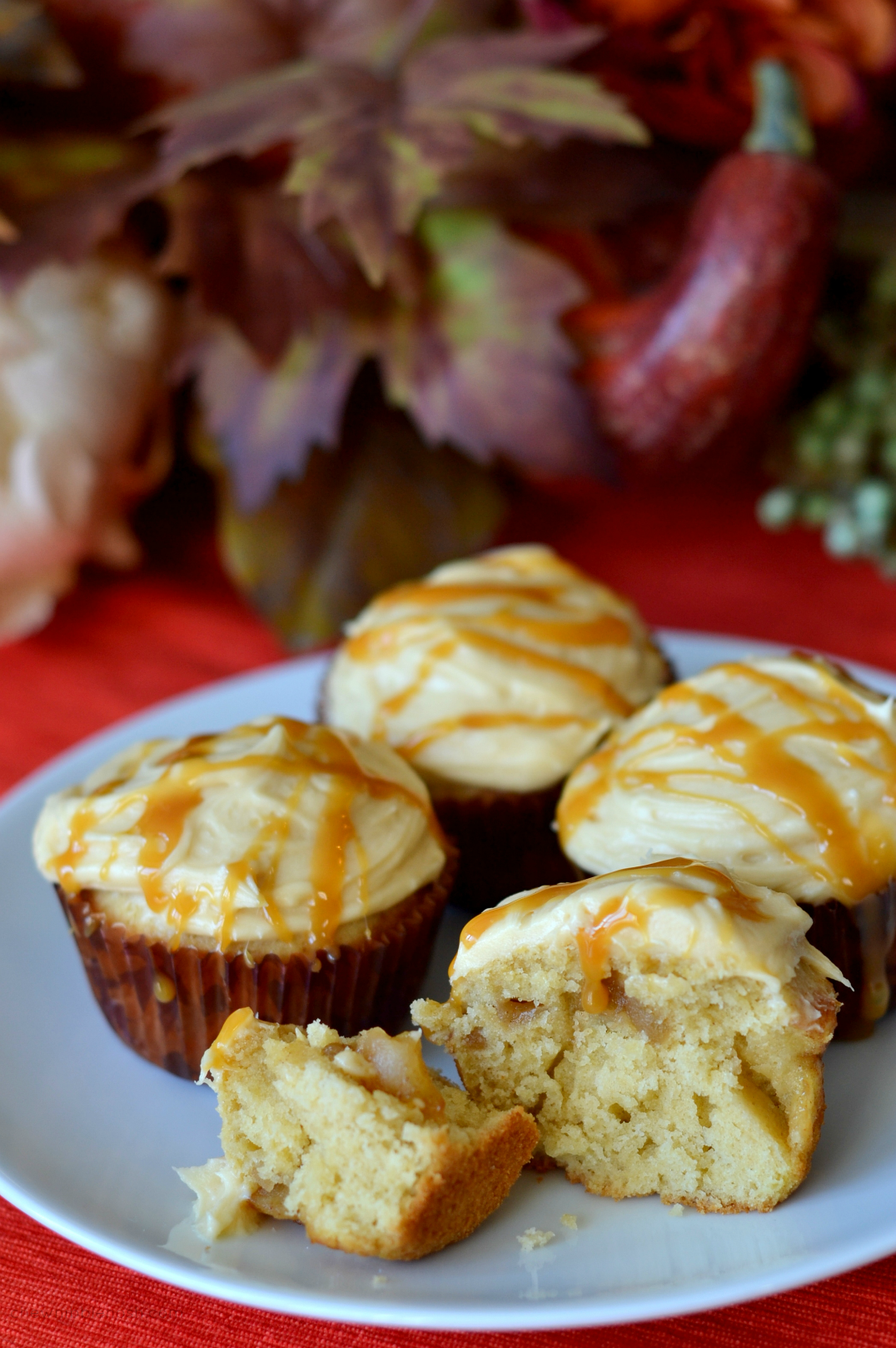 STUFFED CARAMEL APPLE CUPCAKES
Recipe Adapted from Carla Hall
Stuffed Caramel Apple Cupcakes
Author:
Prep time:
Cook time:
Total time:
Ingredients
For the Caramel Apple Filling
3 large Granny Smith apples, peeled, cored and diced into 1/4″ pieces
6 Tbsp. unsalted butter
1 cup light brown sugar
1 tsp. cinnamon
1 tsp. pure vanilla extract
1/4 cup heavy cream
pinch of salt
For the Cupcakes
3 cups cake flour
2 tsp. baking powder
4 Tbsp. unsalted butter, softened
1/2 cup apple sauce
1 1/3 cup light brown sugar
2 tsp. pure vanilla extract
pinch salt
1/2 cup canola oil
3 eggs
1/4 cup sour cream
For the Frosting
1 cup (2 sticks) unsalted butter, softened
3 cups powdered sugar
1/2 cup salted caramel sauce (I used Smucker's) plus more for frosting, if desired, and a little more for drizzling
Instructions
For the Apples
In a large skillet, melt the butter over medium-high heat. Add the diced apples and saute for 5 minutes, until softened.
Add the brown sugar, cinnamon, vanilla and a dash of salt. Cook, stirring, until the sugar melts.
Stir in the heavy cream, and bring to a simmer. Reduce the heat just a bit and allow to simmer gently for five minutes. Remove from heat and set aside.
For the Cupcakes:
Preheat the oven to 350*F. Place 16 cupcake liners in your muffin pans, and set aside.
In a small bowl, sift together the flour and baking powder. Set aside.
In a large bowl, or in a stand mixer, beat together the butter and brown sugar. Mix in the apple sauce, vanilla, salt and oil. Beat in the eggs and sour cream until well combined.
Slowly add the dry ingredients to the wet ingredients, just mixing until combined.
Place a rounded spoonful of batter in each cupcake liner. Wiggle the pan to spread the batter out to fill the bottoms of the cupcake cups. Top with a spoonful of the caramel apples, and then spoon another dollop of batter on top of the apples, filling the liners about 3/4 of the way full.
Bake the cupcakes for 15-20 minutes, or until the tops of the cupcakes bounce back when lightly pressed. Don't be alarmed if the caramel comes out of the tops of the cakes just a bit as they bake.
Allow to cool completely on a wire rack.
For the Frosting:
Beat the butter on medium-high speed until light and fluffy. Reduce the speed to low and mix in the powdered sugar. Add 1/2 cup of caramel sauce and beat until smooth. If you feel it needs a little more caramel, add some! (I did!)
Frost the cooled cupcakes with the salted caramel frosting. Warm some remaining caramel for about 10 seconds in the microwave, and then drizzle over the frosted cupcakes.
Can be made a day ahead of time and stored in an airtight container.
ENJOY!