Directions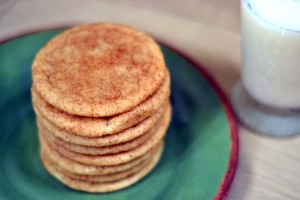 One of my husband's favorite cookies is just an old-fashioned Snickerdoodle.  There's nothing particularly mind-blowing about a Snickerdoodle, but they are really tasty.  That said, I've never been able to bake up a Snickerdoodle recipe that lived up to my expectations of what one should be.  I want a moist, chewy cookie.  Nothing cakey, nothing dry.  Nothing I'd need to dunk in my milk (or coffee).  My sister-in-law, Kelly, makes excellent Snickerdoodles.  They are perfect every time!  I've tried her recipe, drilling her for information and baking secrets beforehand, and still can't get them to work.  Every Snickerdoodle I've ever baked just didn't come out quite right.  To be honest, I'd given up hope.   I'd told my husband that when we're able to spend time with his family, he'd get his Snickerdoodles, but until then he was out of luck.
And then, I ran across this recipe.
I came across it on Pinterest a while ago and as soon as I saw the "Best Snickerdoodle Recipe EVER" caption  that someone had added, I figured it might be worth trying just one more time.
I rolled up my sleeves, grabbed my small jar of Cream of Tartar that lurks in my spice cabinet on the off chance I might try another batch of Snickerdoodles, and got to work.
I'm not going to bore you with the ins and outs of the dough making process.  It's cookie dough…wet mixed together with dry…just like almost every dough out there.  The only difference is every Snickerdoodle recipe I've ever seen calls for Cream of Tartar. (I'm sure there are some that don't, but I haven't tried one yet.)  It's the only thing I've ever used Cream of Tartar for.  I know there are other uses for it, but I haven't run across one yet in any of my other recipes.
After I mixed together the dough, I chilled it for about an hour.
Once chilled, I set up my cookie rolling station.  I had my dough, my lined cookie sheet, my cookie scoop, and a small bowl with some cinnamon-sugar in it.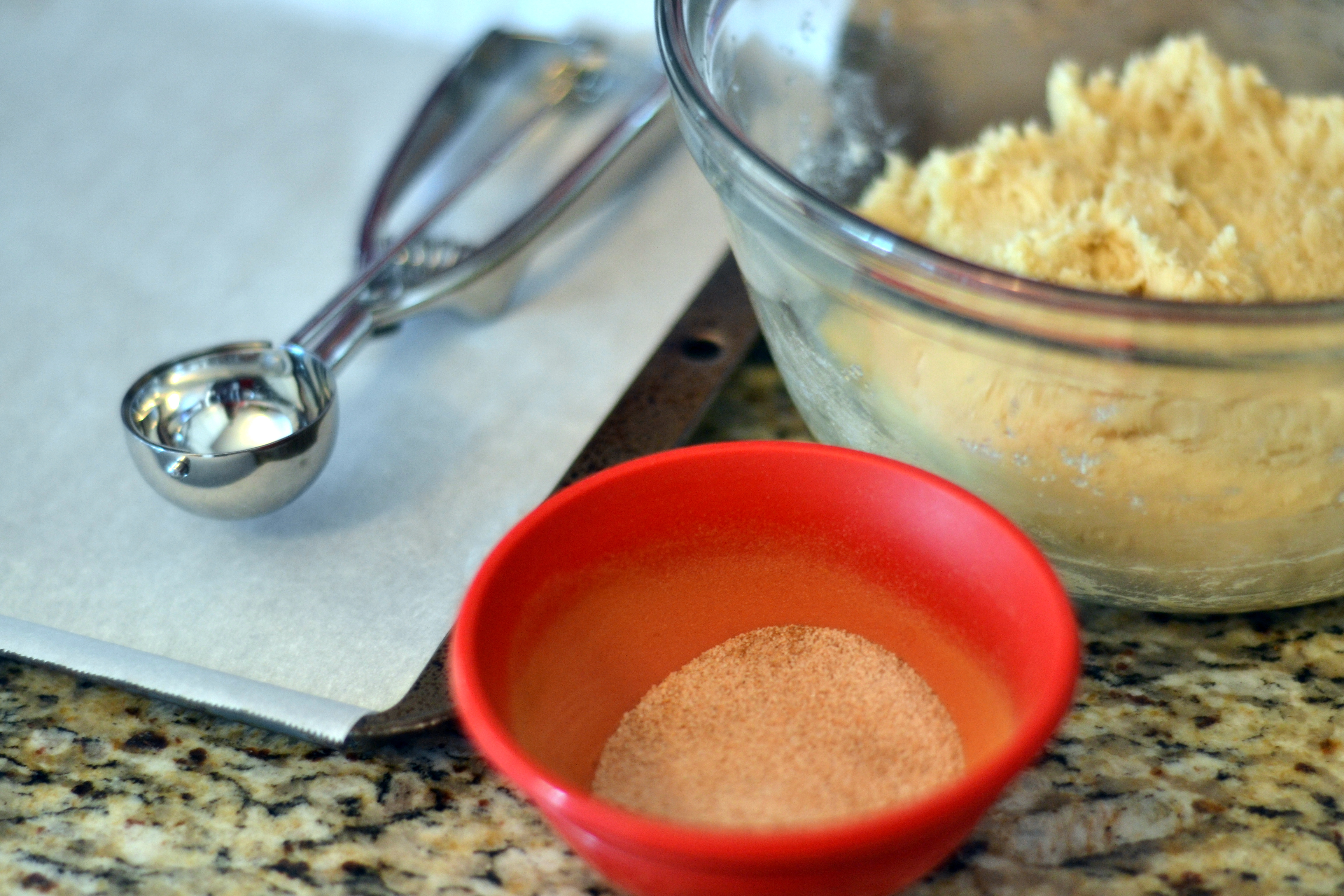 I scooped out each cookie, rolled it into a ball and then rolled that in the cinnamon sugar before placing on my cookie sheet.  You may have noticed that my mixing bowl isn't filled up with dough.  This is a really nice recipe if your sweet tooth really needs a cookie, but you don't need enough to feed an army.  The recipe makes 16-18 cookies.  It would be really easy to double, or triple, though if needed.
After the cookies were rolled and on the cookie sheets, I pressed them down slightly with the bottom of a glass before popping them in the oven.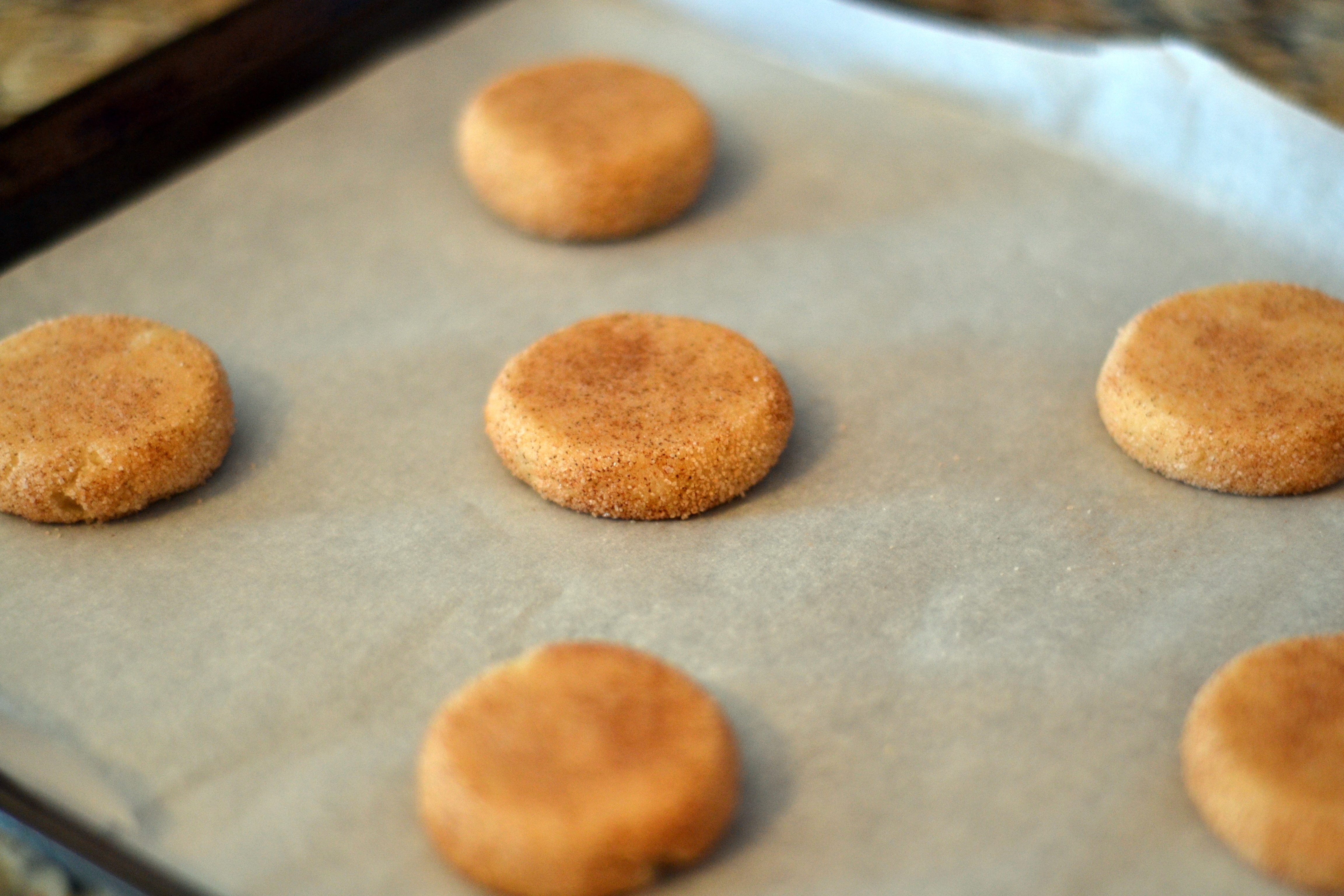 Then, into a 300* oven they went.  It seemed like a low baking temperature, but at this point in my Snickerdoodle baking career, I wasn't going to argue.  Twelve minutes later, they came out of the oven.  The middles still looked a little wobbly, so I let them set up and cool for a minute on the cookie sheet before removing them to a cooling rack.  I usually underbake my cookies a bit, just because I prefer a chewy, moist cookie, but I didn't want to take any chances that they were so underbaked that they'd fall right through the rack.
The verdict?  They were really good, perfectly chewy and moist.  The girls went nuts over them and I think I renewed my husband's faith in my Snickerdoodle baking abilities.  He said they were like a Snickerdoodle flavored chewy sugar cookie.  They really were!  They were delicious.  So delicious, in fact, that both he and the girls were quite upset that the recipe didn't make more.  The 16 cookies I'd baked up didn't last long around here.  I'll have to double the recipe next time!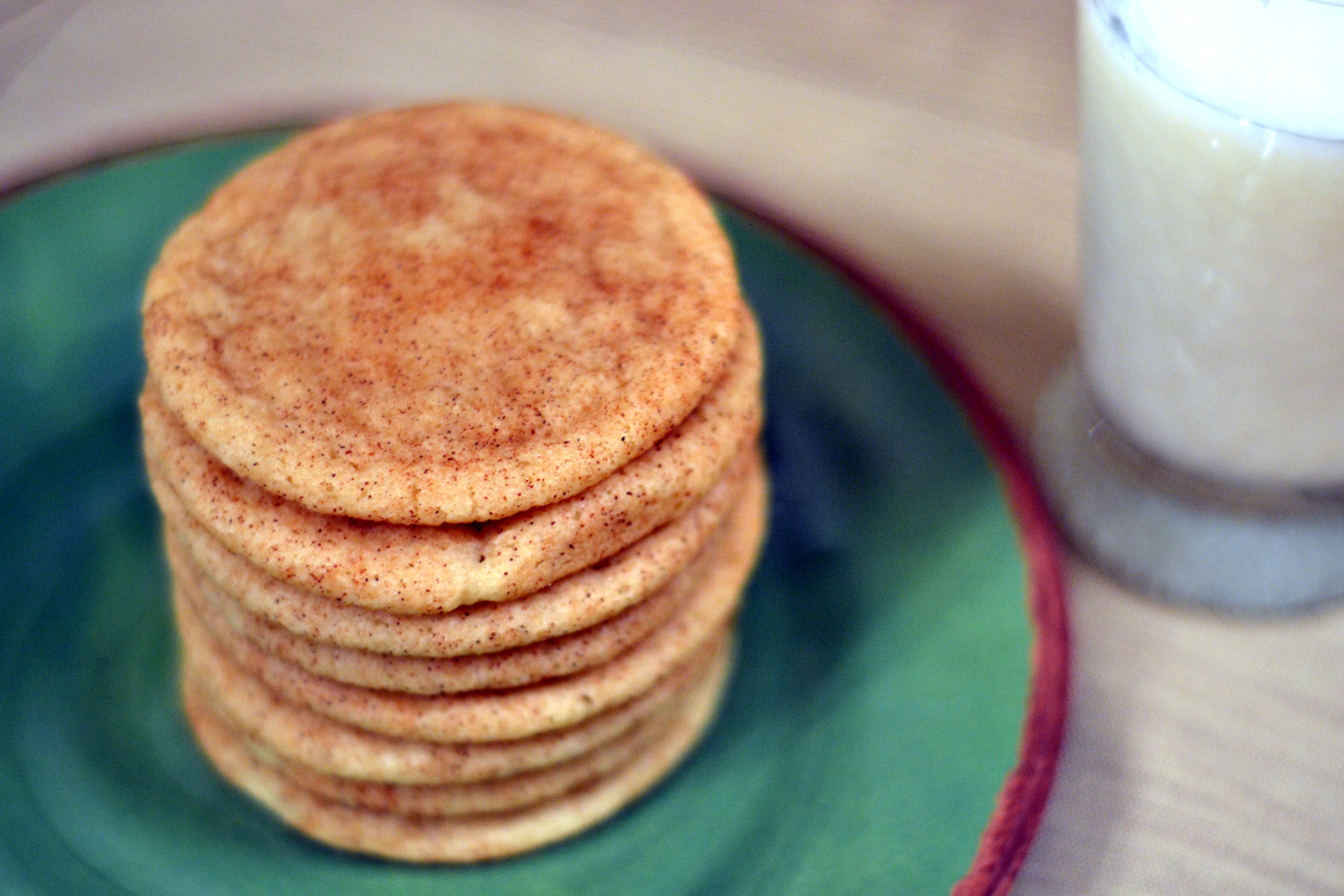 CHEWY SNICKERDOODLES
Adapted from Lovin' From the Oven
Author:
Ingredients
1/2 cup butter (1 stick), softened
1/2 cup granulated sugar
1/3 cup brown sugar
1 egg
1/2 teaspoon vanilla
1 1/2 cups flour
1/4 teaspoon salt
1/2 teaspoon baking soda
1/4 teaspoon cream of tartar
For rolling:
2 tablespoons granulated sugar
1 teaspoon cinnamon
Instructions
In a large bowl, cream together the butter and sugars with an electric mixer on high-speed. Add the egg and vanilla and mix until smooth.
In another bowl, whisk together the flour, salt, baking soda, and cream of tartar. Pour the dry ingredients into the wet ingredients and mix well.
Preheat oven to 300 degrees while you let the dough rest for 30 to 60 minutes in the refrigerator.
In a small bowl, combine the sugar with the cinnamon for the topping.
Scoop out about 2 1/2 tablespoons of the dough and roll it into a ball. Roll the ball in the cinnamon/sugar mixture and place it on a cookie sheet that has been lined in parchment paper. Repeat for the remaining cookies. Press the cookie balls down slightly with the bottom of a glass.
Bake the cookies for 12 to 14 minutes and no more. Let the cookies rest for a minute or two on the cookie sheet before removing to a cooling rack.
Makes 16 to 18 cookies
ENJOY!