Directions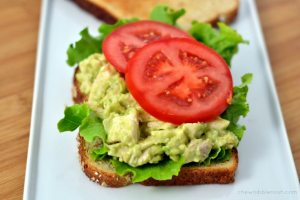 Today is the last day of school.  HOW?   I know the teachers may not be in agreement with me, but this year simply flew by.  It seems like every year moves faster and faster, and my mommy heart is on the verge of a breakdown.  Make it stop!  At the end of the day, I'll have a 7th grader and a 4th grader.
I can't handle it.
~sigh~
So, summer is officially upon us, and with that comes the realization that there are likely going to be many days in the near future where I'm hot and tired after a beautiful day outside, or just not in the mood to spend a whole lot of time over a stove or watching an oven.  That's where a meal like this comes in handy.
I made these for dinner last night, and they were really tasty.  I love chicken salad, but I don't make it too often because my kids don't like a whole lot of mayo and I'm trying to refrain from downing a whole lot of mayo myself in a sitting.  This recipe caught my eye because the mayo is replaced with a creamy dressing made with heart healthy avocados.
It's super simple to throw together, and deliciously cool and fresh.
I started by mixing together just a bit of low-fat buttermilk, the juice of a lime, some olive oil, sugar, and salt and pepper together in a bowl.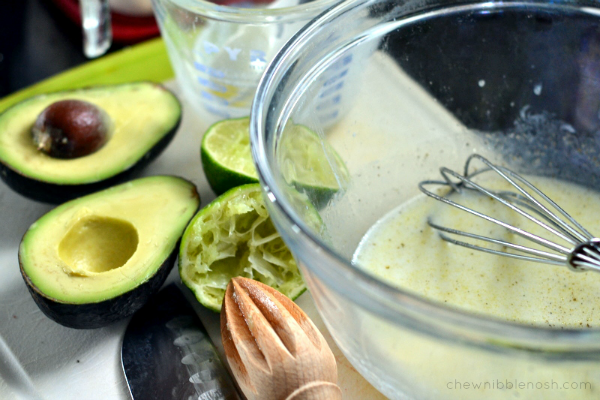 I cut my ripe avocado into chunks and added it to the buttermilk mixture.  Using a fork, I mashed the avocado into the dressing by smooshing (the technical term) the avocado against the side of the bowl.  When I was done, it looked like I had a very fluid guacamole on my hands.
You want to make sure you're using a very ripe avocado for this dish.  There's nothing worse than cutting into an avocado and finding that it's still hard and not ready to go.  In general, look for an avocado with darker skin, and one that yields a bit to a soft squeeze.  If it's hard as a rock, it's not ready.  For more avocado tips, check out this link: http://www.avocadocentral.com/how-to/how-to-pick-how-to-buy-avocados .
OK, so once I had my dressing made, I seasoned it to taste with a little bit of salt and pepper, and then added in about three cups of chopped chicken that I'd removed from a rotisserie chicken.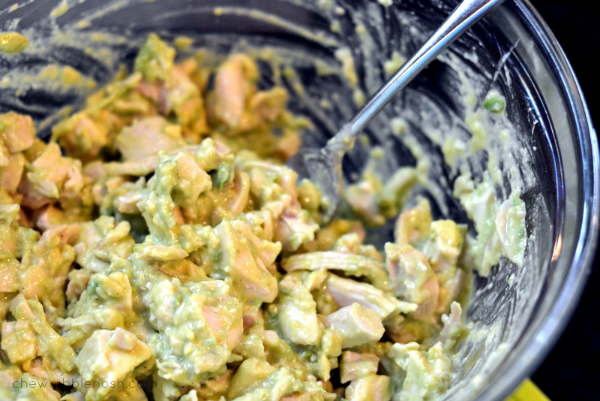 I seasoned the salad with a little more salt and pepper, and then started to build my sandwiches.  At this point, I could have added more to the mix.  My husband likes his chicken salad nice and crunchy, so maybe throwing in some celery or apple would be more his speed.  This time, I just wanted to give it a go as simply as possible, and the result was pretty tasty!
I toasted up slices of hearty whole grain bread, and piled on the chicken salad along with summer fresh lettuce and tomato.  The result was deliciously creamy, just like my favorite mayo based chicken salads, but nice and light with a fresh zing from the lime and buttermilk.
I think we have a winner!  Happy Summer!
 CHICKEN-AVOCADO SALAD SANDWICHES
Adapted from Cook's Country
Chicken-Avocado Salad Sandwiches
Author:
Prep time:
Total time:
Ingredients
1/4 cup low-fat buttermilk
2 Tbsp. fresh lime juice
1 Tbsp. olive oil
1 tsp. sugar
salt and pepper
1 very ripe avocado, halved and pitted, and chopped into chunks
3 cups chopped, cooked chicken (I used a rotisserie chicken to make things simple!)
8 slices hearty whole grain sandwich bread, toasted
sliced tomato and lettuce leaves
Instructions
In a medium sized bowl, combine the buttermilk, lime juice, olive oil, sugar, 1/2 tsp. salt and 1/2 tsp. pepper.
Add the chopped avocado and mash it into the dressing with a fork. Stir until well combined and no large chunks left.
Add the chopped chicken and stir until completely coated. Season with salt and pepper to taste.
Serve on toasted bread with lettuce and tomato.
ENJOY!