Directions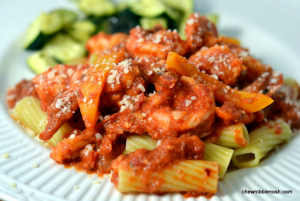 Gosh, I love shrimp.  You know that scene in Forrest Gump, where Bubba goes on and on, and on, about everything you can do with shrimp?
I never saw anything wrong with Bubba's passion.  If anything, it made me hungry.
Having lived in the South for a good number of years, I was used to being able to get fresh, wonderful, reasonably priced shrimp at every restaurant, and every market.  Heck, sometimes the shrimp even came to me.  When we lived in New Orleans, the wonderfully sweet man who was the custodian at the school I taught in would go out on his shrimp boat on the weekends and bring his delicious haul back in for me on Monday!  Talk about spoiled!  Being back in the landlocked Midwest has stifled our constant shrimpiness a bit, but I still try to cook it up often.
This meal is a reminder of how quick and simple a delicious shrimp dinner can be.  They take next to no time at all to cook up, and combined with this fresh, healthy sauce, I had dinner on the table in about thirty minutes.
I started by prepping everything.  I sliced up an orange bell pepper, and some onion, minced some garlic, measured out some crushed tomatoes, wine, spices, juiced a lemon, and I made sure to get a big pot of water bubbling away on the stove top for the pasta.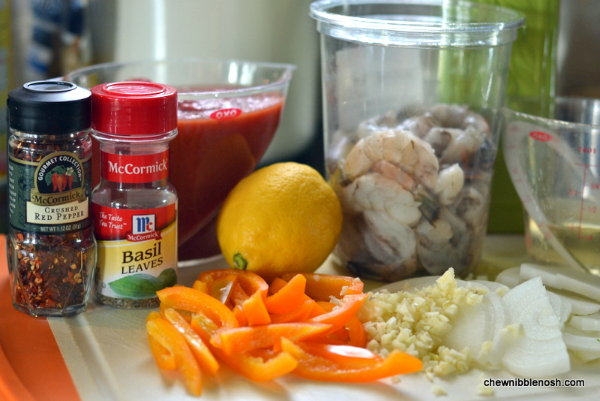 The shrimp I'd purchased were peeled and deveined, making life a little easier on me.  You can pay a little less and clean them yourself, but sometimes paying a little extra to avoid the "Ew factor" makes it all worthwhile.
I got a little bit of oil heated in a large skillet and added the shrimp to the pan.  They only needed to cook for just about two minutes on each side before they were done.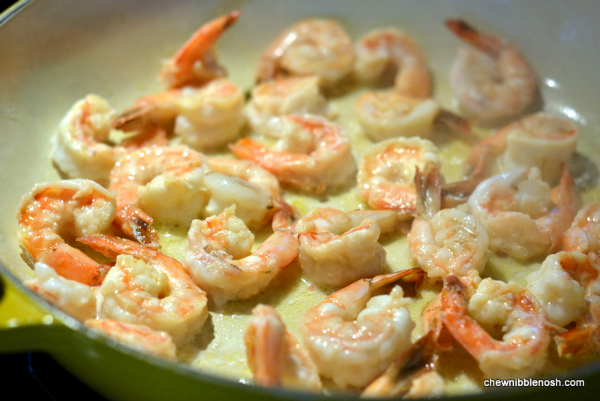 I moved the shrimp to a plate, and added a little more oil to the pan, before sauteing my peppers, onion, garlic and crushed red pepper.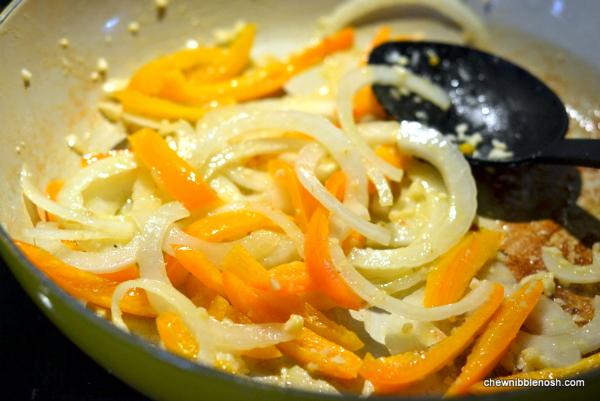 Once the veggies were softened, I added the wine to deglaze the pan, and allowed it to cook down for a minute or so.  Then, I poured in the tomatoes, a bit of salt salt, and some dried basil, and let the sauce bubble together for about five minutes, just to let the flavors mingle.
Then, I added my shrimp back to the pan, along with a few tablespoons of grated Parmesan cheese.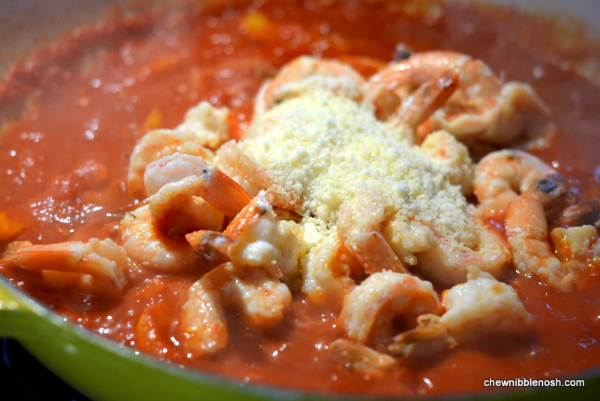 I stirred the shrimp in, and allowed the sauce to cook for about a minute more, added in my lemon juice, and then I was ready to heap it over my pasta.
In the time it takes to boil the pasta, this delicious sauce, studded with those beautiful Bubba-proud shrimp can be ready to go.  It's fresh and flavorful, and a delicious way to bring the family to the table.
Or, just eat all of the shrimp yourself.  I fully support that, too.  Bubba would too.
SHRIMP ARRABBIATA PASTA
Adapted from Cooking Light
Shrimp Arrabbiata
Author:
Prep time:
Cook time:
Total time:
Ingredients
8 oz. rigatoni pasta
1 lb. peeled and deveined, large shrimp
kosher salt
2 Tbsp. extra virgin olive oil
1 small onion, sliced thin
1/2 of a large bell pepper, red, yellow, or orange
4 cloves garlic, minced
1/4 to 1/2 tsp. crushed red pepper, depending on how hot you like your sauce
1/3 cup dry white wine
2 cups canned crushed tomatoes
1 tsp. dried basil
2 Tbsp. grated Parmesan cheese
1 Tbsp. fresh lemon juice
Instructions
Cook the pasta in boiling salted water according to directions on the box. Drain and set aside.
Meanwhile, sprinkle the shrimp with some salt. Heat 1 Tablespoon of the oil in a large skillet over medium-high heat. Add the shrimp. Cook for 1 1/2-2 minutes on each side until done. Transfer shrimp to a plate
Add the remaining 1 Tablespoon oil to the pan, and swirl to coat. Add the onion, bell pepper, garlic, and crushed red pepper. Cook for 3-4 minutes, until the veggies just begin to soften.
Add the wine, scraping up the browned bits in the pan, and cook down for one minute.
Stir in the tomatoes, basil, and 1/4 tsp. of salt. Cook for 5 minutes, stirring occasionally, until the sauce thickens a bit and the flavors come together.
Stir in the shrimp and the Parmesan cheese, and allow to cook for a minute, just until the flavors combine. Finish the sauce with the lemon juice, and add salt and pepper if needed.
Serve the sauce over the cooked pasta.
ENJOY!