Directions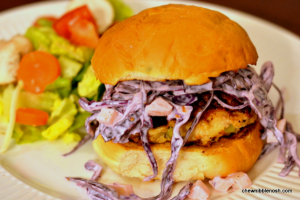 I love a good burger.
 If I look back on some of the most memorable meals of my life, many of them were at burger joints.  Whether it's a little, greasy-spoon diner burger (For those of you outside of Detroit, I really miss Bates' Burgers.), or an upscale, "grown-up" burger spot with fancy cheese and bizarre toppings, I love them all.
I'm willing to give any burger a chance, and one of my major burger beefs (no pun intended) is when people say that they "don't like turkey/chicken burgers".  Sure, it's not a beef burger, and there are PLENTY of dry, lifeless turkey burgers out there…I get that.  BUT, not every poultry based burger is worth passing by.  This is one of those burgers that I wish those haters would try.
There is so much flavor packed into these little guys that my greasy, sloppy, burger loving husband swooned over it. (Disclaimer:  I'm referring to the burgers he loves.  Husband is neither greasy nor sloppy.)  They are seriously delicious, and super simple to throw together.  In fact, I'm thinking that making mini, slider versions for the Super Bowl this weekend might be in order.
I started by mixing up a pound of ground chicken with some chopped Granny Smith apple, celery, red onion, minced garlic, a dollop of mayonnaise, Dijon mustard, salt, and pepper.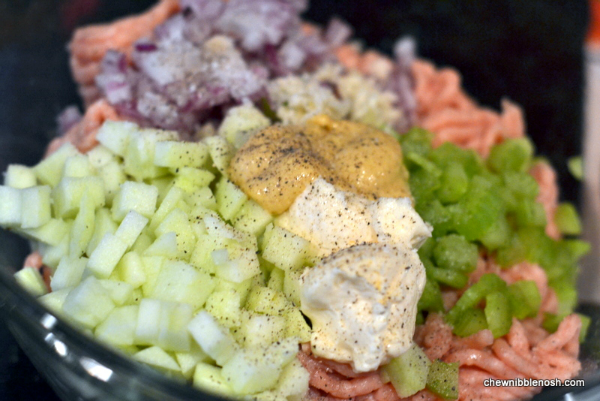 I combined the mixture using my hands, just because it's easier, and then formed the lot into four perfectly sized burgers.  I pressed a slight indentation into the middle of each burger, before cooking them on the stove top.  The indentation in the middle actually helps keep the burger from balling up (Ever grill up a burger and end up with a meatball?  Pressing down the middle a bit will help.)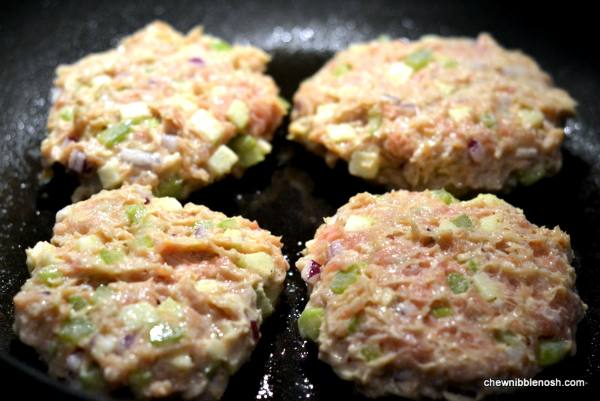 As the burgers were cooking, I mixed up the slaw that would top the burgers.  I had reserved a bit of that Granny Smith apple when I'd chopped it up, and I mixed that along with some crunchy, shredded red cabbage, and a dressing made of some mayonnaise, lime juice, salt and pepper.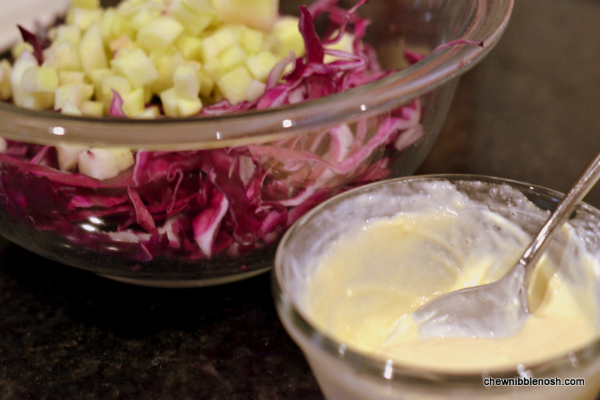 I toasted up some hamburger buns, and when it was time to serve them up, I placed each burger on a bun and heaped some of that colorful, crunchy slaw right on top.
DELICIOUS!  And might I add, they taste fresh and light, and won't leave you with the heartburn and "Oh my gosh, it's just sitting in the pit of my stomach" feeling that plagues so many of us after a greasy burger romp.
If you're not keen on a non-traditional burger, I ask you to give this a try…and let me know what you think in the comments.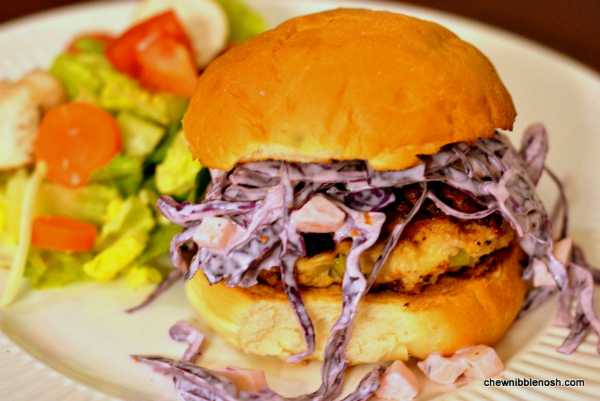 CHICKEN BURGERS WITH RED CABBAGE AND APPLE SLAW
Adapted from Fine Cooking
Chicken Burgers with Red Cabbage and Apple Slaw
Prep time:
Cook time:
Total time:
Ingredients
1 lb. ground chicken (not chicken breast)
1-1/2 cups small-diced peeled Granny Smith apple
1/2 cup small-diced red onion
1/4 cup small-diced celery
5 Tbsps. mayonnaise, divided
2 tsp. Dijon mustard
2 tsp. minced garlic
Kosher salt and freshly ground black pepper
2 Tbsps. vegetable oil
1 tsp. fresh lime juice; more if needed, for slaw
1-1/2 cups packed, thinly sliced red cabbage
4 challah rolls or hamburger buns, split and toasted
Instructions
In a medium bowl, using your hands, combine the ground chicken, celery, red onion, 1/2 cup of the chopped apple, the minced garlic, 2 Tbsp. of the mayonnaise, the mustard, 1/2 tsp. salt and 1/4 tsp. pepper.
Press the mixture into four, evenly shaped patties, and press a slight indentation into the middle of each patty.
In a large, nonstick skillet, heat the oil over medium heat until it shimmers. Add the burgers to the pan and cook for five minutes, or until golden brown on one side. Flip the burgers carefully, and allow to cook through, until the internal temperature reads 165*F, 5-10 minutes more.
As the burgers cook, combine the remaining chopped apple with the shredded cabbage. Whisk together the remaining mayonnaise, lime juice, and 1/8 tsp. each of salt and pepper. Pour the dressing over the cabbage mixture and stir to coat. Add more lime juice if needed.
When the burgers are cooked through, place a burger on each toasted bun and top with the apple slaw.
ENJOY!