Directions
The Dog Days of Summer have finally hit us in Indiana.  After a pretty cool and soggy start, now that it's just about time to go back to school, the heat has finally kicked in. Not that I'm complaining.  At all.  I'm still in my "At one point, we lived in Louisiana and Georgia, this is nothing." frame of mind.  It's just that finally, after almost three months of weather weirdness, it feels like summer.
 On hot, steamy days, I crave dinners like this.  Light, fresh, and full of flavor, this easy chicken dinner comes together in the blink of an eye, and won't result in you losing too much time by the pool.  I found the original recipe, and it sounded delicious enough, but I decided to substitute fresh basil in for the cilantro.  I did this for two reasons:
1. My husband hates cilantro, and nobody wants a grumpy husband.
and 2. I have a massive basil plant taking over a pot on my back porch that needs to be dealt with.
I love the combination of sweet strawberries and fresh basil.   They play off each other really well. Mix that with the creamy, buttery avocado, and I had a good feeling about this.  I kept the jalapeno and lime juice in the recipe, like the original, just for a little added punch, but after making this, I would say the jalapeno is entirely optional.  (In other words, I'd probably leave it out next time.)
Once that was mixed together, it was just a matter of cooking up my chicken cutlets.  I could have thrown them on the grill, but we were really short on time this day and didn't have the time to heat up the ol' egg. I simply sprinkled the chicken with salt and pepper, and cooked them quickly in a pan on the stove.
 The salsa was clearly the star here, not the chicken, but for what I was looking for, it worked perfectly.
When it came time to serve up dinner, I simply spooned a hefty amount of the strawberries and avocado over the chicken, and then finished things off with a drizzle of Balsamic Glaze. (If you haven't discovered this stuff yet, you need to.  There are many brands available.  Just look near the vinegar in your grocery store.)
Quick, light and fresh.  Just what I needed in the Indiana summer heat…which I'm pretty sure my Southern friends are giggling over right about now.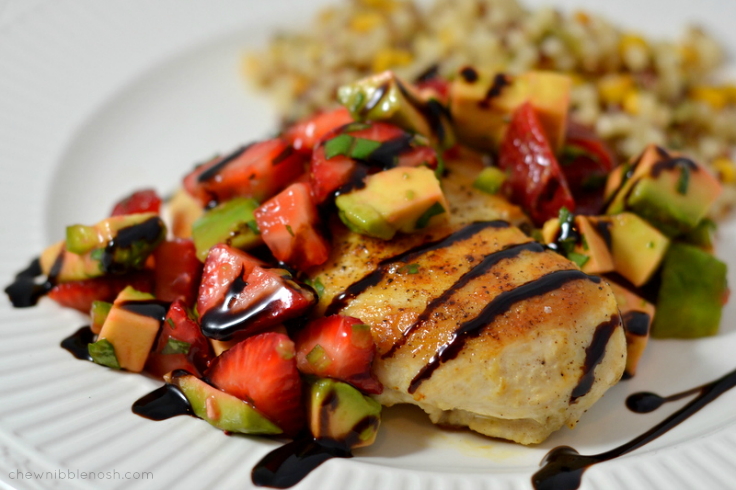 CHICKEN CUTLETS WITH STRAWBERRY, AVOCADO, AND BASIL SALSA
Adapted from Cooking Light
Chicken Cutlets with Strawberry, Avocado, and Basil Salsa
Author:
Prep time:
Cook time:
Total time:
Ingredients
2 cups chopped strawberries
1 peeled, diced, ripe avocado
2 Tbsp. minced jalapeno pepper (optional)
2 tsp. lime juice
2 Tbsp. fresh chopped basil
3/4 tsp. kosher salt, divided
1 Tbsp. olive oil
4 chicken breast cutlets
1/4 tsp. black pepper
Balsamic Glaze for finishing (optional)
Instructions
In a medium sized bowl, combine the strawberries, avocado, jalapeno (if using), basil, lime juice, and 1/4 tsp. salt. Stir to combine, and set aside.
Heat the oil in a nonstick skillet over medium heat. Sprinkle the chicken cutlets with remaining salt and pepper. Cook in the hot pan 3 minutes on each side, or until done.
To serve, spoon the strawberry salsa over the chicken. Drizzle with Balsamic Glaze, if desired.
ENJOY!