Directions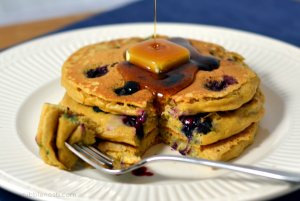 One of the reasons I started this blog was because friends and family often turned to me when they needed an idea for a recipe, or help with one they already had.  It's no secret that I'm a bit of a cookbook hoarder, and that I love to spend time in the kitchen.  I've always loved trying out new recipes. I'm never afraid of being the recipe guinea pig, and Chew Nibble Nosh started out as a place where I could share my findings with my friends and family.  It has since blossomed into much more than I ever imagined, which I am extremely humbled by, but at its heart, it is still a place where I share my guinea pig moments.
My friend, Molly, asked me the other day over breakfast if I'd ever made pancakes with quinoa.  I hadn't.  Quite honestly, I'd never even thought about it.  I love quinoa and we eat it all the time around here, but usually at lunch or dinner time.  Molly was looking for a way to pump a little more protein into her kids at breakfast time.  Quinoa is an excellent source of cholestorol-free, low-fat protein, and Molly was wondering if adding quinoa to pancake batter would make the pancakes a no-go with her kids.
So, in true guinea pig fashion, I promised Molly that I'd see what I could find.
There are actually quite a few quinoa pancake recipes out there, but I was looking for one that would not only be easy to throw together, but that the kids would enjoy.  I came across a recipe from The New York Times that I decided to test out.
Other than the quinoa, the recipe calls for pretty standard pancake ingredients.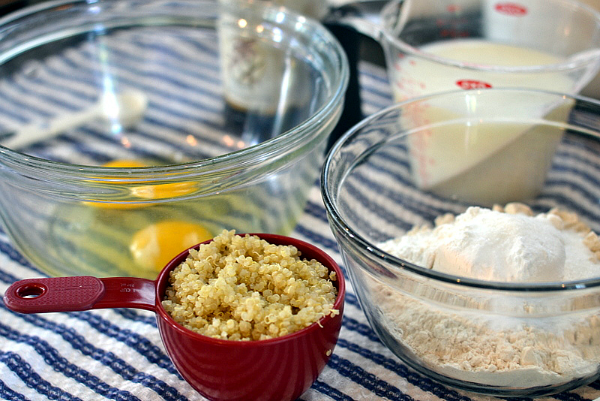 I used a combination of both white whole-wheat flour and all-purpose flour, and I had to get creative on the buttermilk a bit.  I'd forgotten to purchase buttermilk at the store, so I mixed some vinegar in with regular milk.  You can use lemon juice in place of the vinegar, but this is a great trick to have on hand when you're forgetful like me!  For each cup of "buttermilk", pour one tablespoon of vinegar or lemon juice into a measuring cup and then add enough milk to equal one cup.  Give it a stir, and then let the milk mixture sit for about five minutes before you use it.  (For this recipe, I needed a cup and a half of buttermilk, so I used 1 1/2 tablespoons of vinegar.)
I mixed the dry ingredients with the beaten eggs, "buttermilk", vanilla, and oil, and then stirred in a cup of cooked quinoa.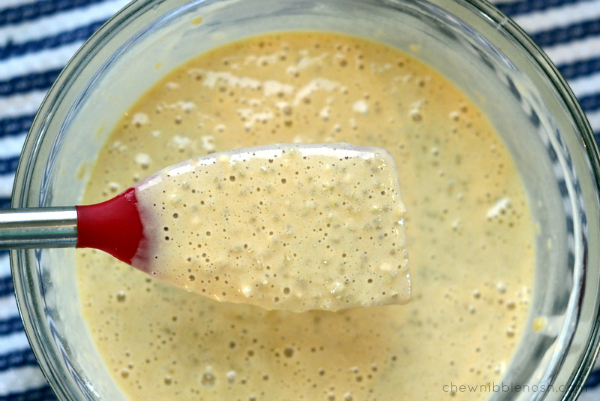 Then, it was pancake makin' time.
I warmed up my griddle, sprayed it with nonstick spray, and then poured out my pancakes a few at a time.  I had a bunch of beautiful Michigan blueberries on hand, so I decided this was a perfect opportunity to put them to good use.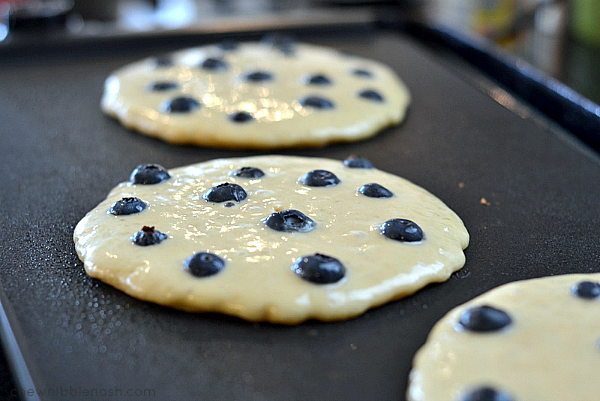 The pancakes puffed, and once they started bubbling on the top, I carefully flipped them over and let them cook until they were done.
They smelled delicious, the vanilla was really coming through, but would they taste good?
Let's put it this way.  My girls both inhaled giant plates of blueberry pancakes without any mention that they were in any way "different".  In fact, they complimented how delicious they were a few times in between inhalings.
When they were finished, I said, "You know, there's quinoa in those pancakes."  They looked at me like, "OK.  Whatever, Mom.  Are there any more?"
So, to answer your question, Molly, YES…you can absolutely put quinoa in pancakes, and your kids will eat them too!
They really were delicious.  I was worried that they'd be dense and heavy, and that the quinoa's chewy texture would mess with the integrity of the pancake.  They cooked up light and fluffy, the texture wasn't off-putting at all, and the pancakes had a nutty quality to them that I really enjoyed.  Thanks, Molly!  I think I've found a new pancake add-in for life.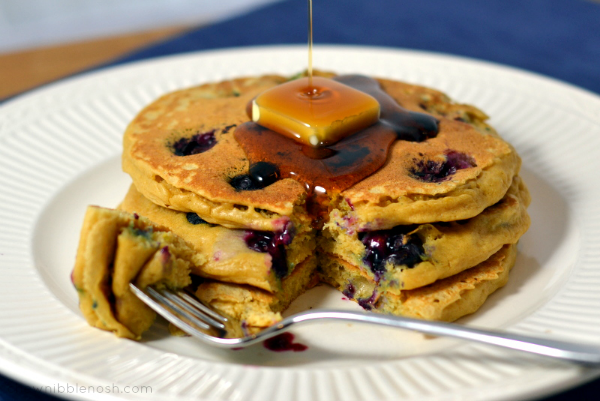 BLUEBERRY QUINOA PANCAKES
Recipe adapted from The New York Times
Blueberry Quinoa Pancakes
Author:
Prep time:
Cook time:
Total time:
Ingredients
1 cup white whole-wheat flour
1/2 cup all-purpose flour
2 tsps. baking powder
1 tsp. baking soda
1/8 tsp. salt
2 eggs, beaten
1 1/2 cups buttermilk (or add 1 1/2 Tbsp. vinegar or lemon juice to a measuring cup. Fill the cup with milk to the 1 1/2 cup mark. Stir, and allow to sit for 5 minutes before using.)
1 tsp. pure vanilla extract
3 Tbsp. canola oil
1 cup cooked quinoa (any type)
1 1/2-2 cups fresh blueberries
Instructions
Stir together your dry ingredients, the flours, baking powder, baking soda, and salt in a medium sized bowl. Set aside.
Whisk together the beaten egg and the buttermilk in a large bowl. Add in the vanilla and oil, and whisk to combine.
Add the dry ingredients to the wet ingredients and whisk together quickly. Batter will still be lumpy, do not overbeat. Stir in the cooked quinoa.
Heat a griddle over medium-high heat. Spray with nonstick spray. Pour generous 1/4-cup scoops of the batter onto the hot griddle. Sprinkle with blueberries.
Once the tops of the pancakes begins to bubble and the bottoms are golden, carefully flip them over. Continue to cook until done.
Serve hot with butter and syrup.
ENJOY!