Directions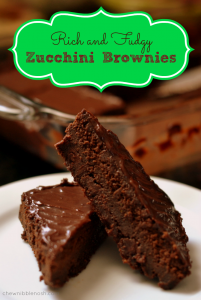 When I was young, my mother had this wonderful little garden on the side of our house.  I used to love watching the garden grow each summer, and daily trips out to pick fresh tomatoes, snap peas and zucchini were a highlight.  I remember spending my summer days outside, playing with friends, and we'd snack on sugar snap peas, fresh from the garden, as we played. The zucchini always fascinated me, though, because there were some years when nothing would grow, and others when we'd end up with zucchini as long as our arms, that seemed to weigh as much as a small child.  My mom would make zucchini bread after zucchini bread after zucchini bread, and we'd laugh at the size of our ginormous zucchini.  They were like veggie snacks for giants.
I was hoping to create similar memories for my own children, but alas, I am not a gardener.  Not at all.  Many failed attempts, year after year, have led me to where I am today:  Garden-less, and hoping that my friends and neighbors will spare some of their garden's bounty, because it's just not worth the frustration in my own back yard.
So, even though I don't have any giant zucchini lying around my dream garden this summer, I know many of you do, which is one reason why I was struck by this Zucchini Brownie recipe.  Also, I may not have the bountiful garden, but I'm always looking for ways to sneak veggies into my youngest daughter.  My oldest could be a vegetarian if she tried.  My youngest?  Not so much. She may not like vegetables, but she LOVES chocolate, so the potential of rich, fudgy, vegetables (?!?) had me curious.
I started by chopping up two zucchini and adding the veg to my food processor, along with three eggs, a few tablespoons of melted butter, and some vanilla.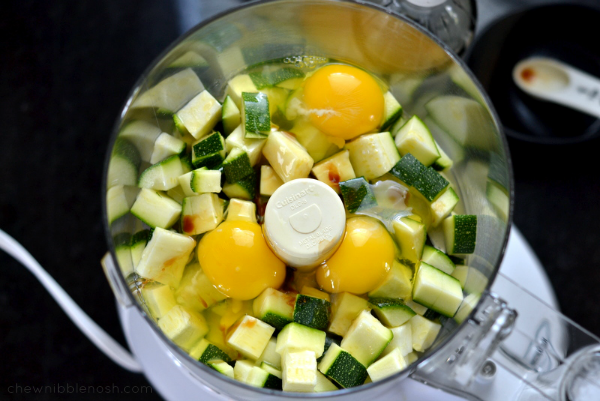 I processed the veggie/egg mixture until it was nice and smooth, and then added in some cocoa powder, sugar, white-whole wheat flour, espresso powder (it helps bring out the chocolate flavor), baking powder, and salt.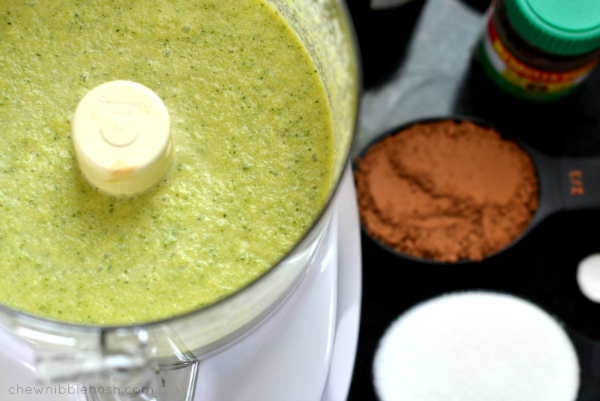 The batter comes together completely in the food processor.  How perfect is that?  Once the batter was nice and chocolatey, I threw in a cupful of chocolate chips, just to let the zucchini know we weren't messing around.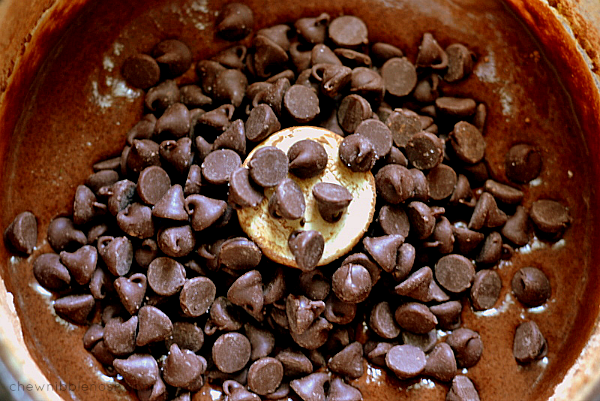 I pulsed the machine just a few more times, to mix in those chips, and then I poured the batter into my 7×11 inch baking dish.  The batter wasn't as thick as traditional brownie batter, but it didn't matter.  After thirty minutes in the oven, my kitchen smelled like brownie heaven, and I removed a beautiful dish of "You'd never know the bulk of the batter is vegetables" from the heat.
 I let the brownies cool, and then mixed together a simple chocolate ganache glaze (because it never hurts to throw just a little more chocolate in, right?).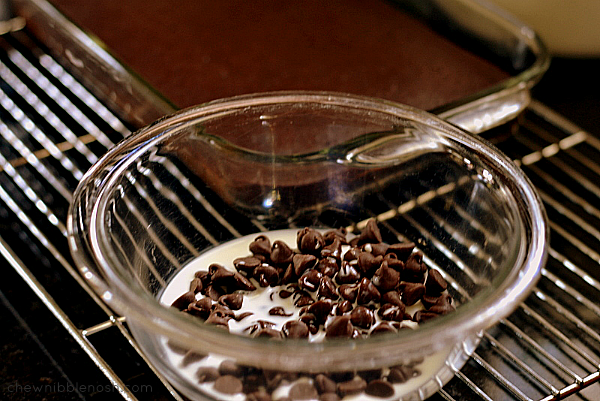 I warmed some half-and-half and chocolate chips in the microwave, and then stirred until they were nice and smooth.  Then I spread it out over the top of the brownies, letting it drip down the sides into the spaces around the brownies.  A little thorough coverage never hurt anyone.
I popped the pan into the fridge to set the chocolate, for about an hour, and then brought the brownies up to room temperature before serving them.
These aren't your average brownies.  They taste more along the lines of a flourless chocolate cake than a traditional brownie.  They are dark, dense, and fudgy, and if you're not all that into chocolate, they probably won't be the brownie for you.  That said, I found them rather tasty, and even though the kids mentioned that they didn't taste like "normal brownies", they had no problems gobbling up every last bite.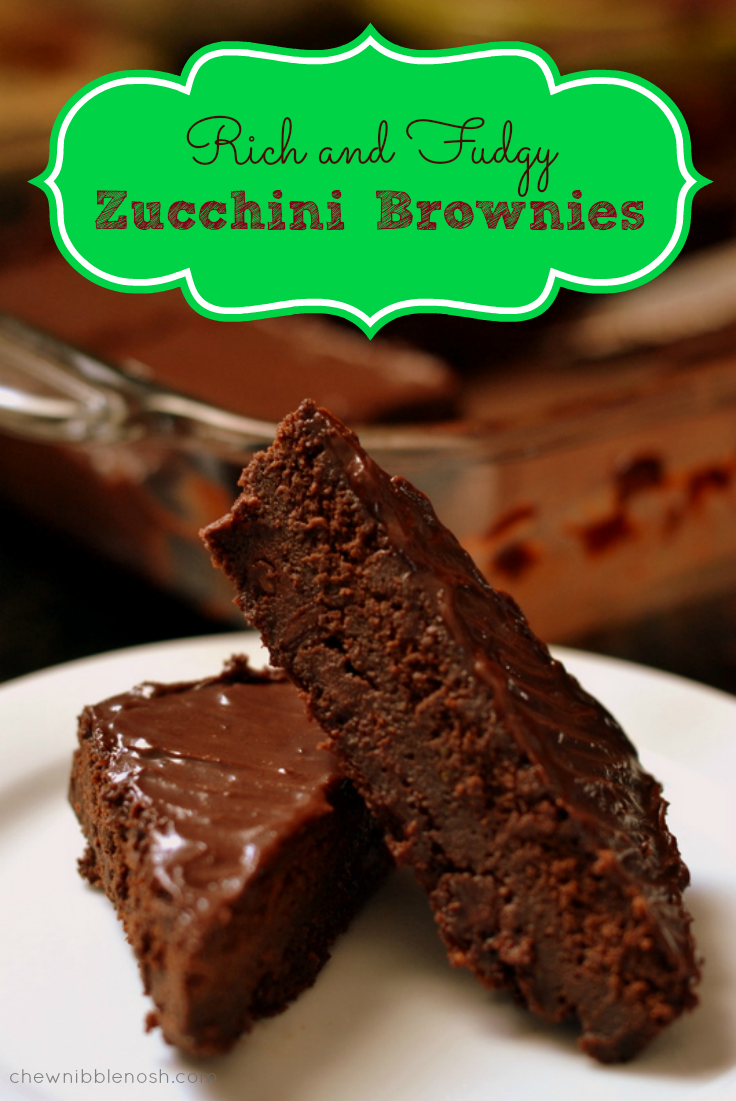 RICH AND FUDGY ZUCCHINI BROWNIES
Recipe adapted from King Arthur Flour
Rich and Fudgy Zucchini Brownies
Author:
Prep time:
Cook time:
Total time:
Ingredients
2 cups chopped, fresh zucchini
3 Tbsp. butter, melted
3 eggs
1 tsp. pure vanilla extract
3/4 cup sugar
2/3 cup unsweetened cocoa powder
1/2 tsp. espresso powder (optional)
1/2 tsp. baking powder
1/4 tsp. salt
1/2 cup all purpose or white-whole wheat flour
1 1/2 cups chocolate chips, divided
1/4 cup half-and-half or heavy cream
Instructions
Preheat the oven to 350*F. Spray a 7×11 inch baking dish with nonstick spray and set aside.
Place the chopped zucchini, eggs, butter, and vanilla in the bowl of a food processor. Cover, and process until the mixture is smooth.
Add the sugar, cocoa powder, espresso powder, baking powder, salt, and flour. Pulse a few times until well combined.
Add 3/4 cup of the chocolate chips and pulse a few more times to mix in the chocolate and chop it up just a bit.
Pour the batter into the prepared baking pan.
Bake, at 350* for 25-30 minutes, until a tester comes out clean from the middle of the brownies and it doesn't look like there's any "wet batter" left.
Cool on a wire rack.
Once cool, combine the remaining 3/4 cup of chocolate chips with the cream. Microwave in 30 second intervals, until warmed and stir until the mixture comes together into a smooth ganache. Spread the glaze over the top of the cooled brownies.
Place the pan in the refrigerator for an hour, just to set the chocolate topping. Remove from the fridge and bring to room temperature before slicing and serving.
ENJOY!