Directions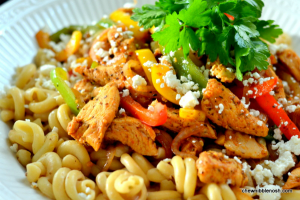 If my kids ask what's for dinner, and I say "Chicken and pasta", I'm usually safe from the "Uuuuuuugh!  Noooooo!  WHAT?  Eeeeeew!" that would have accompanied scarier responses for them like "We're having fish" or "I've decided to experiment with tofu today".  I can mix other things in with the chicken and pasta, things that they don't usually like, and they won't complain a whole lot because they just focus on the chicken and pasta.  Those are their comfort foods…their no complaint foods.  So, I'm always looking for new ways to jazz up the ordinary and introduce them to new and exciting flavors and variations on their favorites.
When my friends at McCormick asked me if I'd like to try creating a fresh, yet comforting recipe, around one of their new Perfect Pinch seasoning blends for summer, I was eager to get started.  I decided to appease my kids with some chicken and pasta, but to liven things up a bit and take it someplace where we hadn't had it before, so I came up with a pretty darn good (if I do say so myself) recipe for Chicken Fajita Pasta!
This dish is super quick and easy to throw together, and with some quick fresh ingredients, a few pantry staples and my all-in-one seasoning mix, it made for a perfect dinner on a night where I, honestly, didn't feel a whole lot like cooking dinner!
I started by slicing up some bell peppers, and half of a large onion.  It's hard to have fajita flavor without peppers and onions, right?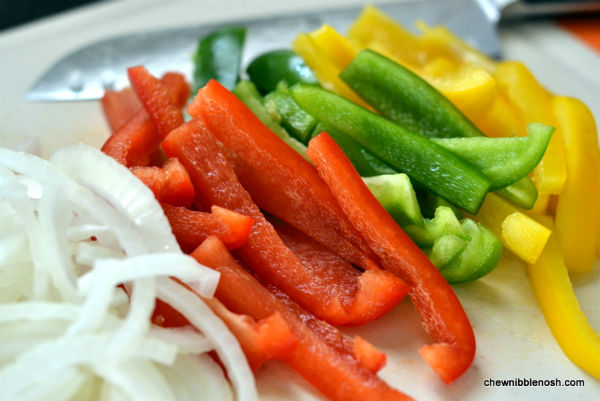 Then, I sliced up a pound of boneless, skinless chicken breasts and tossed them with some of McCormick's Sweet Onion & Herb Perfect Pinch Seasoning.  It's a delicious combination of onion, garlic, salt, thyme, rosemary, sugar, tomato, and other spices, and I felt it would be the perfect flavor boost for my fajita chicken.  It isn't spicy, but has just a little kick.  Enough to let you know it's there, and that you're really going to enjoy whatever you sprinkle it on!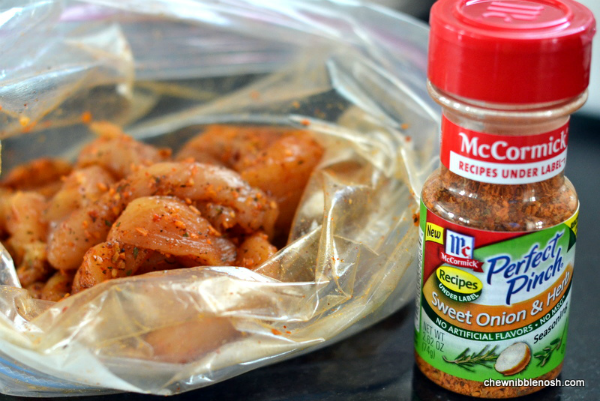 While all of this was going on, I brought my pot of water to a boil on the stove so I could get my pasta cooking, while the chicken and veggies were cooking up.
I started by sauteing the chicken in a little bit of olive oil right on the stove top.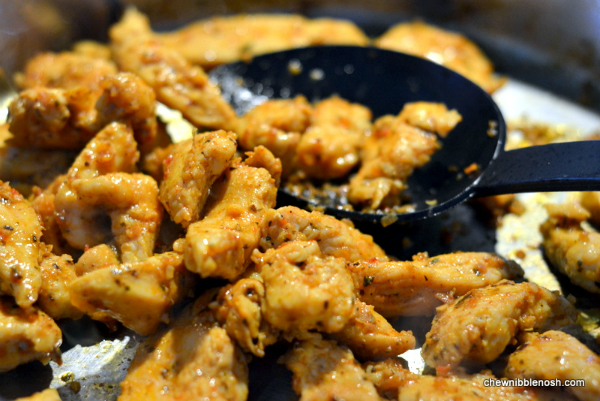 Can't you just see all of that flavor that little bit of seasoning gave it?  Forget a marinade!  This chicken was packed with great flavor, and it took me all of about five minutes to get me there.
Once the chicken was cooked, I removed it and set it aside, keeping it warm, and then added my peppers and onions, and a dab more oil to the pan.  I cooked the peppers and onions until they were starting to soften, but still had a little bit of bite left in them.  Just about five minutes.  I didn't want mushy peppers on my hands.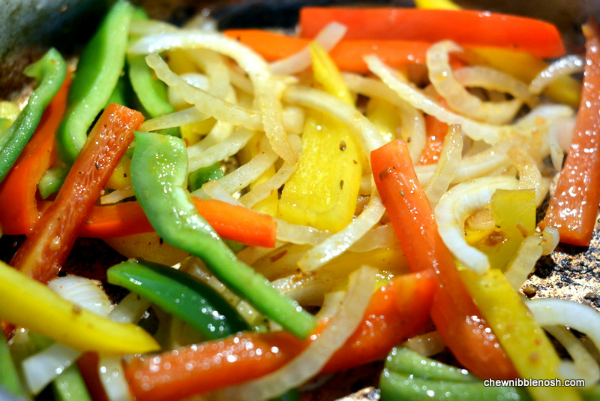 Sauteing the chicken in the same pan left lots of wonderful flavor and spice for the veggies to play around with.  I sprinkled them with a little salt, but they were otherwise, perfectly seasoned.  When they were cooked just the way I liked them, I added them to the bowl with the chicken and covered it with foil to keep it all warm.
The chicken and peppers were perfect just like that, but I was turning this into a pasta dish, so I needed something to pep up my pasta just a bit so that it would be the perfect vehicle for that tasty chicken and peppers mix.
I started by deglazing the pan with some chicken broth and scraping in all of those browned, flavor packed bits from the chicken and peppers.  Then, I stirred in a half of a cup of fresh salsa, and let it bubble together for a couple of minutes.
I finished off the sauce with a few ounces of softened cream cheese, and a little salt and pepper.  I wanted that creamy, tangy boost to my "fajitas" that sour cream brings, but I didn't want to take a chance on the sour cream curdling.  So, in stepped the cream cheese, and it worked out wonderfully.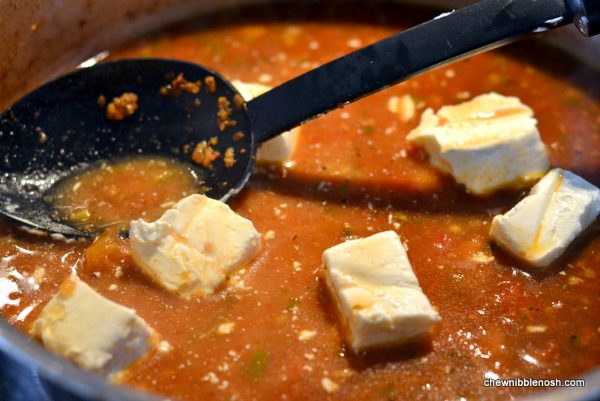 Once I whisked in the cream cheese, I had a tangy, just slightly creamy, but still super fresh tasting sauce for my pasta to sop up.
I drained my pasta, and then tossed it with the sauce, before pouring it all into a large serving bowl.  Then, I topped it with the chicken and peppers, and sprinkled it with a hefty dose of Queso Fresco.  Queso Fresco is a mild, creamy, fresh Mexican cheese.  It's becoming readily available in most grocery stores, and it crumbles beautifully like Feta ,making it a perfect cheesy addition to this pasta dish…and many other tasty treats.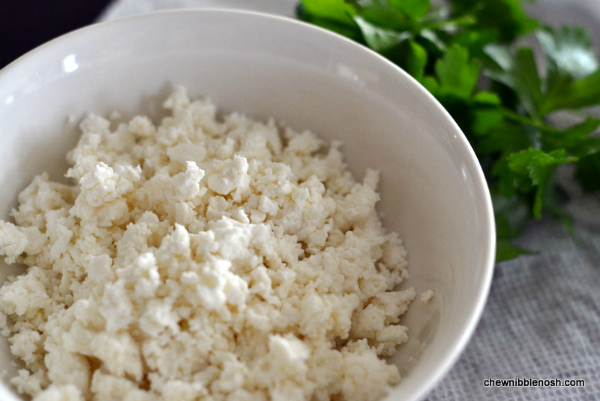 This dish was so good! It had all of the right flavors, perfect spice, and came together so quickly that I'd forgotten that I didn't want to cook dinner!  The McCormick Perfect Pinch spice blends made it easy!  One bottle, tons of flavor.  No guesswork.  It was a hit!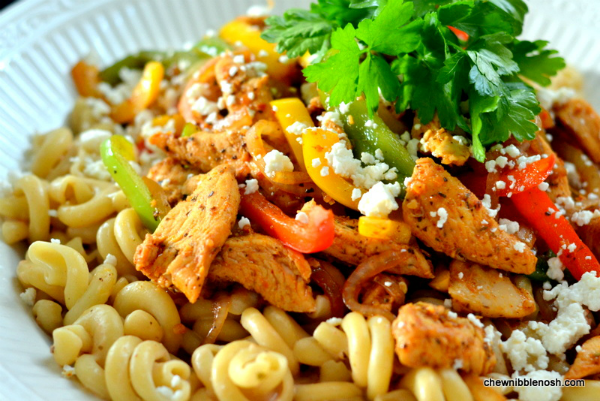 **For more great recipe ideas using McCormick's Perfect Pinch blends, check out McCormick.com!  In fact, their Herbed Sausage and Bell Pepper Hash, using the same spice blend I used for the pasta dish, may just make a breakfast appearance soon at our house!  Yum!
CHICKEN FAJITA PASTA
Chicken Fajita Pasta – Cooking with McCormick Perfect Pinch Blends
Author:
Prep time:
Cook time:
Total time:
Ingredients
2 cups sliced bell peppers, any color (about 2 full peppers)
1/2 large onion, sliced
1 lb. boneless, skinless chicken breasts
2 Tbsp. McCormick Perfect Pinch Sweet Onion & Seasoning Blend
3 Tbsp. olive oil, divided
1 cup low-sodium chicken broth
1/2 cup salsa
3 oz. reduced fat cream cheese, softened
1 lb. pasta (any shape, but make sure it's a shape that holds onto sauce well, like Rotini or Farfalle)
Queso Fresco for sprinkling
Fresh cilantro, for garnish, if desired
Instructions
Bring a large pot of salted water to a boil on the stove top. Cook pasta according to the directions on the package.
Meanwhile, slice the chicken breasts into pieces and toss with the McCormick Perfect Pinch seasoning.
Add 2 tablespoons of the olive oil to a skillet and heat over medium-high heat. Add the chicken, and cook, stirring often, until chicken is cooked through, about 5 minutes. Remove the chicken from the heat and keep warm.
Add the remaining 1 tablespoon of oil to the pan and add the peppers and onion to the pan. Saute until the peppers are crisp tender and the onions have begun to brown up just a bit, about 5 minutes. Remove the peppers and onions to the bowl with the chicken, cover with foil, and keep warm.
Deglaze the pan with the chicken broth, scraping up all of the browned bits. Allow to simmer for 2 minutes. Add the salsa, and simmer for another minute or two until heated through.
Finish off the sauce by whisking in the cream cheese until the sauce is smooth and well combined. Add salt and pepper to taste.
Toss the pasta with the sauce, and pour the pasta into a large serving bowl. Top with the warm peppers, onions, and chicken.
Sprinkle generously with Queso Fresco cheese, and garnish with fresh cilantro.
ENJOY!
This is a sponsored post written by me on behalf of McCormick.