Directions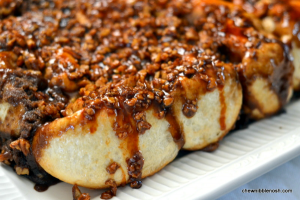 Old, passed down recipes are the best, aren't they?  I have my fair share of fancy cookbooks, but I love looking through my old recipe cards and seeing food memories reappear right before my eyes.  I have my recipe cards stored in a large photo album, because my recipe box was bursting at the seams.  It makes finding that perfect recipe just a little less frustrating, and when I look through it the way it's organized now, it's like revisiting an old vacation photo album.  I find torn pieces of paper with recipes scribbled in "I don't have time to write it exactly" code, beautifully written recipe cards, and tattered magazine clippings.  I find notes from friends and family who are no longer with us, and the beaten up corners and over-folded fold lines in cards that have been passed on from generation to generation.  It's food memory after food memory, tucked away for me to rediscover every once in a while.
This recipe, I remember grabbing from a friend after she'd made me these wonderful sticky buns years ago.  The paper it's on was torn, hastily, from a notebook, and I guess I was in a hurry, because it's written in that speedy quick code ("cin" for cinnamon, "froz" for frozen", etc.).  I must have really wanted to get home and whip up these rolls for myself!
These are a wonderful dish to have on hand when you're having company overnight and want something warm and cozy in the morning with a cup of coffee.  They are a cinch to throw together, and always a big hit.  They are kind of along the lines of monkey bread, but I think they're less hassle to throw together.
I started by chopping up some pecans and layering them into a 9×13 inch pan.  The group I was serving had a few kids who just weren't into the nuts, so I only covered half of the dish with the pecans.  Once they were down, I sprinkled some butterscotch pudding mix over the top.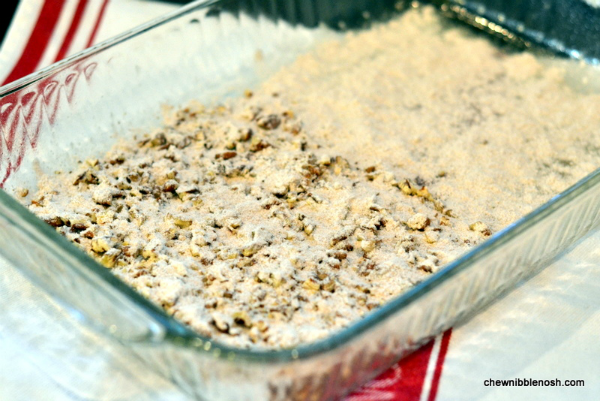 Once that was down, I got working on the sticky part.
Into a saucepan on the stove went some brown sugar, a stick of butter, some white sugar, and a hefty dose of cinnamon.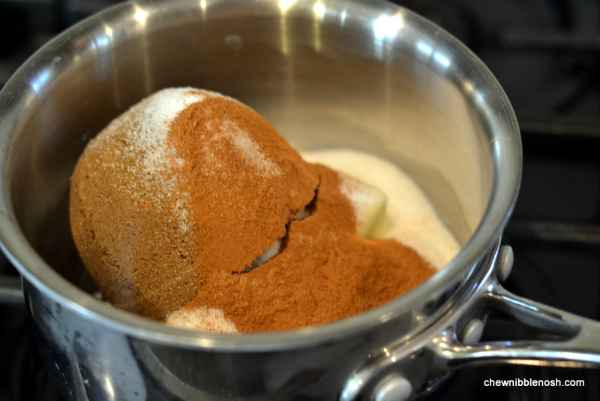 I only had dark brown sugar on hand, so that's what I used here, but regular brown sugar works perfectly too.
I let that mixture melt down on the stove, stirring it every once in a while, until it was melted thoroughly and bubbly.
As it was cooking, I took some frozen, unbaked, yeast dinner rolls and laid them over the nuts and pudding.  When the sticky cinnamon caramel was ready, I poured it evenly over the rolls in the pan.
At this point, I laid a sheet of waxed paper over the top of the pan and covered it with a dishcloth.  Then, I let the pan sit on the counter overnight to allow the dough to rise, before baking them off in the morning.
Morning arrived, I heated up my oven, and then popped these, now puffy, little beauties into the oven.
The rolls bake for around twenty minutes.  When the rolls are cooked through, and you can see the sugar bubbling up the sides, they are ready to come out.
As soon as they were out of the oven, I flipped the rolls out onto a large platter, and let all of that ooey, gooey cinnamon sugar drizzle and drip all down the sides and in every nook and cranny.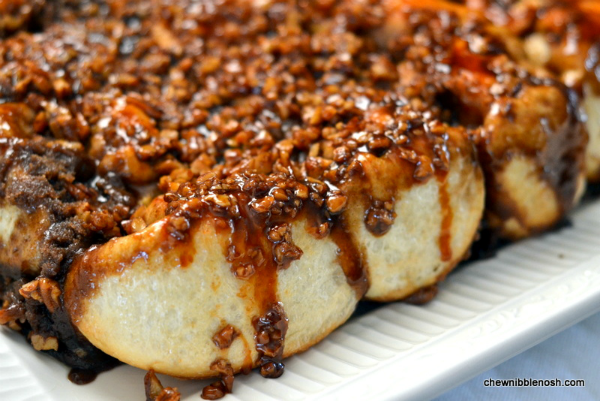 And, you can imagine how lovely my kitchen smelled that morning.
The sticky rolls were a hit, as usual, and an old favorite had been rediscovered.  I hadn't made these rolls in ages, but now that we've had them again, I'm pretty sure they'll make another appearance soon.  Warm, cozy, sweet breakfast doesn't get much easier than this.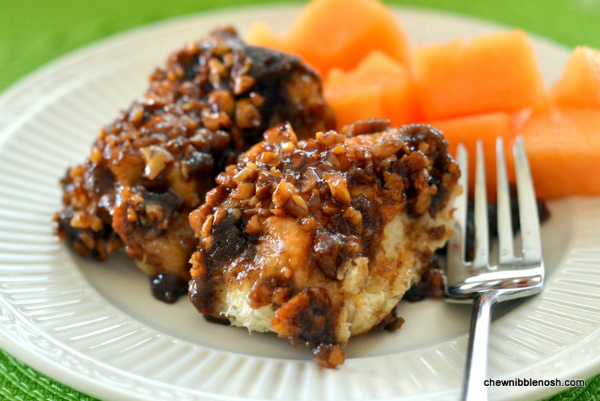 EASY OVERNIGHT STICKY BUNS
Easy Overnight Sticky Buns
Author:
Prep time:
Cook time:
Total time:
Ingredients
20-24 frozen yeast dinner rolls, unbaked
1-2 cups chopped pecans, depending on how nutty you like things
1/2 of a 3.5 oz. box of Cook and Serve Butterscotch Pudding mix
1 stick butter
1/2 cup sugar
1 cup brown sugar
3 tsp. cinnamon
Instructions
Grease a 9×13 inch baking pan.
Sprinkle the nuts over the bottom of the pan.
Sprinkle the pudding mix over the nuts.
Place the dinner rolls in rows over the pudding. I can usually fit 20 in a pan. Make sure you leave a little bit of room between each roll so they have room to rise.
In a small saucepan, melt the butter, sugar, brown sugar and cinnamon together over medium heat. Bring to a boil, stirring occasionally, and once the sugars are melted and the mixture isn't grainy, pour it evenly over the frozen rolls in the pan.
Place a sheet of waxed or parchment paper over the pan, and then cover it with a light dish towel.
Leave the pan of rolls out overnight to allow the bread to rise.
In the morning, preheat the oven to 350*F.
Uncover the rolls and bake for 20 minutes, until rolls are browned and sugar mixture is bubbling.
Immediately flip the rolls out onto a serving platter once removing them from the oven.
ENJOY!