Directions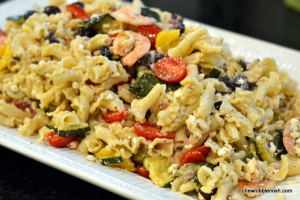 It's hard to believe that summer is already winding down.  My girls start school a week from now, but I know a lot of kids that have already started…and a few that don't start until after Labor Day, so those of you in that category can just ignore my end of summer talk for a while.  What a summer we've had.  I fully intended on this summer being a little less busy than last summer, when I felt like I was constantly going, going, going.  Well…it didn't happen.  We had a busy, but wonderful, summer and it's flown by in the blink of an eye.
Next week at this time, I'll have one child in middle school and one in third grade.  Both are creeping out of "little kid" status zone, and it's weighing on my Mom-heart.  How did this happen so fast?  I spent part of this morning at the middle school with my oldest, decorating her new locker.  I suddenly felt like a big Mom-nerd.  Tearing out pictures of cute boys from teeny bopper magazines and using Scotch tape to hang them up is, apparently, a thing of the past.  Now, there are "locker rugs" and "locker chandeliers", as well as "locker wallpaper".  (I'm not kidding.)  Moms of boys, rejoice.
Anyhooo, I digress.  It's still summery, and summery weather calls for summery food.  This is a wonderful, cool meal for summer entertaining.  You can make everything ahead of time, and just mix it up before serving.  It's a substantial pasta salad, which can serve as a hearty meal, or as a side dish to feed a crowd at a pot luck.
I started by roasting my zucchini and peppers, and cooking my pasta.  I sliced the zucchini into thin slices, and then cut my pepper in half.  I coated them in olive oil, and gave them a good sprinkle of salt and pepper, and then popped them into the oven under the broiler.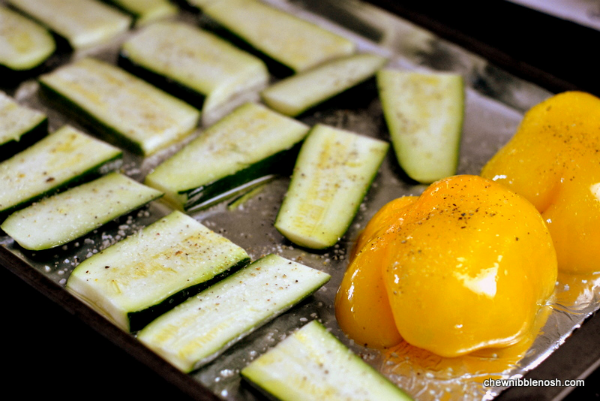 I broiled the veggies for about ten minutes, flipping them over once, until they were starting to toast up in spots, and were cooked through.
As the veggies cooked, I boiled my pasta on the stove top.  They both finished up about the same time, so I removed the veggies to a bowl and let them cool, and I spread the pasta out on a cookie sheet to allow it some cooling time as well.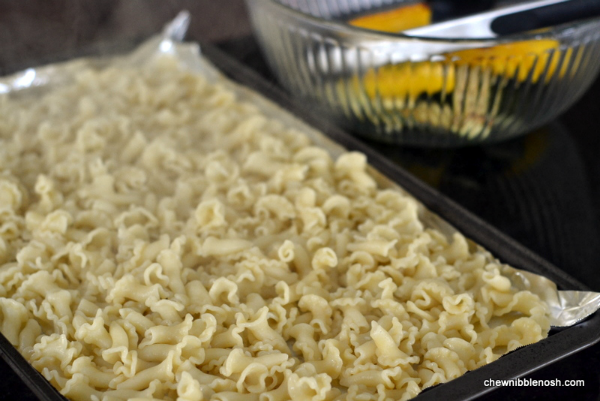 As the pasta and veggies cooled, I halved a pint of grape tomatoes, and chopped up some kalamata olives.  Then, I tossed a pound of shrimp with some olive oil, salt and pepper, and threw them on the grill for a few minutes, until they were nice and pink.
When the veggies were cool, I cut them into pieces and kept them in the bowl.  Then, I poured my cooled pasta on top, and topped that with the tomatoes and olives.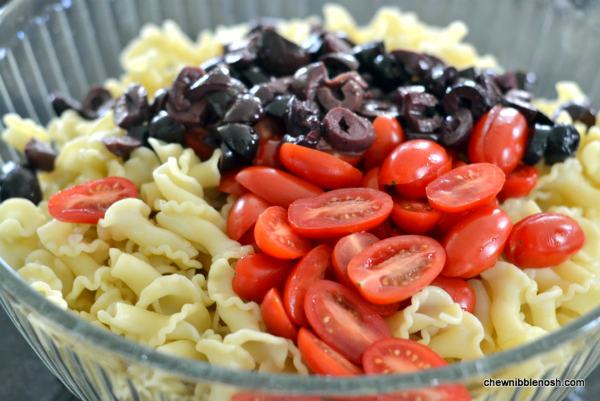 I popped the lid on the bowl and put it in the fridge, where it waited until I was ready to finish things up.
I let the grilled shrimp cool, and then sliced them in half.  I wrapped them up, and they went into the fridge too!  And there they stayed, until much later in the day.
Just before it was time to eat, I whisked together my tangy Greek dressing.  It was a mixture of rice vinegar, Dijon mustard, garlic, salt, pepper, and olive oil.
I took my cooled pasta and veggies out of the fridge and gave them a toss.  Then, I topped it with the cooked shrimp, some crumbled feta cheese, chopped red onion, some oregano, and that tangy dressing.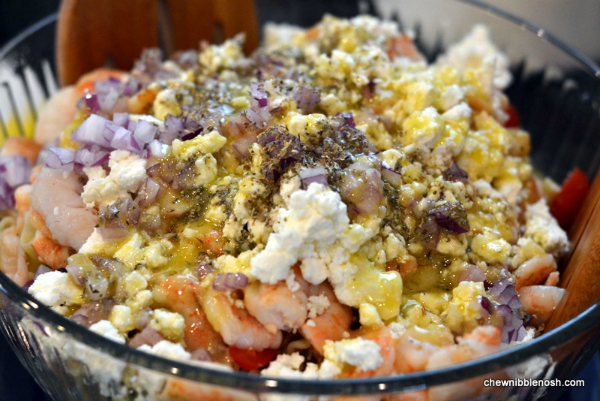 I gave it a good toss, making sure everything was coated well and the veggies and cheese were all evenly distributed, and then I piled it high on a huge platter and served it to my guests.
I've served this to guests on a few occasions, and it always gets rave reviews for being perfectly light, fresh and summery.  It's so tasty, and chock full of everything you need for a wonderful meal and to celebrate an amazing summer.
GREEK PASTA SALAD WITH SHRIMP, TOMATOES, ZUCCHINI, PEPPERS AND FETA
Adapted from AllRecipes.com
Greek Pasta Salad with Shrimp, Tomatoes, Zucchini, Peppers and Feta
Author:
Prep time:
Cook time:
Total time:
Ingredients
For the Pasta Salad:
2 medium zucchini, thinly sliced lengthwise
1 medium yellow pepper, seeded and halved lengthwise
2 Tbsp. olive oil
salt and pepper
1 lb. pasta (any shape will do, but try to find one that will hold onto sauce/dressing well)
1 pound cooked, halved, shrimp (I grill mine, but you could buy them precooked and save some time)
1 pint cherry tomatoes, halved
3/4 cup Kalamata olives, pitted and coarsely chopped
1 cup crumbled Feta cheese
1/2 small red onion, finely chopped
2 tsp. dried oregano
For the Vinaigrette:
1/4 cup rice vinegar
2 Tbsp. Dijon mustard
1 large clove garlic, minced
Big pinch of salt
Pepper, to taste
2/3 cup olive oil
Instructions
Cook pasta according to the package in salted water. Drain the pasta and lay it out on a cookie sheet to cool.
Preheat your broiler. Adjust an oven rack to the second highest position in your oven.
Toss the zucchini slices and pepper halves with olive oil. Lay them flat on a cookie sheet that has been lined with foil. Sprinkle with salt and pepper. Place the cookie sheet of vegetables under the broiler and allow to cook for 8-10 minutes, flipping once, until the veggies start to brown in spots and are cooked through. Remove from the oven and allow to cool.
Once cool, cut the zucchini and peppers into bite sized pieces. Place the veggies in a large bowl. Add the cooled pasta to the bowl. Top with the halved tomatoes and chopped olives. Cover the pasta bowl and chill until just before serving time.
Whisk together the first five ingredients of the dressing. Slowly drizzle in the oil, whisking all the while, so that the oil blends in smoothly.
Before serving, toss the veggies with the pasta. Add the shrimp, feta, red onion and oregano. Pour the dressing over the salad and mix well, until everything is coated evenly.
Season with salt and pepper, and serve.
ENJOY!