Directions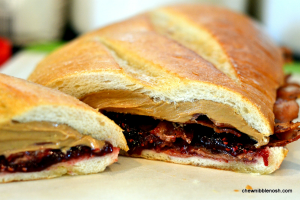 Do you love movies?  I LOVE movies, and I would love to send YOU to a movie!  So keep reading!
 What If, a wonderful new romantic comedy starring Daniel Radcliffe and Zoe Kazan, opens this month in theaters.  Check out the trailer here:
The film is witty, loveable, and charming enough on its own, but there's a little something extra thrown in there for good measure, and I was asked to give it a try.  Tucked into the storyline of this new film, is the urban legend regarding this mind-blowing sandwich.  The Fool's Gold sandwich was one of Elvis Presley's all time favorite meals.  Created in a restaurant in Denver, Colorado, the Fool's Gold is an extreme take on peanut butter and jelly, and not to be taken lightly.  Whenever he was in Denver, Elvis would make late night pilgrimages to dine on this marvelous creation.  Elvis loved this sandwich so much, that he once flew his private jet all the way out to Denver to pick up ten of these sandwiches for Lisa Marie's third birthday party…because every three-year old dreams in peanut butter, jelly, and bacon, right?
When I was asked if I'd be interested in tackling this extreme sandwich in honor of the film's release, I couldn't resist.  This sandwich is so absurdly decadent, it borders on ridiculous.  I mean, look at the ingredients…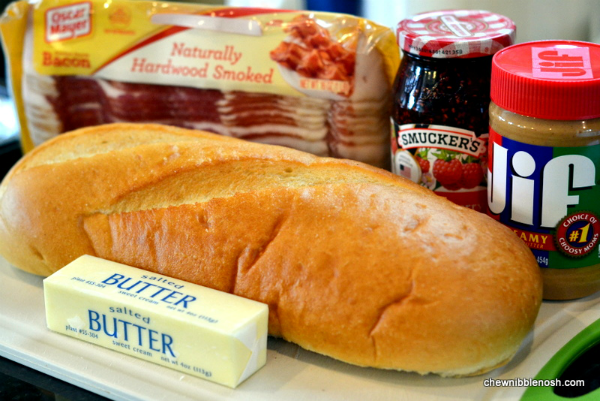 Keep in mind that every last bit of those ingredients goes into ONE sandwich.  Yeah, that's right…an entire stick of butter, a POUND of bacon, a whole loaf of Italian bread, every last bit of a jar of peanut butter, and that entire jar of jam.  The recipe card claims that it "Feeds 8 to 10…or 1 Elvis."
Crazy, no?
Before taking the sandwich on, I mentioned it to a few friends.  The idea of the sandwich was met with two reactions every…single…time.  Upon first hearing about the recipe, people shudder, make gagging noises, and act completely grossed out.  Then, after letting it sink in a bit, after really taking into consideration the flavors going into the sandwich, the conversation would end with, "Well, it could be really good.  Sweet, salty, savory, creamy…every wonderful taste sensation in one place."
So, I told my family to prep their bellies, and I dove in.
First, I coated the loaf of bread with an entire stick of butter.  (I think I heard Paula Deen faint.)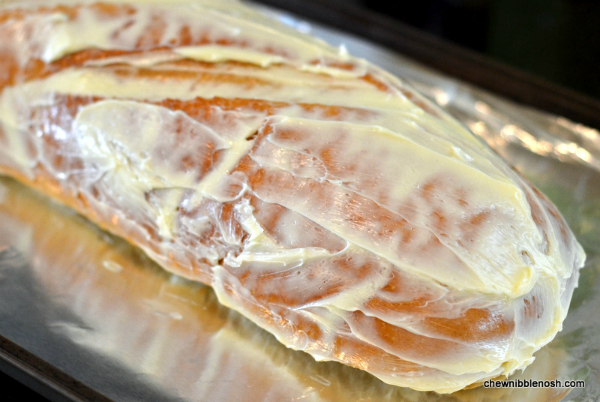 The loaf of bread went into the oven for ten minutes, where it turned a beautiful, buttery (pun intended), golden brown.
As the bread was baking, I crisped up that bacon with the help of my pancake griddle.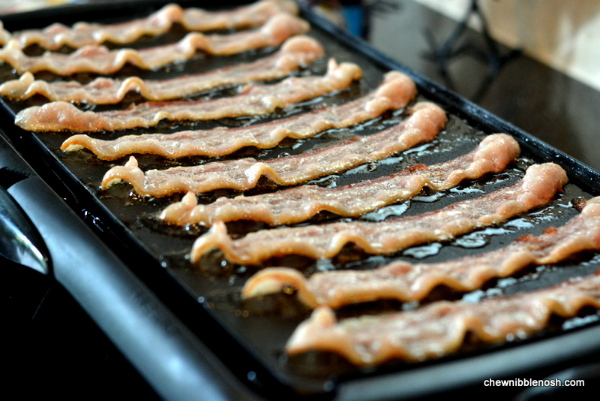 No, that's not all the bacon.  I had to do it in two batches!  Even with the big griddle!  That's a lot of bacon…and my daughters were drooling at this point because the house smelled like butter, bread, and bacon.  Does it get any better?
Once the bacon was done, it was time to assemble the sandwich.
I carefully sliced the now crusty, buttery loaf of bread in half lengthwise.  Then, I scooped out most of the bread in each half, leaving a buttery, crispy shell.
Into one half went the ENTIRE jar of peanut butter.
I decided to fill the top half with the peanut butter.  I figured it would resist the gravitational pull a little more than the jam and make this sure-to-be-messy sandwich just slightly less messy.
After the peanut butter half was filled, I spread an entire jar of raspberry jam (Elvis preferred grape, but I changed things up a bit) into the other half, and topped the jelly half with the bacon.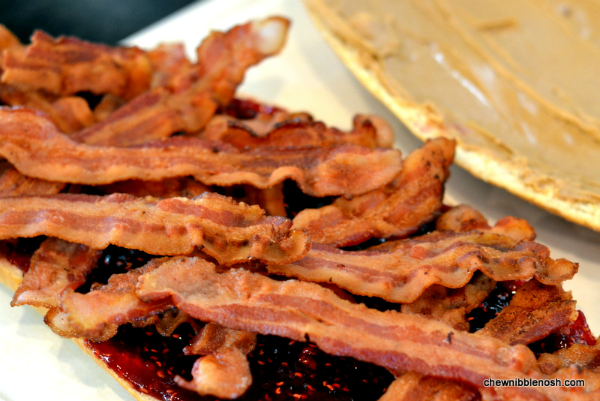 And then, it was time to make the magic happen.
I put the two halves together, and started slicing.  (Since none of us are an Elvis, we couldn't possibly tackle the entire thing.)
I think Avery, my youngest, said it best when she first took a bite and said, "OHMYGRMDISSSOGOO".  (Her mouth was stuck together with peanut butter, so I'll translate:  "Oh my gosh, this is SO good.")
You know what?  It really is.
Crazy as it seems, it really is just about the most perfect flavor combination out there.  The bread is buttery and crisp, and surprisingly not over the top.  Throw in the peanut butter and jelly, which warm up to be extra gloopy in the hot bread, and the crunchy, salty, savory bacon?  It's flavor heaven.
It's a pretty safe bet that I'll be making less extreme PBJ & Bacon paninis in my panini press before long.
I can't wait to see What If when it hits Indianapolis theaters on August 15th!  If you'd like to see it too, leave a comment here on this post!  Just tell me what your favorite sandwich is, and you're entered to win!
On August 15th, opening day, I'll pick one winner who will be awarded TWO TICKETS to see What If at the Keystone Art Cinema in Indianapolis.  The tickets are good for any showing during the film's run at the theater.
The Nitty Gritty:
All entries must be received by Noon on Friday, August 15, 2014.
The winner will be chosen using a random number generator.
The tickets are only good at Keystone Art Cinema in Indianapolis.  They can not be redeemed at another theater.
Winner will be notified via email.  If the winner does not respond to the email within 24 hours to claim their prize, a new winner will be chosen.
The tickets expire when the film is no longer showing at Keystone Art Cinema.
So, go ahead!  Leave a comment, and join me at the movies!!  And when you're done seeing the film, be sure to give this sandwich, or even just a smaller version of it, a try.  I'm fairly certain that if the Academy had an award for "Best Featured Extreme Food Item in a Motion Picture", this would win, hands down.
ELVIS PRESLEY'S FOOL'S GOLD SANDWICH
Elvis Presley's Fool's Gold Sandwich
Author:
Prep time:
Cook time:
Total time:
Serves:
8-10 or one Elvis
Ingredients
1 loaf Italian bread
1 stick butter, softened
1 pound of bacon
1 jar of creamy peanut butter
1 jar of jam (I used raspberry, and would highly recommend it.)
Instructions
Preheat the oven to 350*F.
Coat the bread entirely in the softened butter. Place the buttered bread on a cookie sheet that has been lined with foil. Bake, at 350*F for 10 minutes, or until golden.
Meanwhile, cook the bacon until crispy. Drain on paper towels.
Slice the baked bread in half, lengthwise. Hollow out the insides of each half.
Fill the top half with the entire jar of peanut butter.
Fill the bottom half with the entire jar of jam.
Top the jam with the pound of crisp bacon.
Place the peanut butter half on top and press down lightly.
Slice into pieces with a serrated knife.
ENJOY!