Directions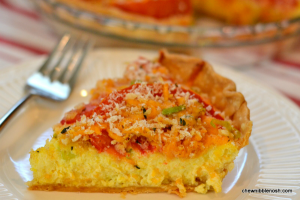 As I was getting ready to begin this post, it dawned on me that I seem to have a thing for tomato pies in the summertime.  I've posted a couple of different versions, and here is yet another.  I can honestly say that this one, right here, may be my favorite…so far, at least.  Not that the others aren't delicious, but this one was really something special.
There is nothing like summer sweet corn, and no tomato ever tastes as good as a homegrown, summer tomato.  Put both of those together, and you've got some summer magic!
Last weekend, my husband took the girls to our local farmer's market on Saturday morning.  He came home with a huge bag of sweet corn from our favorite corn people.  (We live in Indiana, so there's no short supply of great corn people come summertime.  Lucky us!)  This corn is so perfectly perfect.  I wish I could send you some.  I'd seen this recipe in the most recent issue of Food Network Magazine, and as soon as he walked in with the corn, I knew it would be on the menu in the coming week.
I started by pre-baking the crust.  I just used refrigerated pie crust.  You could absolutely make your own, but this worked out perfectly.
As the crust was baking, I sliced up two big, beautiful tomatoes into wedges, and tossed them with a little bit of salt.  Then, I laid them out on some paper towels so they could drain a little bit.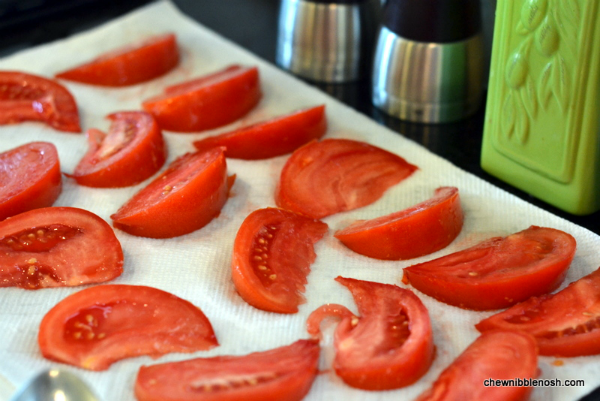 Tomatoes give off a lot of juice as they bake, so draining them like this assures that you won't end up with a soggy pie.
As the crust was finishing up, I started to make my corn custard.  I cut the kernels from two ears of corn, and cooked them in just a dab of butter for a couple of minutes.  Then, I removed some of the whole kernels to a bowl, and left the rest in the pan.  I added some cream to the pan, and let that mixture cook for a couple of minutes, until it was gently simmering.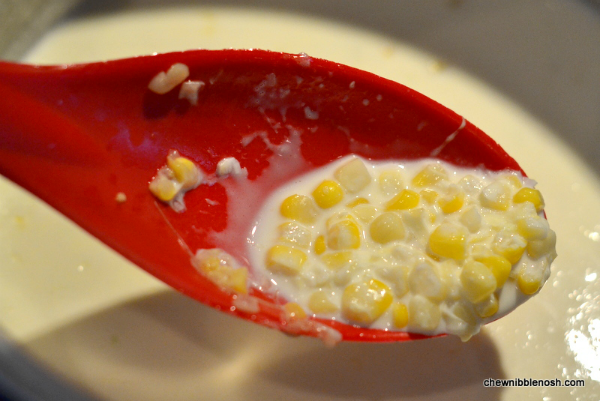 Once the corn-cream had come to simmer, I transferred the mixture to my blender, and then pureed it until it was nice and smooth, before adding it back into the bowl with the rest of the corn.
To that mixture I added some chopped scallions, three eggs, some shredded sharp cheddar cheese, and black pepper.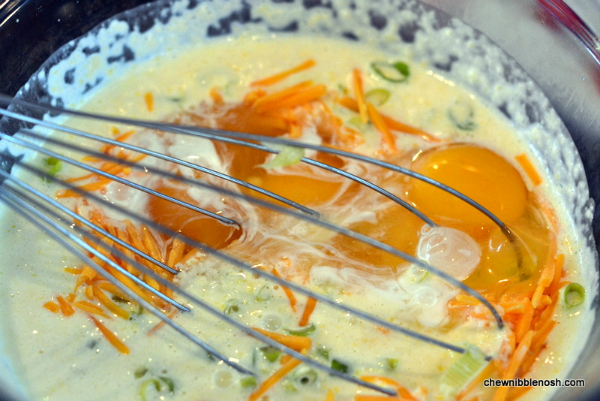 I beat it all together, and then poured it into my baked crust.
It went back into the oven for about thirty-five minutes, where it puffed, and set up beautifully.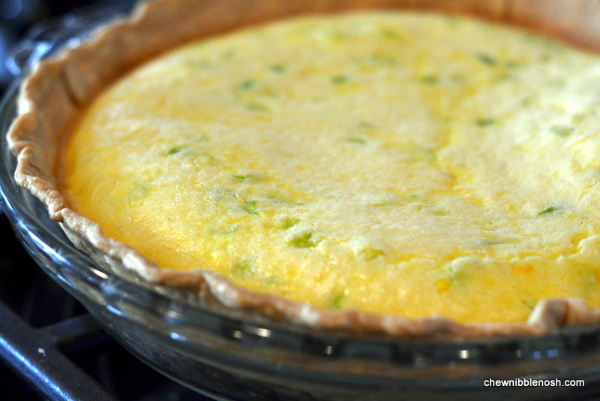 To finish my pie, I mixed together some more cheese and scallions, along with some Panko bread crumbs, fresh thyme, paprika, a dash of cayenne pepper, salt and black pepper.
I sprinkled some of that mixture on top of the custard base.  Then, I arranged my drained tomato slices around the pie, and sprinkled the rest of the breadcrumb mixture over the tomatoes.
Before I popped it back into the oven, I dotted the top with a little bit of butter.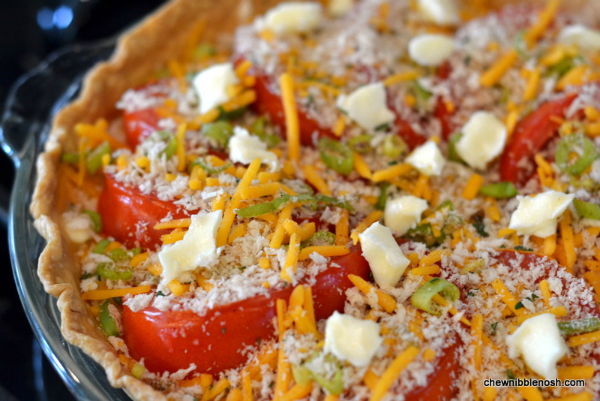 The pie baked for fifteen more minutes, and when it came out of the oven, it was golden brown and crispy on top, and smelled absolutely heavenly.
I couldn't dive in just yet, though.  I needed to let it set up for about 20-30 minutes before cutting into it.
When I could cut into it, we realized what a treat we had before us.  I served it alongside some grilled chicken and a salad, and it was just delicious.  The corn custard bakes up so nice and light, and the tomato-breadcrumb topping is packed with so much flavor.  The thyme adds a wonderful savoriness to the dish, so make sure you throw that in there.
We plowed through this pie.  I had one good-sized wedge left over, and it was so good, I drove it over to my parents' house.  They had it for dessert. It is pie, after all. 😉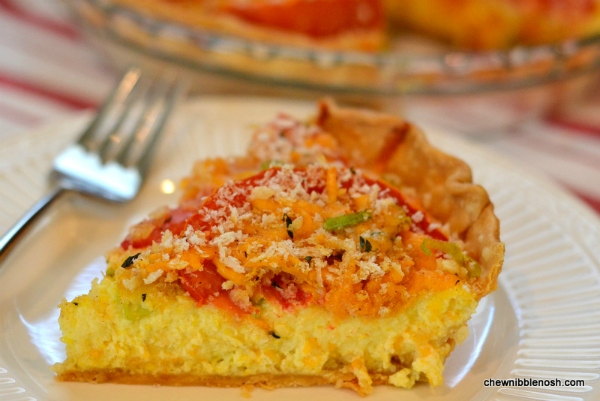 TOMATO AND CORN CUSTARD PIE
Adapted from Food Network Magazine
Tomato and Corn Custard Pie
Author:
Prep time:
Cook time:
Total time:
Ingredients
1 round refrigerated pie dough (half of a two-crust package)
2 large tomatoes
kosher salt
2 Tbsp. butter
2 ears of fresh corn, kernels cut off
1 cup heavy cream
3 large eggs
6 scallions, chopped, divided
1 cup shredded sharp cheddar cheese, divided
1/2 cup Panko breadcrumbs
1 tsp. chopped fresh thyme
1/2 tsp. paprika
dash of cayenne pepper
Instructions
Position the racks in your oven in the middle and upper third positions. Preheat the oven to 350*F.
Line a 9-inch pie plate with the pie crust. Crimp the edges. Poke the bottom and sides of the pie crust with a fork. Line the crust with foil, and fill with dried beans or pie weights.
Bake, on the middle rack, until the crust is golden, about 20 minutes. Remove the foil and weights, and continue baking until golden all over, about 10 more minutes.
As the pie crust bakes, core and slice the tomatoes into 1/2 inch wedges. Toss the tomato wedges with 1 1/2 tsp. salt. Lay the tomato wedges out in a single layer on paper towels, and allow to drain until you're ready to use them.
Melt 1 Tbsp. of the butter in a medium sized saucepan. Add the corn kernels, and cook, stirring, for about 5 minutes, until corn has softened.
Remove 1/2 cup of the corn to a bowl, and then add the cream to the remaining corn in the saucepan. Bring the mixture to a simmer.
Once simmering, carefully transfer the corn-cream mixture to a blender, and puree until smooth. Add this mixture to the bowl with the corn.
Beat the eggs, 1/2 cup of the cheese, half of the chopped scallions, and a good sprinkle of black pepper into the creamed corn mixture. Pour the custard into the baked pie crust.
Bake on the middle rack until the custard is just set, about 30-40 minutes. Remove from the oven and bump the heat up to 400*F.
In a small bowl, combine the Panko breadcrumbs with the remaining cheese and scallions. Mix in the thyme, paprika, cayenne, and 1/4 tsp. each salt and pepper.
Sprinkle 1/4 cup of the breadcrumb mixture over the pie when it comes out of the oven. Blot the excess moisture from the tops of the tomatoes, and then arrange them on the top of the pie. Sprinkle the remaining Panko mixture over the tomatoes. Dot the top with the remaining 1 Tbsp. of butter.
Bake, on the top rack, at 400*F, for about 15 minutes, until the top is golden brown.
Allow to cool for 20-30 minutes before slicing.
ENJOY!