Directions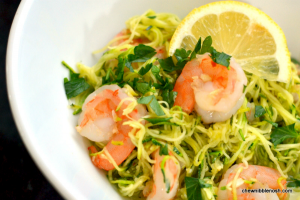 It's so nice when the stars align, isn't it?
 I was feeling kind of gross.  That gross kind of feeling you get when you've eaten your way through a weekend (er…summer), and know that you need to kick good habits back into gear.  Not that I didn't have fun doing it, I had a great time, but it's time to get serious again.  So, when it was time for me to make up my weekly grocery list and plan out my meals for the week  I started to look for some meals to get me back on track this week.
I just happened upon this recipe on Just a Taste, and it was like dinner that night just fell into place.  It sounded so good, and fresh, and fun!  And you know what?  It was!  And so easy too!
I started by prepping my short list of ingredients.  The best part was, I got to use my spiralizer.  There are a ton of different spiralizers on the market.  It's a fun tool to have on hand for garnishes, fun french fries, salads, and in this case, zucchini noodles.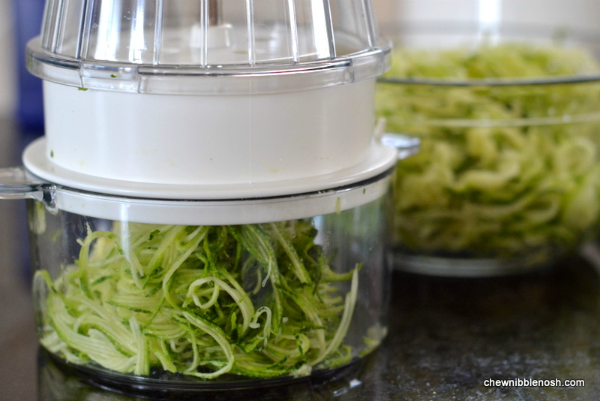 Just a few turns and a few zucchini and I had a big bowl full of "noodles" ready to go.  And then, it was time to get cooking.
I started by sauteing some garlic and crushed red pepper in a little bit of olive oil.  Once the garlic was fragrant, I added in a pound of cleaned shrimp.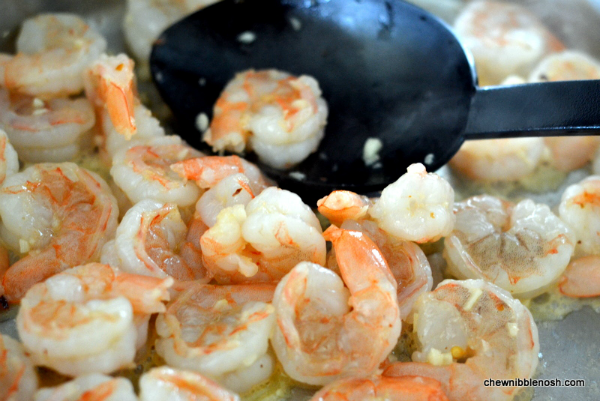 The shrimp only took a couple of minutes to cook up, all curly and pink, and then I removed them to a bowl for a few minutes so I could tackle my noodles and sauce.
I deglazed the pan with some lemon juice and white wine, and let the garlic-wine sauce simmer for just a minute, before adding in my zucchini noodles.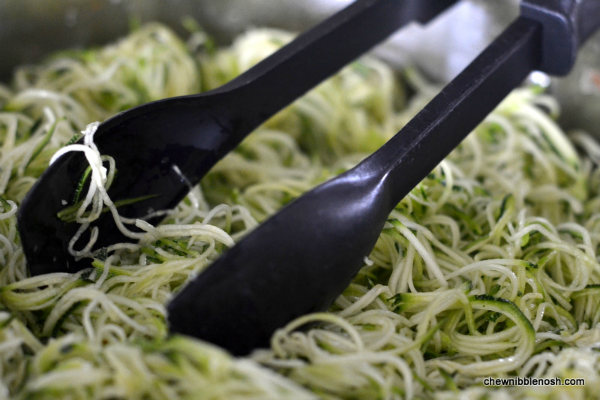 I tossed the noodles in the sauce, and let them cook for just a couple of minutes.  They cook down considerably, so don't look at your big bowl of raw noodles and assume they are going to feed an army.
After a few good turns, I added the shrimp back into the mix, and gave them a toss to coat them with the sauce and warm them back up.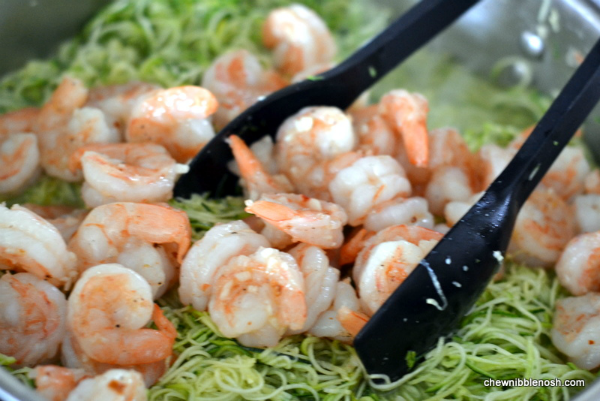 And that's it!  Simple, simple, simple.  My family gobbled every last bit of it up.  In fact, the noodles were such a hit that I think I may make up a double batch next time and double the sauce.
This dinner was exactly what I was looking for.  Full of flavor, full of freshness, clean, and guilt-free.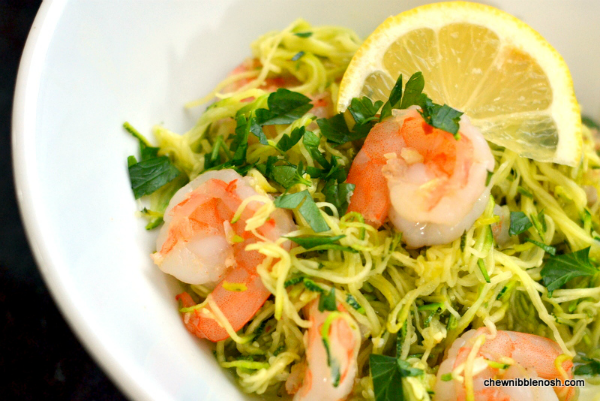 SKINNY SHRIMP SCAMPI WITH ZUCCHINI NOODLES
Adapted from Just a Taste
Skinny Shrimp Scampi with Zucchini Noodles
Author:
Prep time:
Cook time:
Total time:
Ingredients
2 Tbsp. olive oil
2 large cloves fresh garlic, minced
1/4 tsp. crushed red pepper
1 lb. shrimp, cleaned and shelled
salt and pepper
1/4 cup dry white wine
2 Tbsp. fresh lemon juice
2-3 zucchini, cut into noodles with a mandoline or spiralizer (If you don't have one, taking a few minutes to cut the zucchini into long, thin strips would work too.)
Chopped fresh Italian parsley, for garnish
Instructions
Heat the olive oil in a large saute pan over medium heat. Add the garlic and crushed red pepper. Cook, stirring, for one minute or until fragrant.
Add the shrimp to the pan. Cook, stirring occasionally, until shrimp are cooked through, and pink. Add salt and pepper to taste. Remove the shrimp to a bowl and set aside.
Deglaze the pan with the wine and lemon juice, scraping up any browned bits that may have stuck to the pan. Allow the sauce to simmer for 1 minute.
Add the zucchini noodles. Toss in the sauce, until coated, and until the noodles are cooked through, 1-2 minutes.
Add the shrimp to the noodles, and toss to coat and combine. Add salt and pepper to taste. Serve immediately with parsley sprinkled on top.
ENJOY!