Directions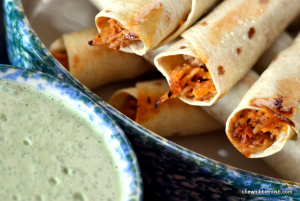 In my few short years as a food blogger, it's become commonplace to discuss the "Blogability" of the recipes I make for my family.  I've had plenty of people over the years ask me how I manage to pick out so many great recipes to make.  Well, the fact of the matter is, I don't always pick great recipes.  Sometimes, I screw up.  Big time.  There have been plenty of nights where we take a bite, make icky faces, and I swear never to make that meal again.  I just don't share those with you. (You're welcome.)
This dinner, however, was one of the good ones.  In fact, my husband mentioned that it was "blogable" at least three times during the meal.  These little taquitos are really tasty, and they were really easy to throw together.  They were great as dinner alongside some fresh fruit and refried beans, but they would make an awesome appetizer too.  Football season is warming up, and these just scream game-day-munchie to me.  Plus, they don't break the calorie bank…and when I'm faced with a table full of game-day-munchies, that matters to me.
I started by shredding up some chicken. I just cooked up a few chicken breasts and shredded those, but rotisserie chicken would work perfectly too.  To the chicken, I added a hefty dose of honey, some fresh lime juice, chili powder, cumin, garlic powder, and salt.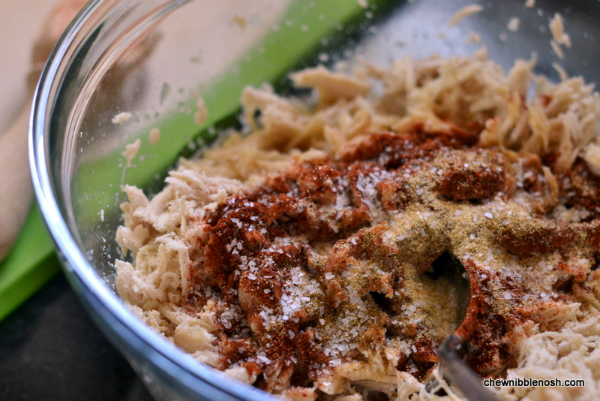 Lots of sweet, smoky flavor…and a little bit sticky.  Good stuff.
Then, it was time to build my taquitos.  I used soft taco sized tortillas and spread a line of the chicken filling right down the middle.  Then, I sprinkled some reduced-fat cheddar over the top of that.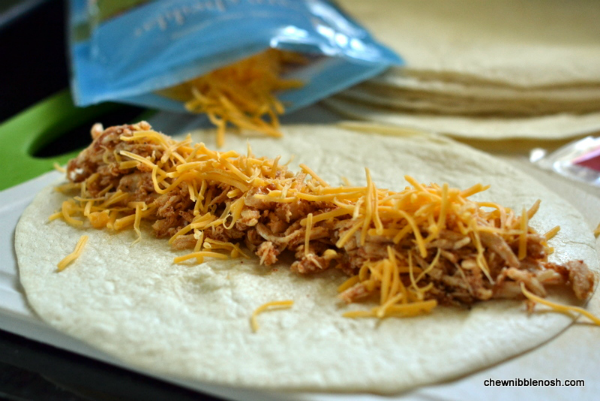 If you go to a Mexican restaurant, you'll find deep-fried taquitos, but these little healthy guys are baked, so I needed to make sure I rolled them up good and tight.  I lined them up on a cookie sheet that I'd sprayed with nonstick spray.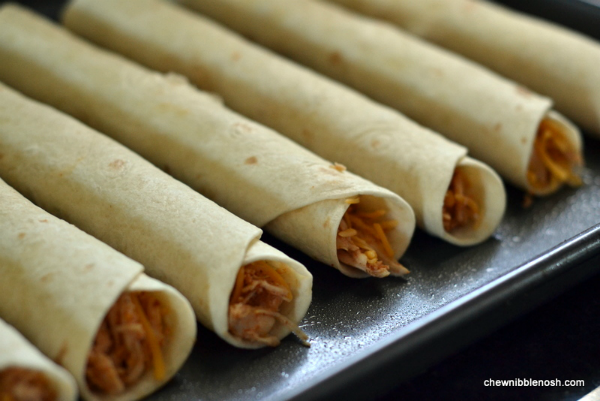 Once they were all on the cookie sheet, I gave the taquitos a coating of the nonstick spray and finished them off with a sprinkle of kosher salt.  Then, I popped them in my oven for fifteen minutes total.  They baked for five, then I flipped them, baked for five more, then flipped again, and then just five more minutes until they were golden brown.
As the taquitos were baking up, I got my dipping sauce ready.  I quickly added some light sour cream, a third of a cup of green enchilada sauce (salsa verde would work too, I'm sure), a bunch of cilantro and the juice of one lime.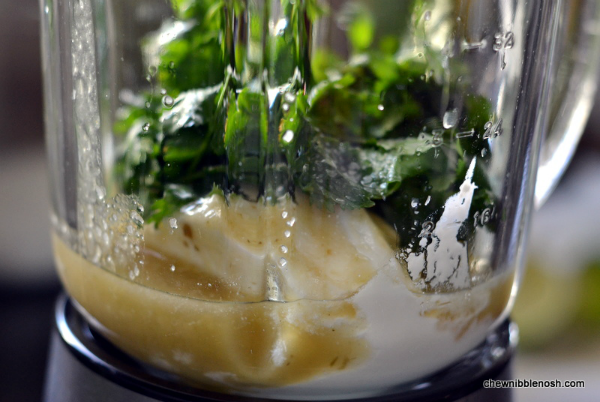 I gave it a whirl and had a bright, vibrant, fresh sauce for my taquitos in seconds flat.
These little taquitos are so, so good.  Slice them in half, or even thirds, and you've got great finger food for a party.  The chicken is tangy, sweet and smoky, with just the right amount of spice.  As the chicken bakes, the honey helps carmelize the edges of the taquito, which just adds to the yumminess.
Super simple to throw together, but they've got a lot going on.  Bring on the game day food with less guilt!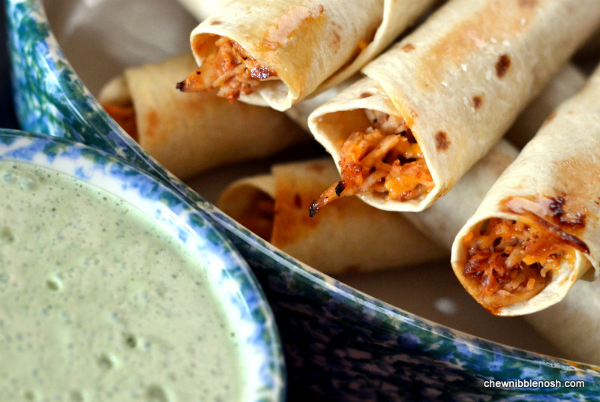 BAKED HONEY LIME TAQUITOS WITH CILANTRO LIME CREAM
Adapted from Dessert Now, Dinner Later
Baked Honey Lime Chicken Taquitos with Cilantro Lime Cream
Author:
Prep time:
Cook time:
Total time:
Ingredients
For the Taquitos:
3 cups cooked, shredded chicken
2 Tbsp. fresh lime juice
1/3 cup honey
1 Tbsp. chili powder
1 tsp. cumin
1/2 tsp. garlic powder
1/2 tsp. kosher salt, plus extra for sprinkling
10 soft taco sized flour tortillas
2 cups shredded reduced-fat cheddar cheese
nonstick spray
For the Cilantro Lime Cream:
1 cup light sour cream
juice of one lime
1/2 bunch of cilantro, stems discarded
1/3 cup green enchilada sauce or salsa verde
1/2 tsp. kosher salt
Instructions
Preheat your oven to 350*F. Spray a cookie sheet with nonstick spray.
In a bowl, combine shredded chicken with the honey, lime juice, chili powder, cumin, garlic powder, and salt.
For each taquito, spread some of the chicken mixture down the middle of one of the tortillas. Sprinkle with some of the cheddar cheese. Roll up tightly, and place them, seam side down, on the prepared baking sheet.
Before baking, spray the taquitos with some of the nonstick spray, and sprinkle with a little kosher salt.
Bake for 5 minutes at 350*F. Flip the taquitos over, and bake for 5 more minutes. Flip them again, and finish off with 5 more minutes in the oven.
As the taquitos bake, prepare the cilantro lime cream.
For the Cilantro Lime Cream:
Place all of the ingredients in a blender or food processor. Process until nice and smooth. Serve with the taquitos.
ENJOY!