Directions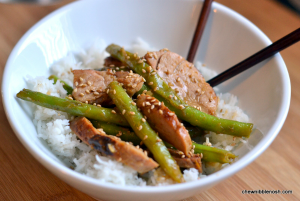 This has certainly been "one of those weeks".  Every night this week has been a little bit crazy, and when nights are a little bit crazy, I need dinners like this.
Stir fries are a great way to throw together a complete meal in a hurry, and this one was really tasty.  There are a couple of extra steps with this one, but it's still a really simple meal to throw together when time is short and life is nuts.
A few hours before dinner, I needed to marinate my pork tenderloin.  I sliced the pork lengthwise, and then tossed it in a mixture of soy sauce, honey, crushed red pepper, and some minced fresh ginger.
I really wanted that soy marinade flavor to come through, and I knew I'd be running around like crazy in the hour or so before dinner, so I let my pork marinate for about four hours in the fridge.  If you'd rather, you could let it hang out for about an hour at room temperature too.
When dinner time was quickly approaching, I got going on my meal.  I trimmed a pound of green beans and let them cook in a pot of boiling salted water until they were crisp tender.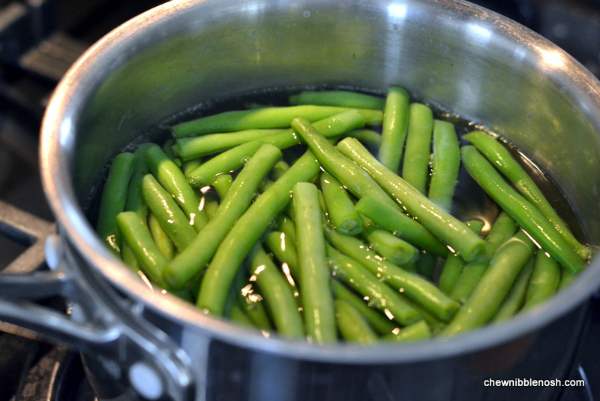 As they were cooking, I browned up my pork tenderloin in a skillet on the stove.  I made sure to reserve the marinade that was left in the dish.  That would help flavor my stir fry sauce.  I cooked the pork until it was just about done, but still a little bit pink in the middle. Once it was cooked, I removed it from the pan and let it sit for about ten minutes, which allowed the juices to settle in.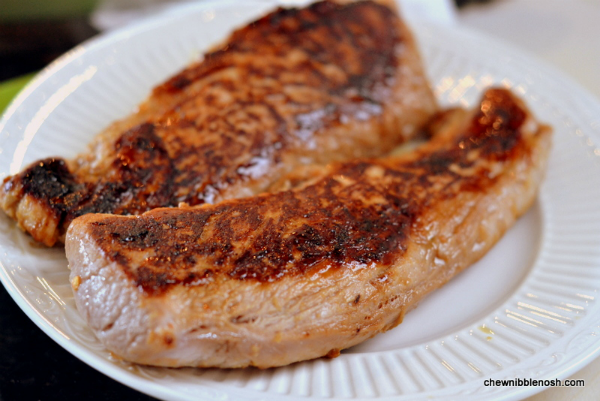 As the pork was setting up, I got my sauce together.  I combined the leftover marinade with some rice vinegar, cornstarch, and fresh orange juice in a small bowl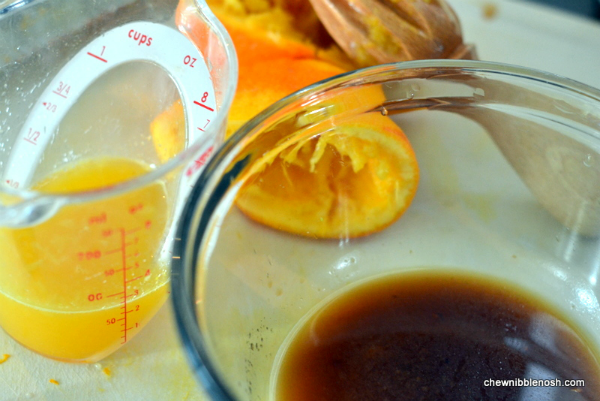 Then, I sliced my pork into thin slices before jumping into stir fry mode.  The pork was still just a little bit pink in the middle, but that was just fine because it was going to finish cooking as I stir-fried it up.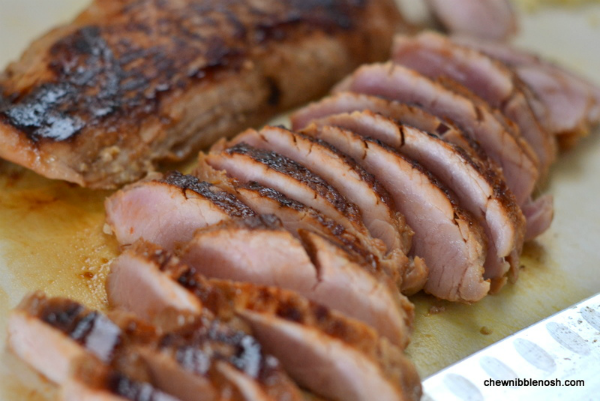 Then, it was time to throw it all together!  I got a little bit of oil all nice and hot in my skillet and then added in my cooked green beans.  I stir fried them until they started to brown up a bit and then added in my pork, the sauce, some minced garlic and some fresh orange zest.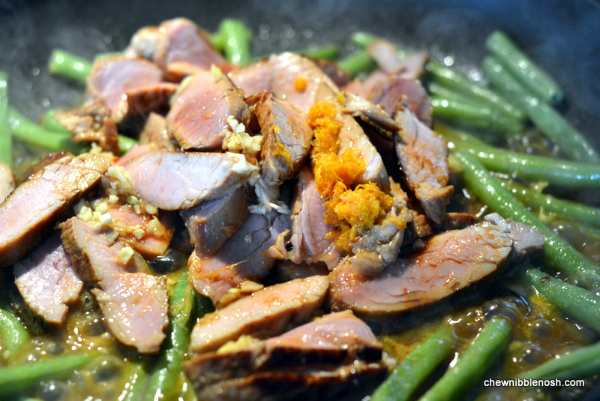 I tossed the mixture together, and let the pork cook in the sauce for just a minute until it was cooked through, and beautifully tender.
And just like that, dinner was ready.  I heaped some of the stir fry and that amazing, fresh sauce over some steamed white rice, and we had a delicious meal (kind of) on the fly.  Letting the pork rest in the middle of the process helped keep all of those wonderful juices inside when I sliced it up.  The pork was so tender, I could easily cut it with a fork, like a knife through butter.
ASIAN-STYLE PORK STIR FRY
Adapted from Bon Appetit
Asian-Style Pork Stir Fry
Author:
Prep time:
Cook time:
Total time:
Ingredients
1 (12 oz.) pork tenderloin, sliced in half lengthwise
2 Tbsp. soy sauce
2 Tbsp. honey
1 Tbsp. minced fresh ginger
1/4 tsp. dried crushed red pepper
1 lb. fresh green beans, trimmed
1 tsp. grated orange zest
1 large clove garlic, minced
1/3 cup fresh orange juice
1 tsp. rice vinegar
1 tsp. cornstarch
2 tsp. peanut oil
Cooked rice, for serving
Instructions
Mix the soy sauce, honey, ginger, and crushed red pepper together. Toss the pork tenderloin halves with the marinade to coat. Cover and refrigerate for up to 4 hours, or allow to stand at room temperature for 1 hour, to marinate.
Cook the beans in a pot of boiling salted water until crisp tender, about 5 minutes. Drain and set aside.
Meanwhile, heat a large, nonstick skillet over medium heat. Spray with nonstick spray. Add the pork, reserving the marinade in the dish. Cook until the pork is browned on all sides, turning often, and thermometer inserted into the middle reaches 155*F, about 8 minutes. Remove the pork from the pan and allow to sit for ten minutes before slicing. Wipe the pan clean.
After the pork rests, slice it into 1/3 inch thick slices.
Whisk together the orange juice, vinegar, cornstarch and reserved marinade in a small bowl.
Heat the oil in the skillet over high heat. Add the cooked green beans, and stir fry until the beans begin to brown, about 2 minutes.
Add the orange peel, garlic, sauce, and pork slices. Stir until the sauce boils, and the pork is cooked through, just a minute or so.
Serve over rice.
ENJOY!