Directions
Labor Day weekend is over, so everyone is moaning today about how summer is over.  It's not over, in my opinion, until the fat lady sings about all things pumpkin spiced and I have to put on a sweatshirt!  There is still a lot of summer goodness to be found, and this is a great meal you can make that helps take advantage of amazing summer produce.
I love how colorful this dish is, and the fact that it tastes as good as it looks just makes me love it even more.
I started by prepping my veggies.  I sliced up a bunch of crisp green onions, halved a pint of cherry tomatoes, and then cut the kernels from three ears of corn.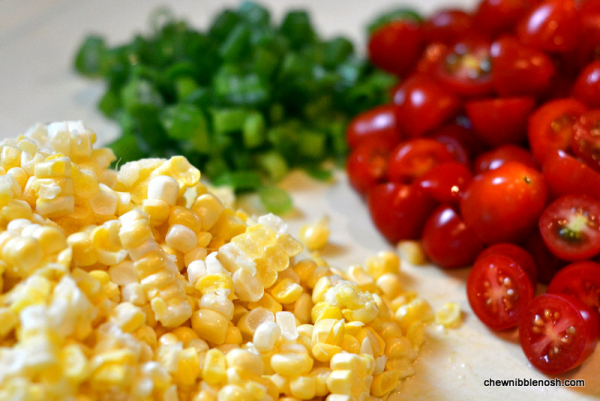 These all eventually come together to make the amazing veggie relish that tops the chicken, but before tossing them all together, I mixed the corn with a little bit of olive oil, and roasted it in the oven until the corn began to brown up just a bit.
Roasting the corn helps bring out the corn's sweetness, and amazing texture.
Once the corn was roasted, I tossed it with the tomatoes, green onions, some sliced fresh basil, olive oil, and salt and pepper.
I let the relish hang out for a few minutes while I got my chicken together.  I sautéed the chicken on the stove top, but the dish would be equally delicious with grilled or baked chicken.  The relish would also work well with salmon, or tossed with some cooked shrimp.  You've got to love recipe that adapts well to any surrounding.
The chicken was quick and easy.  I salted, peppered and then dredged four, thin chicken breasts in flour and then cooked them on the stove top in a little olive oil and butter.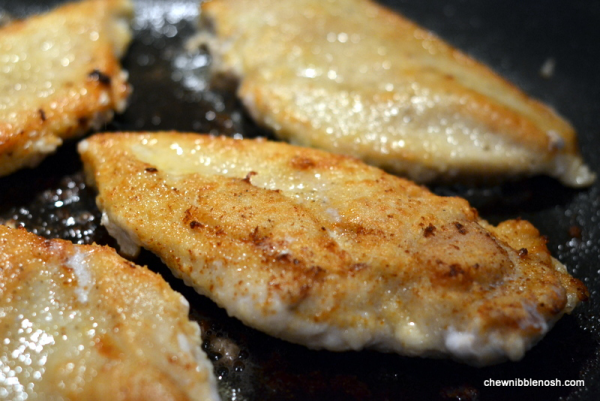 When they were golden brown, and cooked through, I removed them to our plates and then heaped that still-summery, amazing corn relish on top.
It was delicious, fresh and simple, and a wonderful way to hold onto summer, just a little bit longer.
CHICKEN PAILLARDS WITH TOMATO, BASIL AND ROASTED CORN RELISH
Adapted from Bon Appetit
Chicken Paillards with Tomato, Basil and Roasted Corn Relish
Author:
Prep time:
Cook time:
Total time:
Ingredients
For the Relish:
3 Tbsp. extra virgin olive oil, divided
1 1/2 cups fresh corn kernels (from 3-4 ears of corn)
1 pint cherry or grape tomatoes, halved
1/4 cup chopped green onions
3 Tbsp. finely sliced fresh basil
salt and pepper to taste
For the Chicken:
4 thin boneless skinless chicken breasts, or cutlets. (If thicker than 1/2 inch, pound out the chicken with a mallet until desired thickness is reached)
1/2 cup all purpose flour
salt and pepper
1 1/2 Tbsp. butter
1 1/2 Tbsp. olive oil
Instructions
For the relish:
Preheat the oven to 375*F. Brush a cookie sheet with 1 tsp. of the olive oil. Toss the corn with 2 tsp. of the olive oil and spread out on the prepared cookie sheet. Roast until the corn begins to brown, tossing occasionally, about 15-18 minutes.
Transfer the corn to a bowl. Stir in the tomatoes, green onions, basil and remaining 2 Tbsp. of oil. Salt and pepper to taste.
For the chicken:
**You could easily skip the saute and grill the chicken.
Pat the chicken dry, and sprinkle with salt and pepper. Dust with flour to coat.
Melt the butter with the oil in a large skillet over medium-high heat.
Add the chicken to the skillet and saute until cooked through, about 5 minutes per side. Chicken should be golden brown.
Transfer to plates and top with the tomato-corn relish.
ENJOY!