Directions
One dinner my kids can always agree on not pouting over is Chicken Parmesan.  Who doesn't love Chicken Parmesan?  Breaded chicken, rich tomato sauce, pasta, and cheese?  It's a carb lovers dream.  When I saw these little stuffed zucchini boats, though, filled with all of the flavors of our favorite chicken parm but in a slightly-less-calorie-packed frame, I decided to give it a whirl.  After all, this time of year, I'm saving all of my calorie splurges for cookies and party food.  Dinner needs to keep me satisfied, but in the month of many splurges, I really don't need it to weigh me down.
I started by preheating my oven and spraying a 9×13 inch pan with cooking spray.  Then, I sliced each of four medium zucchini in half and scooped out the seeds with a spoon.  I placed the zucchini in my dish, and then got to work on the filling.
In a pan on the stove top, I browned up a pound of ground chicken.  I added in some minced garlic, once the chicken was crumbly, and gave it a good stir before adding in a cup and a half of jarred marinara sauce.
Once that was mixed in, I stirred in some orzo that I'd cooked up ahead of time.  You could leave the orzo out, but I figured a little bit of orzo in the mix might solve the "Um…mom?  Where's the pasta?" quandary we were about to have at dinner time.  Update: It worked.
It bulked up the filling significantly.  A little orzo goes a long way.
Once the filling was ready, I got started on filling my zucchini boats.
I filled each of the zucchini halves until they were piled with saucy filling, and then finished them off with a good sprinkle of grated Parmesan and shredded mozzarella.
I covered the dish with foil, and popped them into the oven for 35 minutes.
During this time, the zucchini softened, and the flavors came together beautifully, and when I brought the dish out of the oven, my girls were pretty excited about dinner because the kitchen smelled so good!
They were fantastic!  The zucchini were perfectly tender and the filling was delicious, and comfort food at its best. I served them up alongside a salad, and we had a hearty, healthy, family friendly meal that everyone enjoyed.  It was perfect for a chilly winter night, especially one where a tin of cookie exchange treats was waiting on the counter for us to dive into afterwards.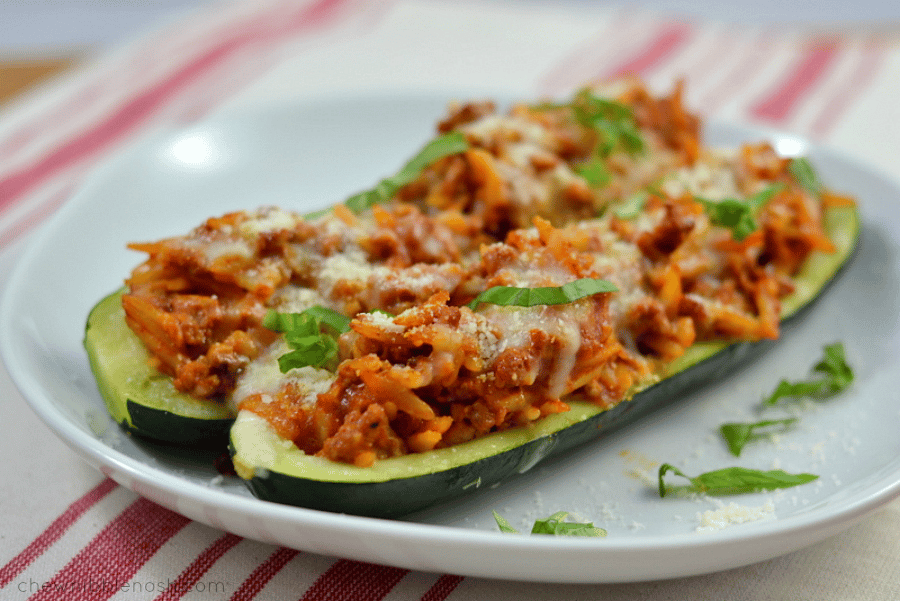 CHICKEN PARMESAN ZUCCHINI BOATS
Chicken Parmesan Zucchini Boats
Author:
Prep time:
Cook time:
Total time:
Ingredients
4 medium zucchini
1 lb. ground chicken
2 cloves garlic, minced
salt and pepper
1 1/2 cups jarred marinara sauce (if you leave out the orzo, you only need 1 cup)
1/2 cup orzo, cooked and drained
1/4 cup grated parmesan cheese, plus a little extra for finishing
1/2 cup shredded mozzarella
sliced fresh basil for topping
Instructions
Preheat the oven to 400*F. Spray a 9×13 inch pan with nonstick spray.
Slice each zucchini in half, lengthwise, and scoop out the seeds and center of each half, leaving about 1/4 inch all the way around. Place the zucchini boats in the prepared dish, cut side up.
In a non-stick skillet over medium-high heat, brown the ground chicken until crumbled.
Add the minced garlic, and cook, stirring, for 1 minute.
Add the pasta sauce and stir to combine.
Add the orzo, if using, and stir.
Season with salt and pepper to taste.
Spoon the chicken and orzo mixture into the zucchini boats.
Sprinkle with the grated parmesan and shredded mozzarella.
Cover the baking dish with foil, being careful not to press it down onto the cheese, and bake at 400*F for 35 minutes.
Sprinkle with a little more grated parm, and shredded basil to before serving.
ENJOY!
Adapted from The Wholesome Dish