Directions
You know it's officially fall when I go and break out the butternut squash.  There's just something innately autumn about it, and I don't touch it until the time is right.  Well, the air is crisping up, the leaves are starting to change all around me, Christmas decorations are arriving prematurely in the stores, and the beauty of fall is here and now, so here you go.  One butternut squash dish coming right up!
I actually ran across this recipe in an ad for al fresco chicken sausage.  I've changed up the recipe just a bit, basically swapping out the type of sausage I used due to availability and I used pecans instead of walnuts, but the result was still pretty tasty. It was a simple, cozy dish for one of the first chilly nights of fall.
I started by peeling and dicing up a butternut squash, and then I tossed the squash with some fresh rosemary, fresh minced garlic, olive oil, red pepper flakes, salt, and pepper.
Once I'd tossed the mixture together, I spread the squash out onto a baking sheet that I'd lined with foil, and roasted it for about twelve minutes.  Then, I removed it from the oven, stirred it around, and added my chopped pecans, before returning it to the oven to finish roasting.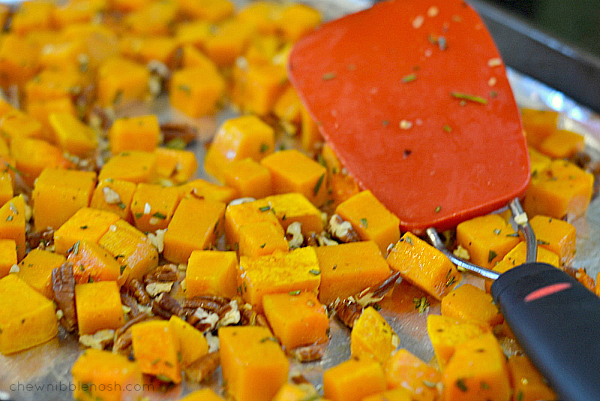 Those few extra minutes in the oven was just enough time to perfectly roast the squash and nicely toast up the pecans, so they were nice and crunchy.
While the squash was roasting, I cooked my orzo in boiling salted water on the stove top, and I sizzled up a package of al fresco's Roasted Pepper and Asiago chicken sausage, that I'd sliced into quarter-inch thick coins.
When the squash, orzo, and sausage were done, I tossed them together with some grated Parmesan cheese, dried cranberries, and fresh basil.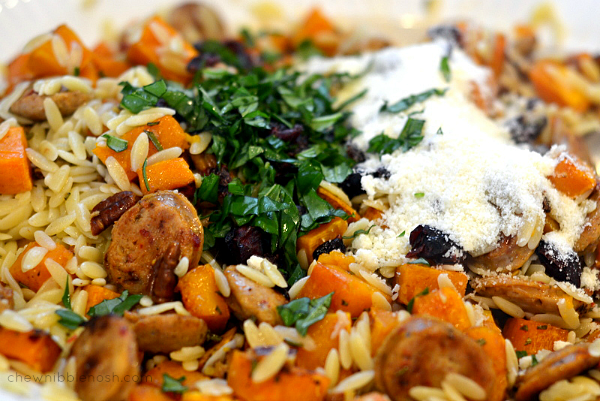 The way all of these different flavors played off each other was really pretty great.  In true kid-style, my girls were eating the orzo, then the sausage, then the squash, and we had to keep saying, "No!  Eat it all together!  It tastes so great all together! Mix it up!"
Served alongside a simple salad, this made for a wonderful fall weeknight dinner.  Now, if we could just get the stores to hold off on the Christmas decorations, fall would be just about perfect.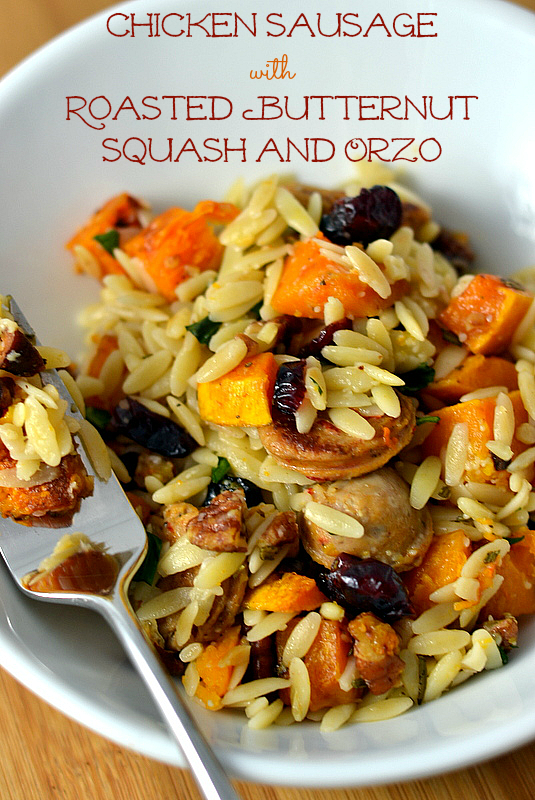 CHICKEN SAUSAGE WITH ROASTED BUTTERNUT SQUASH AND ORZO
Adapted from al fresco
Chicken Sausage with Roasted Butternut Squash and Orzo
Author:
Prep time:
Cook time:
Total time:
Ingredients
1 12-oz. package of al fresco Roasted Pepper and Asiago Chicken Sausage
4 cups peeled and diced (1/2 inch cubes) butternut squash
2 Tbsp. olive oil, divided
2 cloves garlic, minced
2 tsp. chopped fresh rosemary
1/4-1/2 tsp. crushed red pepper flakes
1/4 tsp. salt
1/4 tsp. pepper
1/2 cup chopped pecans
1 cup orzo pasta
1/4 cup grated Parmesan cheese
2 Tbsp. fresh basil, chopped
1/4 cup sweetened dried cranberries
Instructions
Preheat the oven to 425*F. Line a cookie sheet with aluminum foil and spray with nonstick spray. Set aside.
In a bowl, combine the diced butternut squash, rosemary, garlic, crushed red pepper, salt and pepper, along with 1 tablespoon of the olive oil. Once thoroughly combined, spread the mixture out onto the cookie sheet. Bake in preheated oven for 12 minutes.
Remove the squash from the oven, stir and add in the pecans. Bake for 8 more minutes or until squash is cooked through and pecans are beginning to toast up. Remove from oven and keep warm.
Meanwhile, cook the orzo in boiling salted water according to the directions on the package. Drain, but reserve 1/4 cup of the cooking water.
Slice the sausage into 1/4 inch coins. Add the remaining olive oil to a medium sized skillet over medium-high heat. Add the sausage, and cook until edges are browned, 3-4 minutes.
In a large bowl, combine the roasted squash mixture, orzo and sausage. Add in the reserved pasta water if the mixture seems too dry. Add the chopped basil, Parmesan, and dried cranberries.
ENJOY!