Directions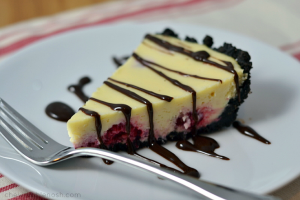 What do we do when we buy a bunch of raspberries because they're on sale?  We make pie!  I've had this recipe in my back pocket for a while now, and have been meaning to make it, but grabbing some beautiful berries at a beautiful price sealed the deal.  And, the fact that this pie is so easy to throw together made it taste even sweeter.
I started by making an Oreo cookie crust.  I know, right?  Not a bad way to start things off.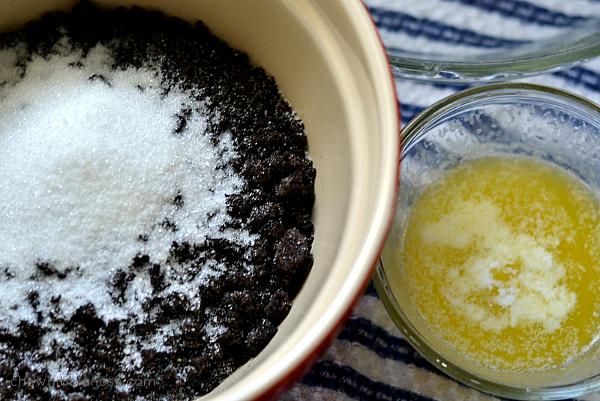 I crushed almost an entire package of Oreos into crumbs, and then mixed them with some sugar and melted butter.  Then, that mixture was pressed into my pie plate and baked for just about ten minutes, until the crust was set.  I let the crust cool while I prepped my filling.
The filling was simply a block of cream cheese, a can of sweetened condensed milk, some lemon juice, vanilla, and an egg.
I beat the mixture together until it was nice and smooth, and before I poured it into my crust, I lined the bottom with beautiful, plump raspberries.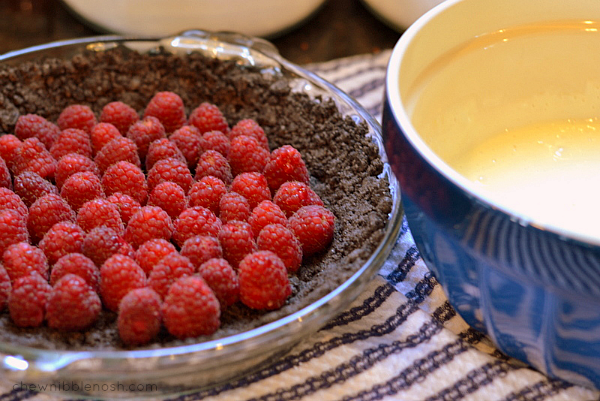 I poured the cheese mixture over the berries, and popped the pie back into the oven to bake for thirty minutes.
Once the filling was set, and not jiggly anymore, I took the pie out and let it cool completely before popping it into the refrigerator to cool.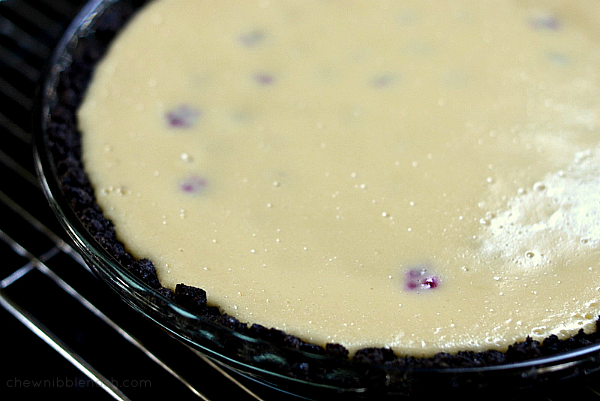 I let the pie chill for around four hours, but you could easily make this up a day ahead of time and let it chill overnight.
Before serving, I made a simple ganache topping of chocolate chips and a bit of heavy cream.  I sliced up the pie, and drizzled each slice with the warm ganache.
Easy peasy, and pretty darn tasty, if I do say so myself.
RASPBERRY CREAM CHEESE PIE
Adapted from SpicySouthernKitchen.com
Raspberry Cream Cheese Pie
Author:
Prep time:
Cook time:
Total time:
**This pie needs to be chilled for at least four hours to overnight before serving.
Ingredients
22 Oreo cookies, crushed
2 Tbsp. sugar
3 1/2 Tbsp. butter, melted
6 oz. low-fat cream cheese, softened
1 (14 oz.) can sweetened condensed milk (I used fat free)
3 Tbsp. fresh lemon juice
1 tsp. vanilla
1 egg
2 (6 oz.) pkgs. fresh raspberries
1/2 cup semisweet chocolate chips
1/3 cup heavy cream
Instructions
Preheat the oven to 350*F.
To make the crust, combine the crushed Oreos with the melted butter and sugar in a medium sized bowl. Press the crumb mixture into the bottom and up the sides of a 9 inch pie plate.
Bake the crust for 8-10 minutes, or until set. Allow to cool before filling.
To make the filling, beat together the cream cheese, sweetened condensed milk, lemon juice, vanilla, and egg with a hand mixer until smooth.
Place the raspberries in the cooled crust, and then pour the cheese mixture over the top of the berries.
Place the pie back in the oven, and bake for 25-30 minutes, until the filling is set.
Allow the pie to cool on a wire rack, and then cover with plastic wrap, and place in the refrigerator to chill for at least 4 hours to overnight.
Before serving, make the ganache topping. Place the chocolate chips and heavy cream in a small bowl. Microwave in 30 second increments, stirring after each, until chips are melted and the mixture is nice and smooth.
Drizzle the pieces of pie with the chocolate before serving.
ENJOY!