Directions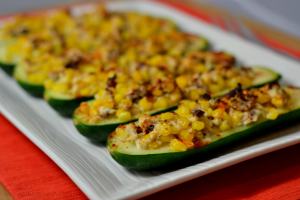 Yep.  This was good.  A little too good, but that isn't surprising when you see what goes into it.  If you're looking for a way to use up some more of the summer zucchini from your garden, this recipe is for you.  Or, if you're like me and don't have a summer garden, but you have a grocery store or farmers market that sells zucchini grown by people who are much better gardeners than you are, well…then it's for you too.
I'd pinned this recipe a while back on Pinterest, and finally got around to trying it last night.  Now I'm sad I waited so long, but I have a new side dish to put into rotation, as my entire family thought they were pretty great.
I started by bringing a big pot of water to a boil on the stove top, and then I added in my zucchini, uncut.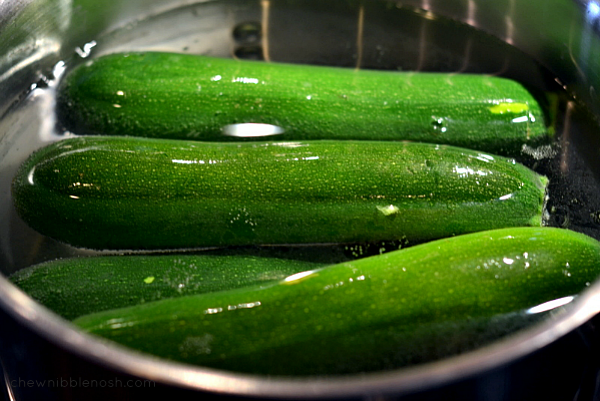 I gave them about five minutes to hang out in their little spa.  Then I removed them from the water, rinsed them with some cold water to cool them down a bit, and then sliced each zucchini in half.  I scooped out the seeds, and then placed them on a baking sheet that I'd lined with parchment paper.
I set the zucchini boats aside and got to working on my filling.  First up, the bacon.  I sizzled eight strips of bacon in my skillet until they were nice and crisp.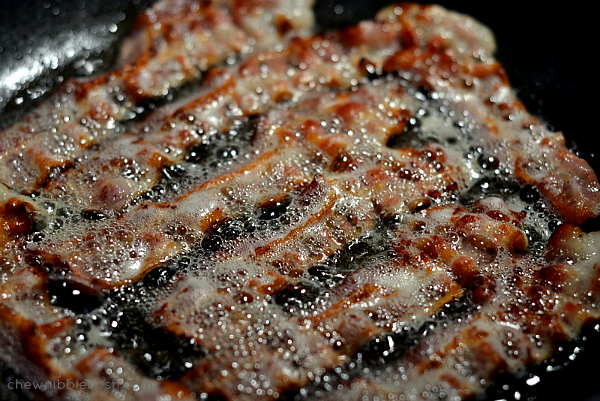 Once they were perfectly crumble-able, I removed the bacon slices to a plate lined with paper towel to let them drain for few minutes.  Then, to the bacon grease in the pan I added my corn kernels and a couple of cloves of garlic that I'd minced up.
Once that had cooked down for a few minutes (and made my kitchen smell ridiculously good), I added a block of low-fat cream cheese to the corn mixture and cooked it over the heat until it had melted and was mixed in well.
Once the cheese was in, I seasoned the corn with salt and pepper, and then added in that bacon, all crumbly and crisp.
See?  I told you. Tasty stuff.
Once the bacon was mixed in, I scooped the mixture into my zucchini halves.  Before I popped them under the broiler for a few minutes, I sprinkled them with a little bit of paprika.
After about six minutes under the broiler, the zucchini were ready to go, and we were ready to dive in.  The zucchini was perfectly tender, and the cheesy-bacon-corn filling is a tasty reminder that sometimes, you just really need to add the bacon.  I served them alongside grilled flank steak and we were all pretty happy that I'd finally gotten around to trying this little recipe.  Good stuff.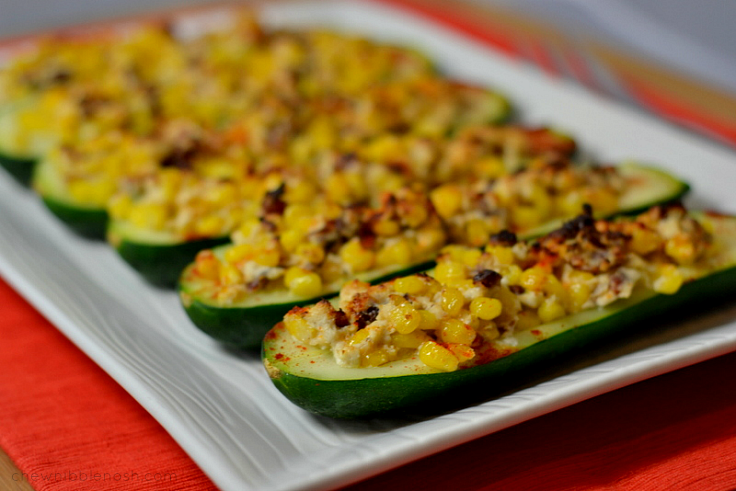 CHEESY BACON AND CORN STUFFED ZUCCHINI
Adapted from Diethood.com
Cheesy Bacon and Corn Stuffed Zucchini
Author:
Prep time:
Cook time:
Total time:
Ingredients
4 medium, uniformly sized zucchini
8 slices center-cut bacon
2 cups corn kernels (Fresh, frozen or canned are fine. Just make sure that if you are using frozen that the kernels are thawed and drained, and if you use canned, drain them well.)
2 cloves garlic, minced
1 8oz. block reduced fat cream cheese
salt and pepper, to taste
paprika, optional, for sprinkling
Instructions
Bring a large pot of water to a boil on the stovetop. Add the zucchini, whole, and allow to cook for 5 minutes until softened a bit. Remove from the water, rinse with some cold water, and set aside.
Slice each zucchini in half, lengthwise, and carefully scoop out the seeds, about 1/2 inch down, being careful not to break through to the bottom. Set the zucchini halves on a baking sheet lined with parchment paper.
Cook the bacon in a medium sized skillet on the stovetop until crispy. Remove the bacon to a plate lined with paper towels, but leave the bacon grease in the pan.
Add the corn and garlic to the bacon grease, and cook over medium heat for 3 minutes, until softened.
Add the cream cheese, and stir until cheese is melted and mixed in thoroughly. Season with salt and pepper to taste.
Crumble crisped bacon into the pan and mix in with the corn-cheese mixture.
Scoop the corn mixture into the prepared zucchini boats. Sprinkle with paprika, if desired.
Place the pan a few inches under the broiler, and broil for 6-8 minutes until heated through, and toasted on top. (Keep an eye on them!)
ENJOY!