Directions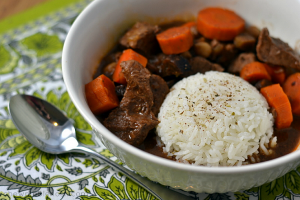 It's official!  The first new slow cooker dish of the fall season was a huge hit!  This delicious variation on regular beef stew was just the perfect thing for dinner last night.  I had one of those days where I was running around right up until dinner time.  I needed something I could throw in the Crock Pot, and forget until dinner time.  This was the amazing result.
The stew is spiced with warmer, more exotic spices, like Garam Masala and paprika, and sweetened with dried figs.  I was wondering what my kids, self-proclaimed "Stew Traditionalists", would think, but they enjoyed it right along with their parents.  And, as an added bonus, it made enough for me to freeze a second meal's worth to use on the fly on an upcoming busy day.
I started by mixing together some chopped onion with a hefty dose of paprika, some Garam Masala, a dash of cayenne pepper, and some vegetable oil.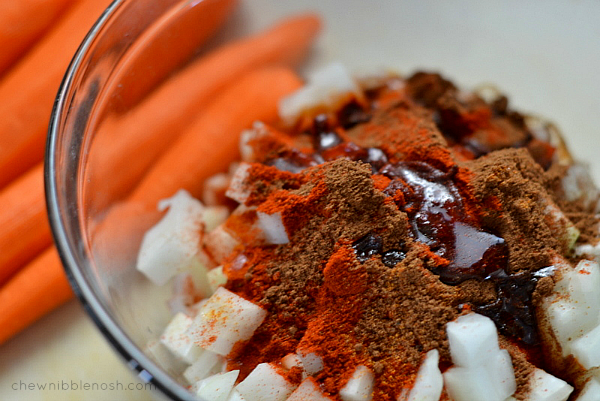 Garam Masala is a warm, flavorful spice blend.  It's traditionally composed of spices like cinnamon, black peppercorns, cardamom, mace, cumin, bay leaf, and nutmeg.  It's warm and cozy, and just adds the slightest bit of heat.
I stirred the mixture together and then microwaved the onions and spices for about five minutes, which was just enough time to soften them beautifully and infuse them with the spices and oil.  While they were cooking, I sliced up a pound of carrots and chopped up some dried figs.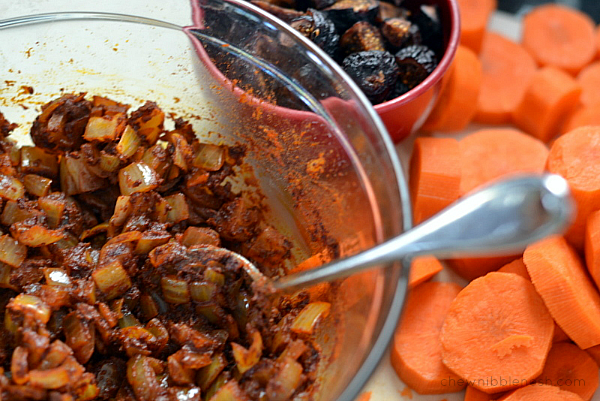 I added my softened onion mixture to my slow cooker, along with the carrots, half of the figs, a drained can of chickpeas and a couple of tablespoons of instant tapioca.
The tapioca would help to thicken up the final result.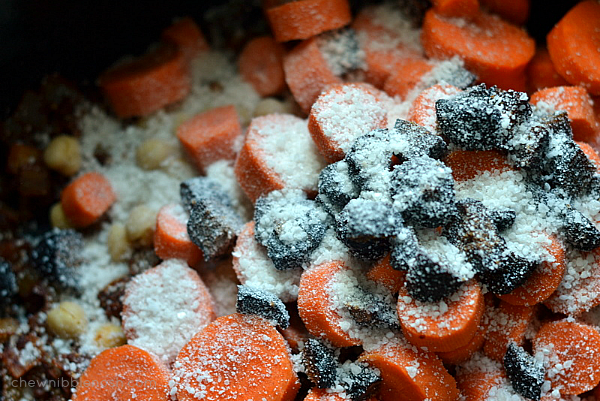 I seasoned four pounds of stew meat with salt and pepper, and then added it to the crock pot, along with three cups of beef broth.
I gave it a good stir, turned the Crock Pot on, and was able to walk away for the rest of the day.
When it was time for dinner, I skimmed the excess fat from the surface of the stew, and was left with a hearty, deliciously aromatic dish that had our mouths watering. It smelled so good!
The carrots and chickpeas were perfectly cooked, not mushy and overdone as is the case in so many slow cooker recipes.  Before serving it up, I stirred in the other half of my chopped figs.  The figs that cooked along in the stew the entire time break down and add their sweetness to the stew.  Stirring in a few more before serving adds that wonderfully chewy texture into the mix.
The stew isn't thick and gravy-like, but has a beautifully tasty broth.  I served the stew with rice to help sop up all of that flavor, but you could go the more traditional Moroccan route and serve it with couscous as well.  (Honestly, I was just out of couscous.)
It was the perfect way to celebrate the first day of fall.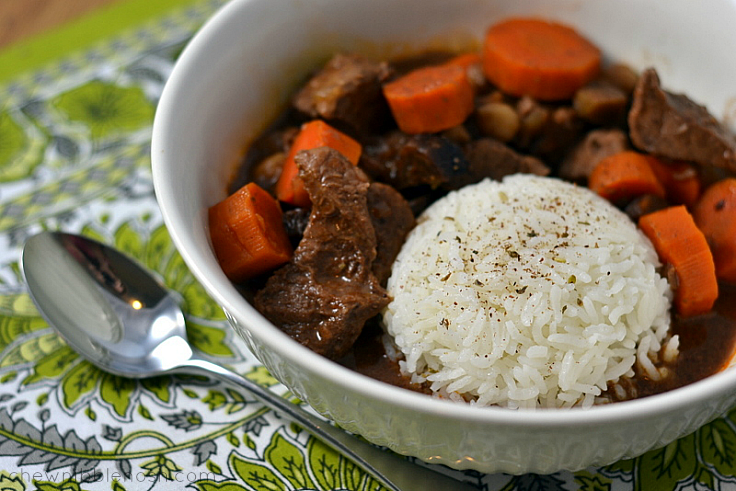 SLOW COOKER MOROCCAN-SPICED BEEF STEW
Adapted from Slow Cooker Revolution Vol. 2
Slow Cooker Moroccan-Spiced Beef Stew
Author:
Prep time:
Cook time:
Total time:
Ingredients
2 cups chopped onions
3 Tbsp. paprika
2 Tbsp. vegetable oil
1 Tbsp. Garam Masala
1/4 tsp. cayenne pepper
1 (14 oz.) can chickpeas, rinsed and drained
3 cups beef broth
1 lb. carrots, peeled and sliced into 1/2 inch pieces
1 cup dried figs, roughly chopped, divided
2 1/2 Tbsp. instant tapioca
4 lbs. stew meat, cut into 1 1/2 inch pieces
salt and pepper
Instructions
In a bowl, combine the onions, paprika, garam masala, oil, and cayenne pepper. Microwave the mixture for 5 minutes, or until the onions are softened, stirring occasionally. Once the onions are softened, add the mixture to the slow cooker.
Stir in the carrots, chickpeas, half of the figs and tapioca.
Season the stew meat with salt and pepper, and then add it to the slow cooker, along with the broth. Stir to combine, cover, and cook until the beef is tender, 9 to 10 hours on LOW, 6-7 hours on HIGH.
Use a large spoon and skim the excess fat from the top of the stew and discard. Stir in the rest of the dried figs and allow the mixture to sit for 5 minutes to soften them just a bit. Season with salt and pepper.
Serve the stew with rice or couscous.
ENJOY!