Directions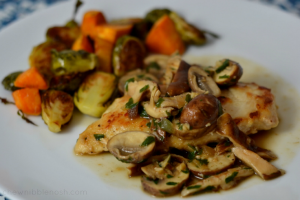 I've recently come across a pretty spectacular cookbook find.  It's so great, in fact, that I could probably cook from it every night of the week and be perfectly content.  When I first look through a cookbook, I dog ear the pages of recipes I'd like to make.  After I closed this book, almost every page corner was turned down.  Which book, you ask?  The Skinnytaste Cookbook, by Gina Homolka.  I've been a fan of Gina's blog for years, and I'd heard that she'd put out a cookbook, but I hadn't gotten my hands on it until a couple of weeks ago.
I'm really glad I finally did.
This Chicken Marsala recipe was the first thing I tried from the book, and it was absolutely delicious.  I should probably mention that I'm pretty picky when it comes to Chicken Marsala.  I've had some wonderful versions and some not so wonderful versions.  This version, thankfully, falls into the wonderful category, and I especially like that it's pretty tasty and not loaded with the fat and calories of traditional Chicken Marsala recipes.  Each serving of this dish boasts a mere 241 calories, and 8 grams of fat!
I started by slicing my mushrooms up.
I'm not a huge mushroom fan, but as I get older, I tend not to mind them as much.  I've always loved the mushrooms in Chicken Marsala, though.  There's just something about simmering mushrooms in wine, garlic, and butter.  Go figure.  For this dish, I sliced up some hearty cremini and delicate shiitake 'shrooms.
I made sure that my ingredients were all prepped and ready, and then gave my chicken cutlets a light dusting of seasoned flour.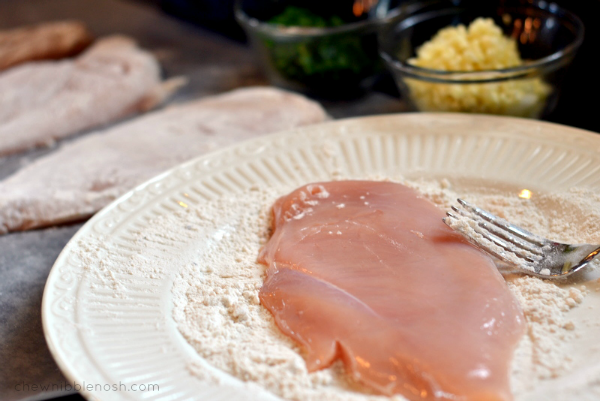 I added a scant 1/2 tablespoon of butter and a teaspoon of olive oil to a large skillet on the stove top, and then browned my chicken cutlets on both sides, until they were golden.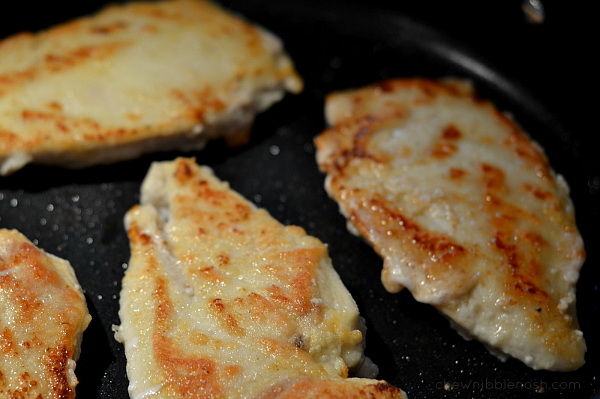 I removed the chicken to a covered plate to stay warm, and then added my remaining 1/2 tablespoon butter and teaspoon olive oil into the same pan.  I cooked down my garlic and onion (the original recipe calls for shallots, but I was out…onions worked just fine) until they were fragrant and softened, and then I added in my mushrooms and seasoned with salt and pepper.
I cooked them down until they were browned, about five minutes, and then tossed them with some flour before adding in my Marsala wine and chicken broth, and some chopped parsley.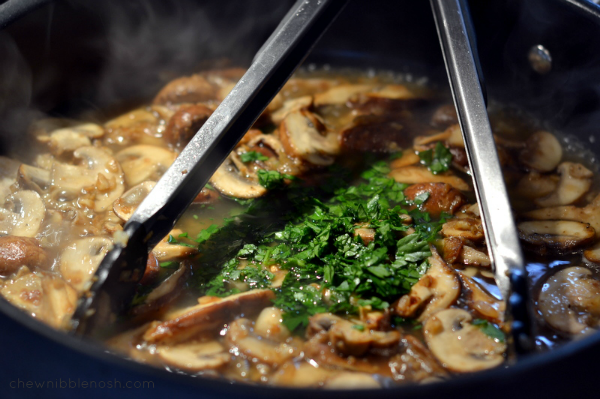 I let the sauce cook for a couple of minutes, and as the flavors came together, the flour helped the sauce thicken up just a tad.
To finish off the dish, I nestled the chicken pieces back into the pan, allowing the sauce to bubble and simmer around the cutlets for a few minutes.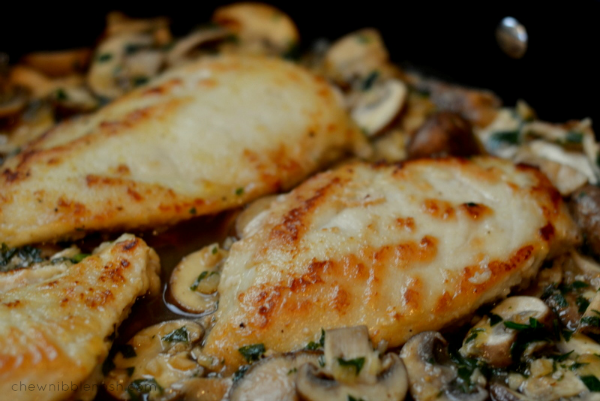 I served the chicken alongside roasted Brussels sprouts and sweet potato, but it would be lovely over noodles or served alongside roasted potatoes.  It's light and fresh, but still has that rich, delicious Chicken Marsala flavor I was looking for.  The chicken cooks up beautifully tender, and the mushrooms and garlic are delicate and perfectly savory.
Needless to say, I really like my new cookbook.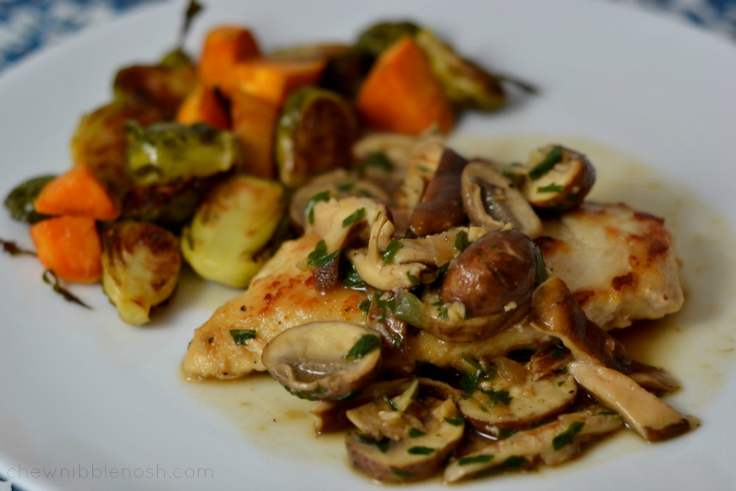 CHICKEN MARSALA ON THE LIGHTER SIDE
Adapted from The Skinnytaste Cookbook
Chicken Marsala on the Lighter Side
Author:
Prep time:
Cook time:
Total time:
Ingredients
4 boneless, skinless, chicken breast cutlets
kosher salt and pepper
1/4 cup plus 1 tsp. all-purpose flour, divided
1 Tbsp. butter, divided
2 tsps. olive oil, divided
4 cloves garlic, minced
1/4 cup finely chopped onion or shallots
8 oz. sliced cremini mushrooms
3 oz. sliced shiitake mushrooms
1/3 cup Marsala wine
1/2 cup fat-free chicken broth
2 Tbsp. fresh chopped parsley
Instructions
Pound the chicken cutlets between two sheets of plastic wrap until they are about 1/4 inch thick. Combine the 1/4 cup flour with a sprinkle of salt and pepper, and dredge the chicken in the flour, shaking off any excess.
Heat a large nonstick skillet over medium-high heat. Add 1/2 tablespoon of the butter and 1 teaspoon of the olive oil to the pan. Once butter has melted, swirl together, and then add the chicken. Cook the chicken, about 3 minutes per side, until golden. Remove the chicken from the pan, place it on a plate, and cover the plate with foil. Set aside.
To the same skillet, add the remaining butter and olive oil. Add the garlic and onion (or shallots), and cook for 2 minutes, or until softened.
Add the sliced mushrooms, season with salt and pepper, and cook until golden, about 5 minutes, stirring occasionally.
Sprinkle the mushroom mixture with the remaining 1 teaspoon of flour, and cook, stirring, for about 30 seconds. Add the Marsala, chicken broth, and parsley. Cook, stirring, until thickened, for about 2 minutes, making sure to scrape up any browned bits from the pan.
Return the chicken to the skillet with the mushrooms and sauce. Reduce the heat to low, cover the pan, and simmer for 4-5 minutes, to allow the flavors to blend.
Serve the chicken cutlets topped with the sauce and mushrooms.
ENJOY!