Directions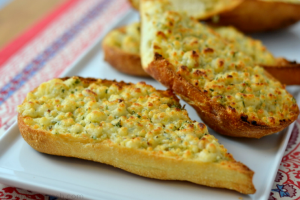 People ask me all the time why I started writing a blog.  It's probably a question I get at least once a week.  Blogging, though increasingly common, still has this kind of weird aura around it.  People don't get it, and I have to admit, sometimes I don't get it either.  It blows my mind that there's this little space on the internet with my name on it, that I'm in charge of.  There's also this weird ego-thing around blogging in general. Like, why on earth would I think that anyone would ever want to read anything I've actually written…about my dinner, no less?  It's a battle I'm constantly struggling with.  I am notoriously bad at self-promoting my blog.  It's only been quite recently that I even tell people that I write a food blog when they ask me what I do.  My go-to answer for a long time was just "I do a little work from home."  Anyway, my point is, I often feel like my job is pretty weird.
One of THE BEST parts about my weird little writing job, though, is hearing from YOU.  I love when friends post pictures on my Facebook page of recipes they've made from my blog.   I love when I get emails from readers, asking questions, just commenting on something or telling me a story about their kitchen adventures.  I love chatting with readers when they leave comments on a blog post. I love that my weird little food blog job has been able to connect me with so many people I would have never probably crossed paths with otherwise.
Take for instance, the inspiration for today's blog post.  A couple of weeks ago, my mom called me because she needed me to come pick up "a little present" at their house. When I arrived, my mom handed me a tiny paper bag, and in it was a perfect little head of garlic, and a notecard.
The note was from (my new friends) Susan and Scott Conrad. Forgive me, Susan, if I'm getting this story wrong, but I believe Susan's sister-in-law is a friend of my mother's. Susan wrote me the kindest little note, about how much she enjoys Chew Nibble Nosh and looks forward to new updates in her inbox every week.  She also mentioned that she loves that I'm "not afraid of garlic" and then gifted me this beautiful head of garlic, that was grown in her very own garden.
Now I had this perfect little present, and a warm blogger heart.  It was a wonderfully meaningful present that someone expected me to put to good use. I knew I had to do something pretty special with it.  And Susan's right…I'm not afraid of garlic. So, I figured I should find something that would use up the whole darn head.
The result, was this pretty amazing garlic bread.
This isn't your average run of the mill garlic bread, but the few extra steps are definitely worth it.  First things first, I needed to make some garlic confit.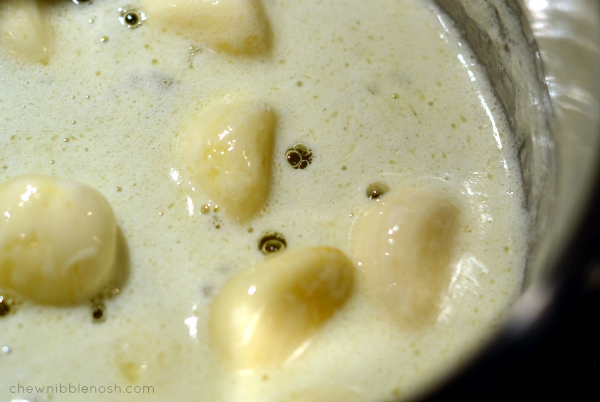 Basically, this meant cooking the cloves of garlic in butter, over low heat, until the garlic was permeated with the butter and nice and soft.  Have you ever had roasted garlic?  You know how the flavor of the garlic mellows out during roasting?  This confit technique produces a much mellower garlic, but infuses it with that buttery flavor.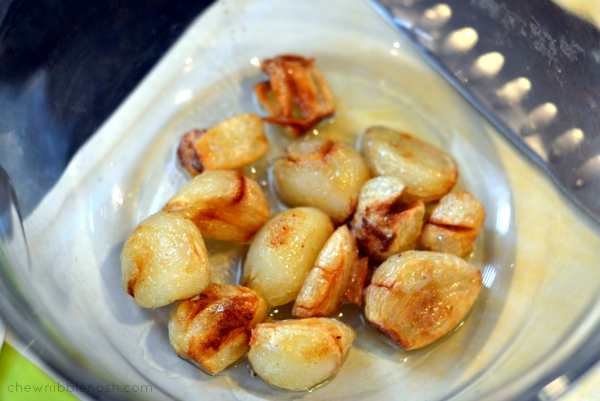 After about fifteen minutes of butter-time, the garlic was golden brown, and nice and soft.  I removed it from the butter, and set it aside to cool.
While it was cooling, I zested a lemon and chopped up some fresh thyme.  The original recipe called for fresh oregano.  I was all out, so I substituted the thyme, which was delicious too!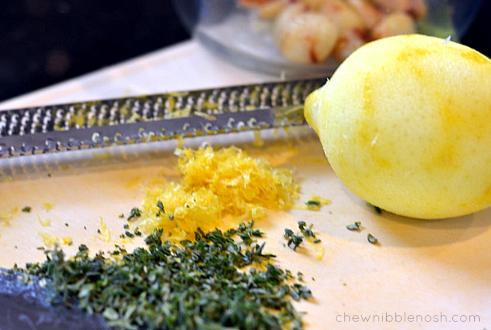 Once the garlic was cooled, I added some grated Parmesan cheese to the bowl, along with my lemon zest, thyme, and crushed red pepper flakes.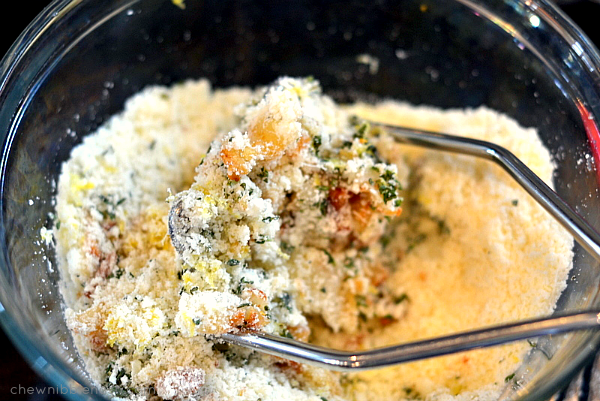 I mashed the mixture together until the buttery garlic had broken down and combined with the cheese into a spreadable paste.
At this point, I sliced a 12-inch baguette in half, and then in half again, and then laid the bread, face down, on a cookie sheet. I put it under the broiler to toast up the bottoms for just a minute.
Once toasted, I flipped the bread over, and spread each piece with a generous amount of that amazing garlic confit cheese.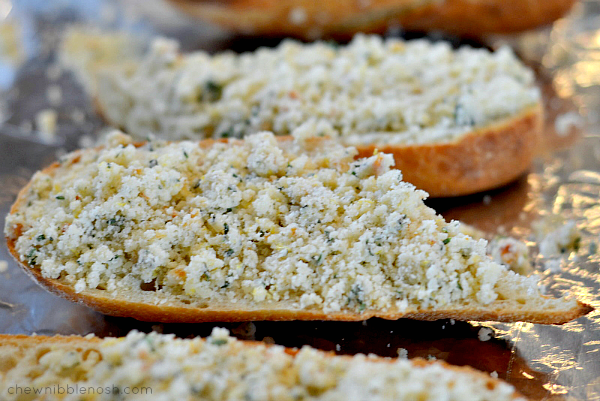 I put the pan back under the broiler and let the cheese melt and bubble, before removing it from the oven and going to town. I served this pretty spectacular toast alongside Pasta e Fagioli soup, and we had ourselves a dinner fit for a cool fall night.  The thyme, lemon, garlic and cheese all came together beautifully.  I've been spoiled by reeeeally good garlic toast now, and there's no going back.
Thank you, Susan and Scott, for your ever-so-kind words and for inspiring me to dig into an entire head of garlic for dinner!  It was so kind of you to think of me!
GARLIC CONFIT TOAST
Adapted from Bon Appetit
Garlic Confit Toast
Author:
Prep time:
Cook time:
Total time:
Ingredients
1 head of garlic, cloves peeled and kept whole
1 stick butter
1 cup fresh grated Parmesan cheese
2 teaspoons fresh chopped thyme or oregano
1 teaspoon freshly grated lemon zest
1/4 tsp. crushed red pepper flakes
kosher salt, to taste
1 12-inch baguette
Instructions
Melt the butter in a small saucepan over medium-low heat. Add the garlic cloves, and cook until golden and very soft, about 15-20 minutes. Remove the garlic pieces from the butter and place them in a bowl to cool. Discard the butter.
Add the Parmesan, thyme, lemon zest, and red pepper flakes to the bowl with the cooled garlic. Mash together until the consistency is a thick and paste-like. Season with salt to taste.
Preheat broiler, and move an oven rack so it's just a few inches from the heat source. Line a baking sheet with foil. Slice the baguette in half, lengthwise, and then slice each half crosswise. Place the four slices of bread face down on the prepared baking sheet. Broil for a minute or two (watch carefully!) until the bottom of the bread is toasted. Remove the bread from the oven.
Flip the slices over and spread the garlic-cheese mixture over the slices of bread. Place the bread back under the broiler, and cook for 2-3 minutes until the cheese begins to bubble and brown. (Watch carefully! Those broilers are quick!)
Remove from the oven and enjoy!