Directions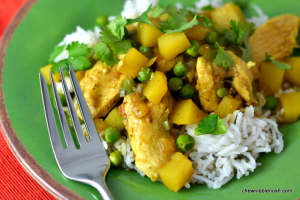 This is a great recipe to have on hand when you really want to go out to your favorite Indian restaurant for dinner, or grab carry-out from them, but it's too darn cold to go and you'd rather just stay home, put on your pajamas and slippers, and stay warm.
It's really a simple dish to throw together, and for you curry naysayers out there…my kids even liked this.  It is warm and cozy, with just enough heat to put us in a warmer frame of mind on a cold, winter night.
I started by thinly slicing a pound of boneless, skinless chicken breasts, dicing an onion and a jalapeno pepper, and cutting up a few small potatoes.  I used refrigerated ginger paste for this dish, but if you'd rather, you could dice up a knob of fresh ginger. This is a dish where it really benefits you to have everything prepped and ready to go before you start cooking.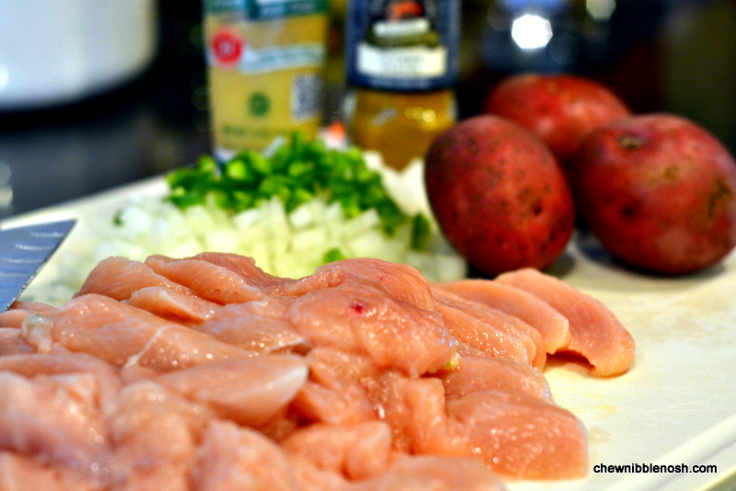 Once I was ready to begin, I started by browning up my pieces of chicken in a little oil on the stove top.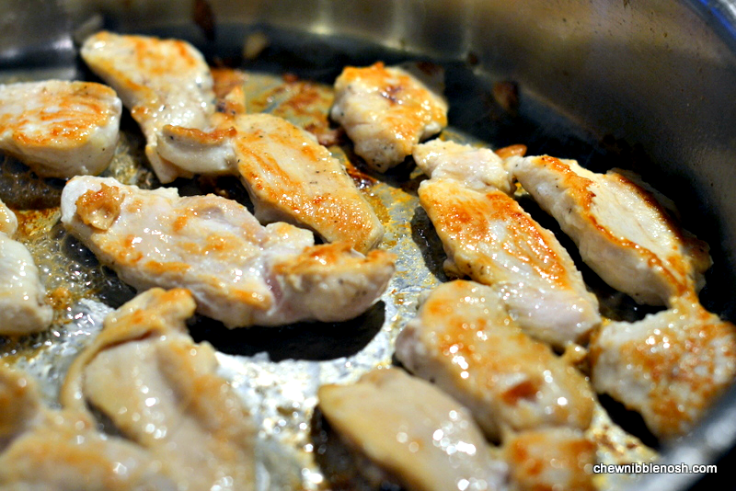 Once it was browned nicely on both sides, and cooked through, I removed the chicken to a dish and covered it to keep it warm.
Then, I added a little more oil to the pan, and sautéed my onion, ginger, and jalapeno until it had softened up a bit, about two minutes total.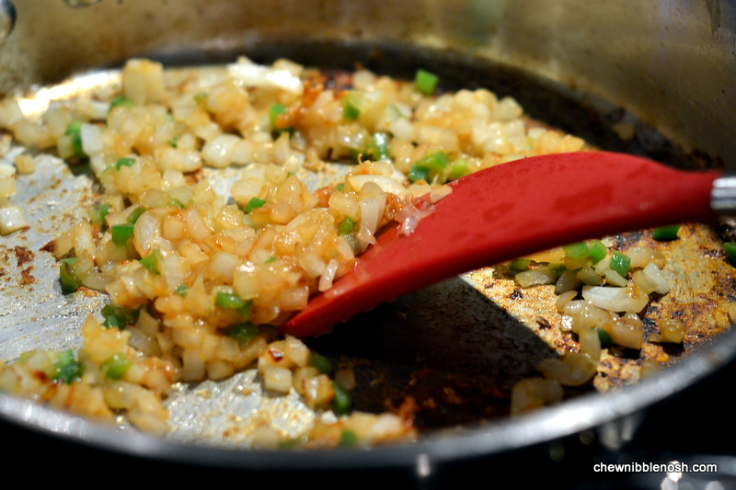 After that, I stirred in my curry powder, which instantly resulted in my husband saying "Ooooh, we must be having curry for dinner!" from the other room (It's potent stuff!), and once it was nice and fragrant, I poured in some chicken broth and deglazed the pan.
Then, I added in the diced potato, and let the mixture simmer until the potato was just about cooked through, before adding in my coconut milk and peas, and allowing it to simmer for five minutes more.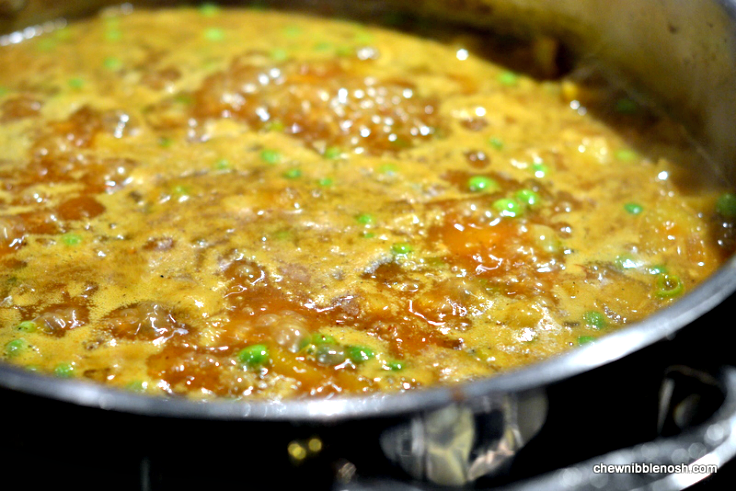 Once the sauce had thickened up a bit, and the potato was perfectly tender, I added the chicken back into the sauce, and let it warm through.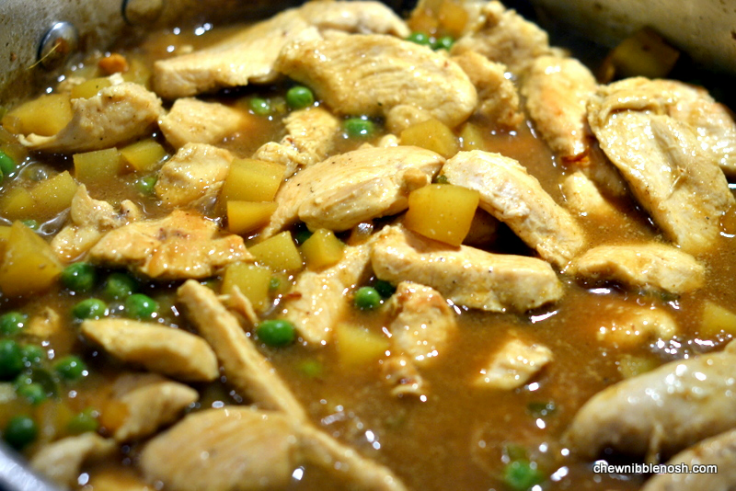 I served it over basmati rice, and we were all treated to a warm, cozy, exotic family dinner…and I got to keep my slippers on the entire time.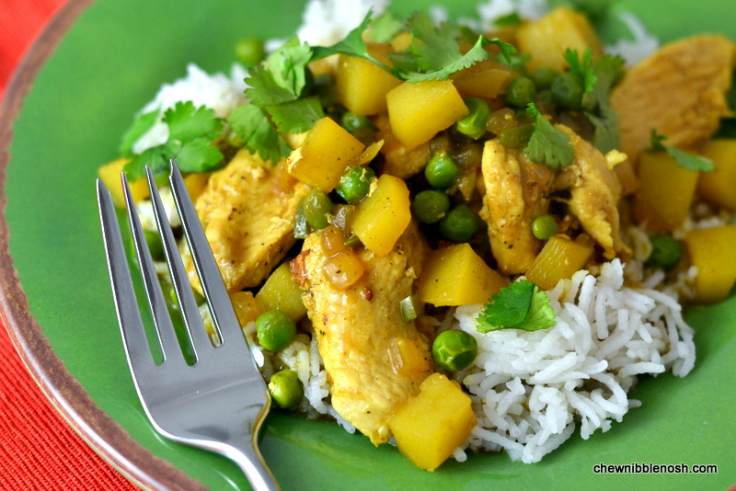 CHICKEN WITH POTATOES, PEAS & COCONUT CURRY SAUCE
Adapted from Fine Cooking
Chicken with Potatoes, Peas & Coconut Curry Sauce
Author:
Prep time:
Cook time:
Total time:
Ingredients
1 lb. boneless, skinless chicken breasts
salt and pepper
2 Tbsp. canola oil
1/2 onion, diced
1 Tbsp. minced fresh ginger
2 tsp. seeded, minced fresh jalapeno
1 Tbsp. curry powder
1 cup chicken broth
2-3 small yellow or red potatoes, peeled and diced, (approx. 1 cup)
5 1/2 oz. canned coconut milk (I used lite coconut milk and it worked just fine. Regular might yield a creamier result, though.)
1/2 cup frozen peas
chopped cilantro and steamed rice, for serving
Instructions
Slice the chicken into thin 3/4-inch thick pieces, at a 45-degree angle. Season the chicken generously with salt and pepper.
Heat the oil over medium high heat in a 10-12 inch, straight sided saute pan. Add the chicken and cook, flipping once, until lightly browned and just barely cooked through. If necessary, do this in two batches. 1-2 minutes per side. Once the chicken is browned, remove it from the pan to a plate. Cover the plate with foil, and set aside.
If the pan looks really dry, add another tablespoon of oil. Add the onion, jalapeno, and ginger. Saute, stirring constantly, until the vegetables are softened, about 2 minutes.
Add the curry powder, and stir until fragrant, about 30 seconds.
Deglaze the pan with the chicken broth, scraping up all of the browned bits.
Add the potato and 1/2 tsp. salt. Bring the mixture to a simmer, and cook, partially covered, until the potato is just about tender, 7-8 minutes.
Add the coconut milk and peas, and simmer until the potato is fully cooked and the peas are thawed, about 4-5 minutes more.
Add the chicken back into the sauce and let simmer for a couple of minutes to bring the flavors together.
Serve over rice, and sprinkle with chopped cilantro.