Directions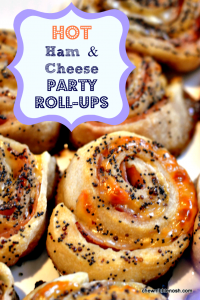 Oh, boy…these are good.
Melty, toasty, cheesy, sweet, salty, tangy, chewy, bready (I'm not so sure that's a word.), and just plain good.  Plus, they can be whipped up ahead of time and baked later for whatever possible reason you could need to make them.  They'd be wonderful paired with a salad for dinner, or delicious as a pot luck contribution, or, in my case, the perfect thing to bring to a friend's house for us to nibble on as we watched the game on TV.  They are just…so…good.
The ingredients are simple enough.  I started with a can of refrigerated pizza dough, and I rolled it out on a cutting board until it was about 13×18 inches.  Then, I layered on some sliced deli ham and lacey Swiss cheese.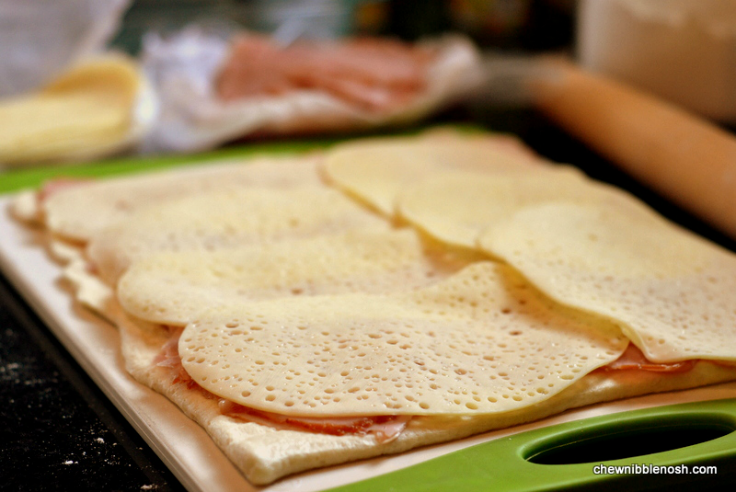 Then, starting with the long end, I tightly rolled the dough up, jelly roll style.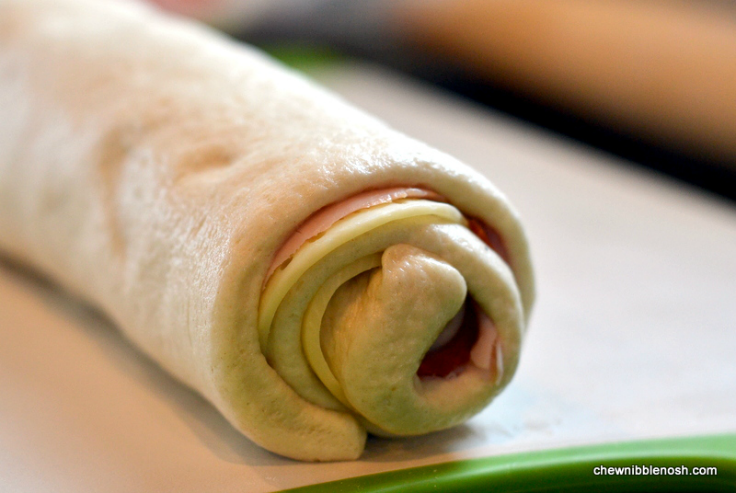 I sliced the roll into twelve slices, each about an inch wide, and laid them in a greased 9×13 inch baking dish.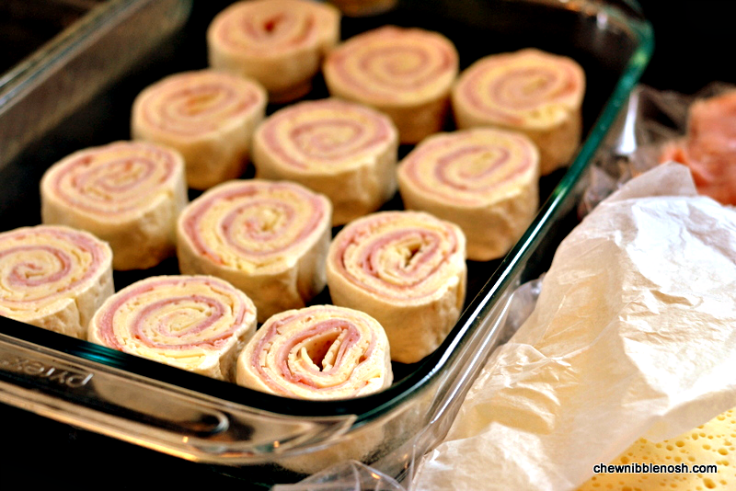 Then, it was time to make some magic.
In a small saucepan, I melted together some butter, brown sugar, Worcestershire sauce, grainy mustard, and poppy seeds.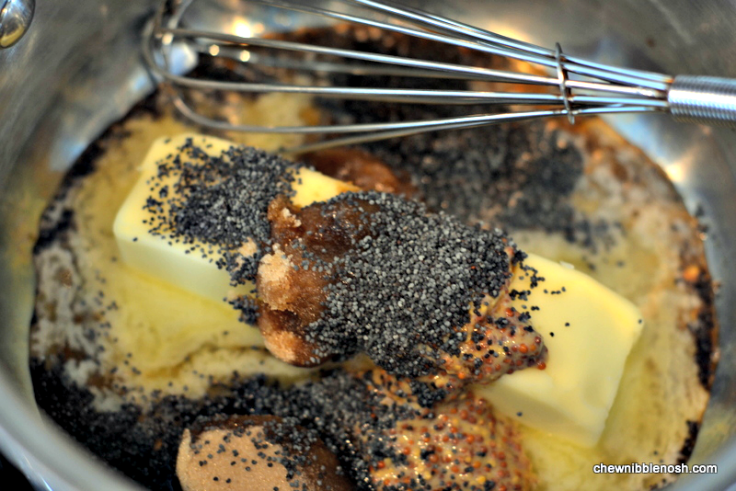 Once the mixture was smooth and bubbly, I poured it over the tops of my sliced ham and cheese rolls.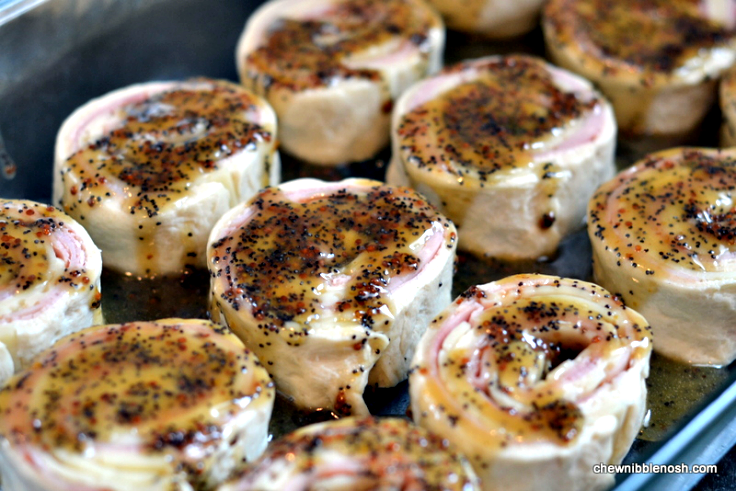 At this point, I covered the dish and popped it into the fridge until I was ready to bake them up.  You could bake them up right away, though.  Whatever works for you!
When it was time to bake them, they went into a 350* oven for about 25 minutes, until they were toasty, chewy, melty, and all that good stuff I mentioned before.  They were a huge hit with my friends, and I truly can't wait until I have another excuse to make them again.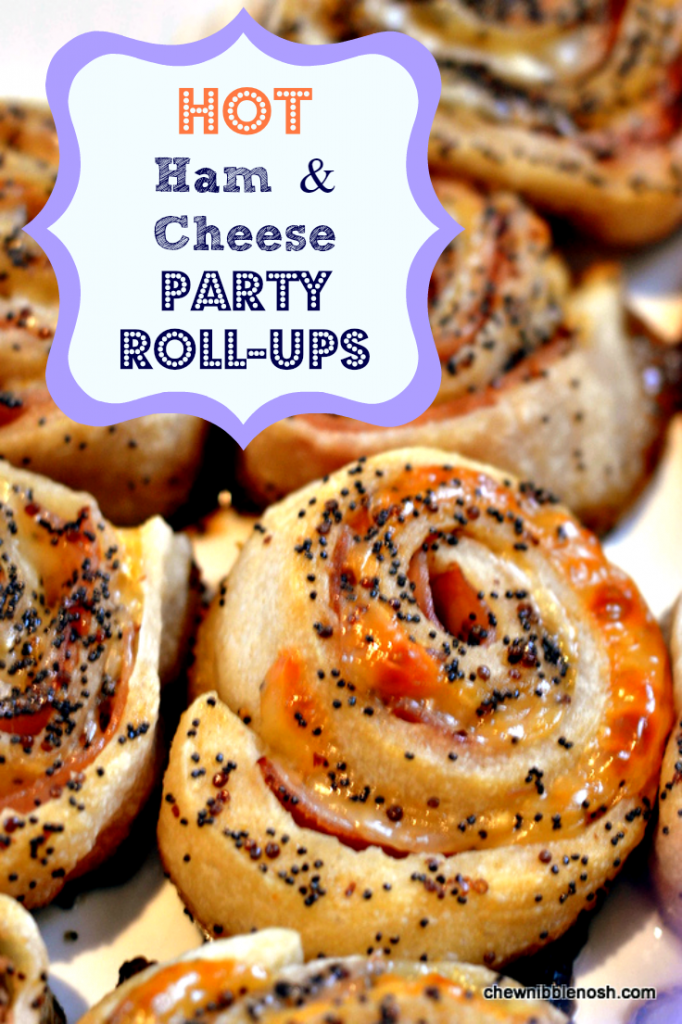 HOT HAM & CHEESE PARTY ROLL UPS
Adapted from KevinandAmanda.com
Hot Ham & Cheese Party Roll Ups
Author:
Prep time:
Cook time:
Total time:
Ingredients
1 can refrigerated pizza dough (I used Pillsbury)
3/4 lb. sliced deli ham
12 slices deli swiss cheese
1 stick butter
2 Tbsp. brown sugar
1 Tbsp. Worcestershire sauce
1 Tbsp. Dijon or grainy mustard
1 Tbsp. poppy seeds
Instructions
Preheat your oven to 350*F, and lightly spray a 9×13 inch baking dish with nonstick spray. Set aside.
Roll out the pizza dough on a cutting board, sprinkle with flour, and roll out to 13×18 inches.
Layer on the ham first, and then the cheese, leaving a little room at the edges.
Roll up the pizza roll, jelly roll style (starting with the long side), as tightly as you can, pressing the edge to seal when you reach the end.
Slice the roll into 12 1-inch slices, and place in the prepared baking dish.
In a small saucepan, combine the butter, brown sugar, Worcestershire sauce, mustard, and poppy seeds. Whisk over medium heat until the mixture is bubbly and smooth. Pour the butter mixture over the tops of the ham and cheese rolls in the pan.
At this point, you can either bake them up right away or cover them and pop them in the refrigerator for up to 24 hours before baking.
When ready to bake, uncover the rolls and place the dish in the preheated oven. Bake until rolls are puffed, browned, and sauce is bubbly, about 25-30 minutes.
ENJOY!