Directions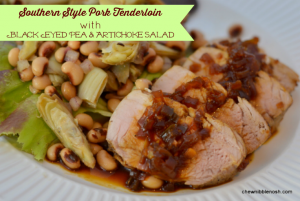 When the good people at OXO contacted me and asked if I'd like to try out a pan from their new cookware line, I didn't hesitate to say yes!  OXO was a staple in my kitchen long before I started blogging.  Their products are always well made, completely functional, and above all, comfortable!  My drawers are filled with their gadgets and utensils, and I knew that the quality of their cookware would be no different.
So when this beautiful Non-Stick Pro Saute Pan showed up on my doorstep, I knew exactly the meal to make to try it out.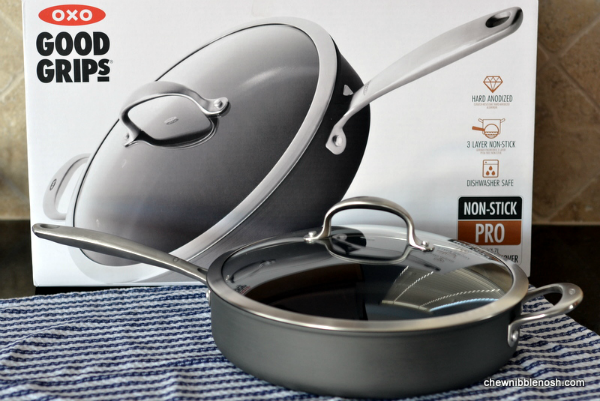 This pork tenderloin dish has been a family favorite for years.  It's deliciously different and fresh, simple enough to throw together on a weeknight, but impressive enough to serve to guests.
And I'm not kidding when I say that the way this pan handled it made it even better, but I'll get to that.
I started by making my basting sauce.  I sautéed some onion, garlic and a diced jalapeno pepper in a small saucepan.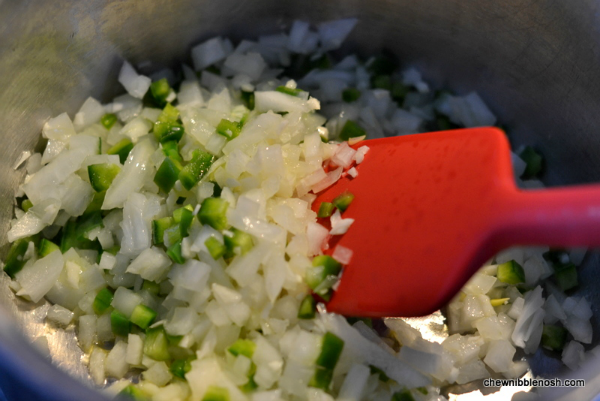 Once that had softened, I added in some sweet, sticky molasses, apple cider vinegar, Dijon mustard, and soy sauce.
I let the mixture bubble and simmer, and after a few minutes, I had a beautifully thick and rich sauce to both baste my pork tenderloin with, and serve alongside.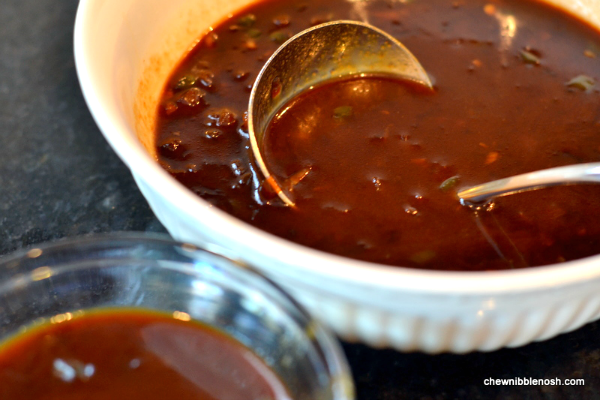 The salad that accompanies the pork was next on my agenda.  It's so simple to throw together, but tastes even better after it has time to sit for a bit, so before I got to my pork, I got it ready.
I combined two cans of black-eyed peas, some artichoke hearts, and a bit of minced red onion with a dressing of balsamic vinegar, olive oil, Worcestershire sauce, and caraway seeds.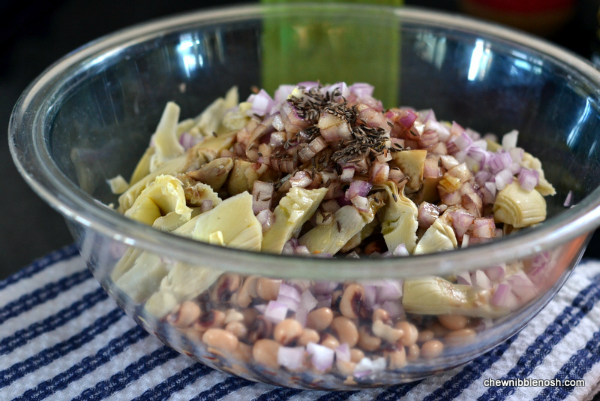 I gave it a good stir, and set it aside to marinate as I cooked the pork.  This simple side salad is a great one to have on hand, even if you're not serving it with this pork dish.  It's delicious, and every time I make it, we gobble up each and every bite.
OK, so now it was time to get moving on the pork.  I sprinkled two pork tenderloins generously with black pepper and some salt, and then browned them in my OXO Non-Stick Pro Saute Pan in just the tiniest bit of olive oil.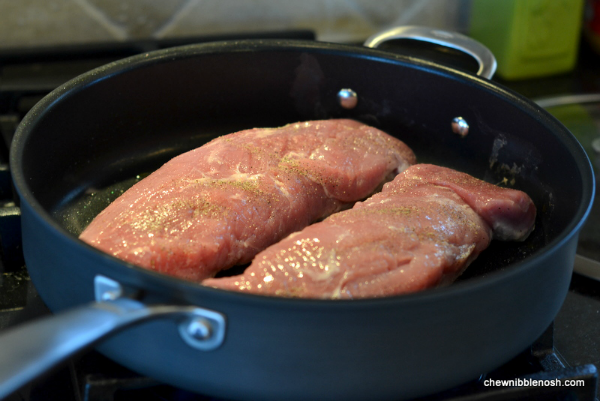 OXO cookware boasts a German engineered, 3-layer, PFOA free non-stick coating.  I've used plenty of non-stick pans in my days, and I'm being completely honest when I say this is the first one that was absolutely perfect…but just sautéing the pork didn't really put it to the test.  That part came next.
After the pork was browned on all sides, I basted it with that tangy, sticky jalepeno-molasses sauce, and popped it into the oven to finish cooking.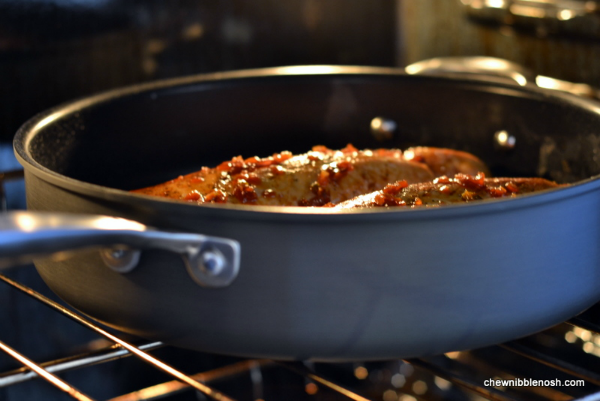 Like I've said, I've made this dish for years, and clean-up was always a bear!  That sauce is amazing, but once that molasses bakes onto my other pans, and after we take in a delicious meal, I get to take in a pan that takes forever to clean.
I'm being completely serious when I say that after I'd removed the pork from the sticky, baked on, sauce in the pan, and let the pan cool, I rinsed away the entire mess in the pan with warm water and zero elbow grease.  But, even if you didn't want to mess with the pan in the sink, OXO cookware is dishwasher safe, so you could go that route too.
But, back to the pork…  I let the pork roast for a few minutes, and then flipped it, basted it with more sauce, and let it roast for a few more, until the internal temperature reached 160*.  I removed it from the oven and let it rest for five minutes, before slicing into it.
Perfectly cooked, flavorful, and oh-so juicy. And when I served it alongside my simple black-eyed pea salad, I made sure to drizzle some more of that amazing sauce over the slices of pork.
Thank you, OXO, for allowing me to give your new product a test run.  You've knocked it out of the park again!  And this was a most delicious way to give it a try.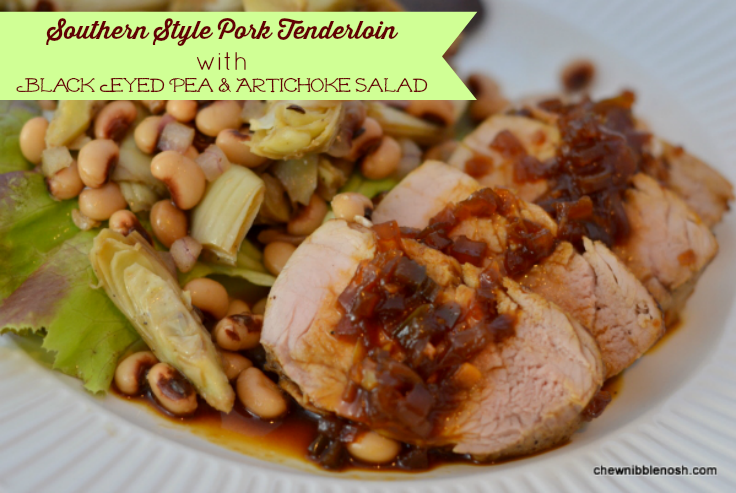 SOUTHERN STYLE PORK TENDERLOIN WITH BLACK EYED PEA & ARTICHOKE SALAD
Adapted from Eating Well
Southern Style Pork Tenderloin with Black Eyed Pea & Artichoke Salad – #OXOCookware
Author:
Prep time:
Cook time:
Total time:
Ingredients
For the Pork:
3 tsp. olive oil, divided
1 small onion, finely chopped
1 jalapeno pepper, seeded and finely chopped
2 cloves garlic, minced
1/2 cup molasses
1/2 cup apple cider vinegar
4 Tbsp. Dijon mustard
4 tsp. reduced sodium soy sauce
2 pork tenderloins, about 1 lb. each, trimmed
black pepper and salt
For the Salad:
1 12 oz. pkg. frozen artichoke hearts, thawed
2 (16 oz.) cans black eyed peas, drained and rinsed
1/2 cup chopped red onion
2 Tbsp. balsamic vinegar
1 1/2 Tbsp. olive oil
1 1/2 tsp. Worcestershire sauce
1/2 tsp. caraway seeds, lightly crushed
salt and pepper, to taste
Instructions
For the Sauce:
In a medium sized saucepan, heat 2 tsp. of the olive oil over medium heat. Add the chopped onion, jalapenos, and garlic. Cook until softened, 2-3 minutes, stirring occasionally.
Add the molasses, vinegar, mustard, and soy sauce. Stir to combine.
Reduce the heat to low, and simmer until thickened a bit, stirring occasionally, about 7-8 minutes. Set sauce aside.
For the salad:
Squeeze off any excess moisture from the artichoke hearts with paper towels. Slice the quartered artichokes in half.
In a medium sized bowl, combine the artichokes, black eyed peas, onions, vinegar, olive oil, Worcestershire sauce, and caraway seeds. Season with salt and pepper. Stir to combine and allow to rest while you make the pork.
For the Pork:
Preheat the oven to 425*F. Season pork generously with black pepper and a bit of salt.
Heat the remaining olive oil in a large ovenproof skillet over medium-high heat.
Add the pork to the pan and brown on all sides, 2-3 minutes.
Scoop about 2/3 cup of the sauce into a bowl to use for basting. Baste the pork with half of the sauce, and place the pan in the preheated oven. Roast the pork for 7 minutes.
Turn the tenderloins over, and baste with remaining reserved sauce. Roast for 7-8 minutes more, or until the internal temperature reaches 160*F. Let the pork rest for 5 minutes before slicing.
Slice into 3/4 inch slices and serve with the remaining sauce, and black eyed pea salad.
ENJOY!
 This post was written by me, on behalf of OXO.  All opinions are my own.