Directions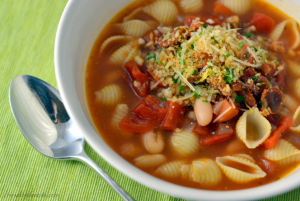 IT'S COLD!
Thanks for the obvious, right?
I really can't complain this winter.  We've had it pretty easy, especially compared to the East Coast. (Sorry, guys.)  We have, however, had some crazy cold snaps, in between the warm snaps, and we're currently in the middle of one of them.  I'm wishing I'd saved this recipe to make for tonight, instead of last week when it was warmer.  However, if I can help warm you up with this, then it all worked out.
This soup is so tasty, and the entire family (and an extra friend) gobbled it up and went back for more.  The soup is fresh, light and delicious, but there's this crazy good prosciutto and toasted bread crumb topping that you sprinkle on top that really makes it sing.  Please don't skip it.  I'm thinking you could put that stuff on anything and make it taste extraordinary.
I started by working on what I'd need last, strangely enough.  I cooked the pasta that would go in the soup at the end, and made sure to reserve some of the pasta water for the soup.  Then, I got my topping ingredients together.  I toasted up some Panko breadcrumbs in a skillet on the stove, and let them cool for a bit, while I crisped up some diced prosciutto in my soup pot.
I removed the prosciutto when it was crisp, and let it drain for a bit before mixing it in with the toasted bread crumbs, some shredded Parmesan cheese, minced fresh parsley, and lemon zest.
Yum, right?
Once that was done, I added a diced onion to the drippings in the pot and let them soften a bit before adding in some minced garlic, rosemary, red pepper flakes, and…wait for it…anchovy paste.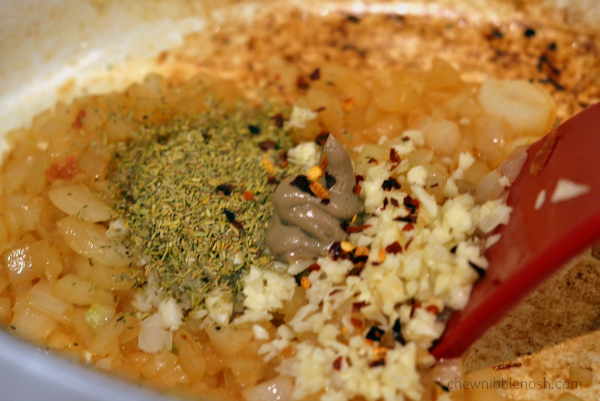 I know.  It looks kind of gross, and some people REALLY dislike anchovies, but trust me when I say that the anchovy paste adds no fishy flavor to the soup whatsoever. It does add a lot of depth and savoriness, though.  My kids, who can taste "fishy" a mile away, had NO idea there was anchovy paste in this dish.  Emily saw the tube in the fridge the next day and said, "Eeeew!  What are you making with that?"  When I told her I'd made the soup that she loved the night before with it, she couldn't believe it.
Don't let it scare you off. Get past your fear, squirt some in, and move on. Really.  I promise.
Anyhooo, I cooked all of that together for a minute or so to bring the flavors together, and then deglazed the pan with some white wine.  I let that simmer down a bit, before adding in some chicken broth, a big can of diced tomatoes, the pasta water I'd reserved, and two cans of cannellini beans.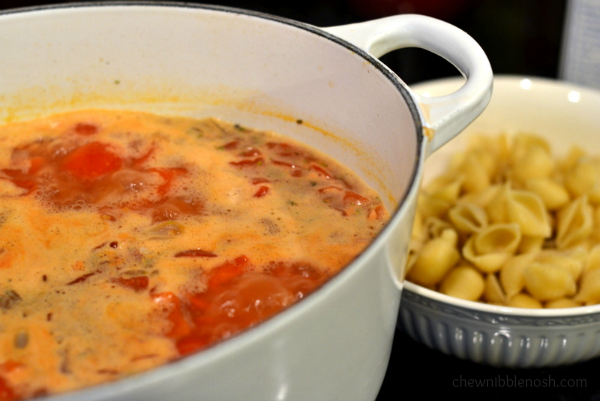 After fifteen minutes on the stove top, at a gentle simmer, I added in the pasta shells I'd cooked up before, and seasoned the soup with a little more salt and pepper.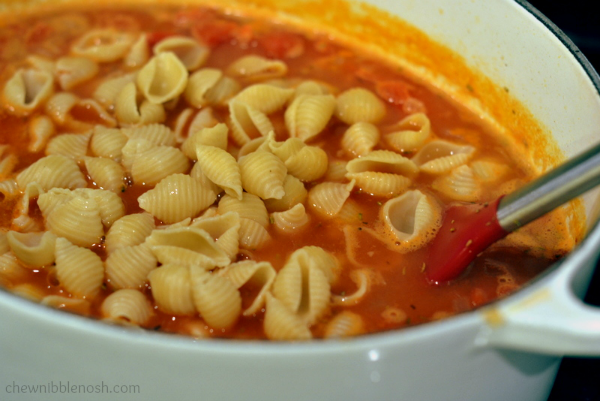 I served each bowl of soup with a hefty dose of that amazing bread crumb topping, and our souls were warmed from top to bottom.
I just wish we hadn't eaten it all so I could have some right now!  I'm cold!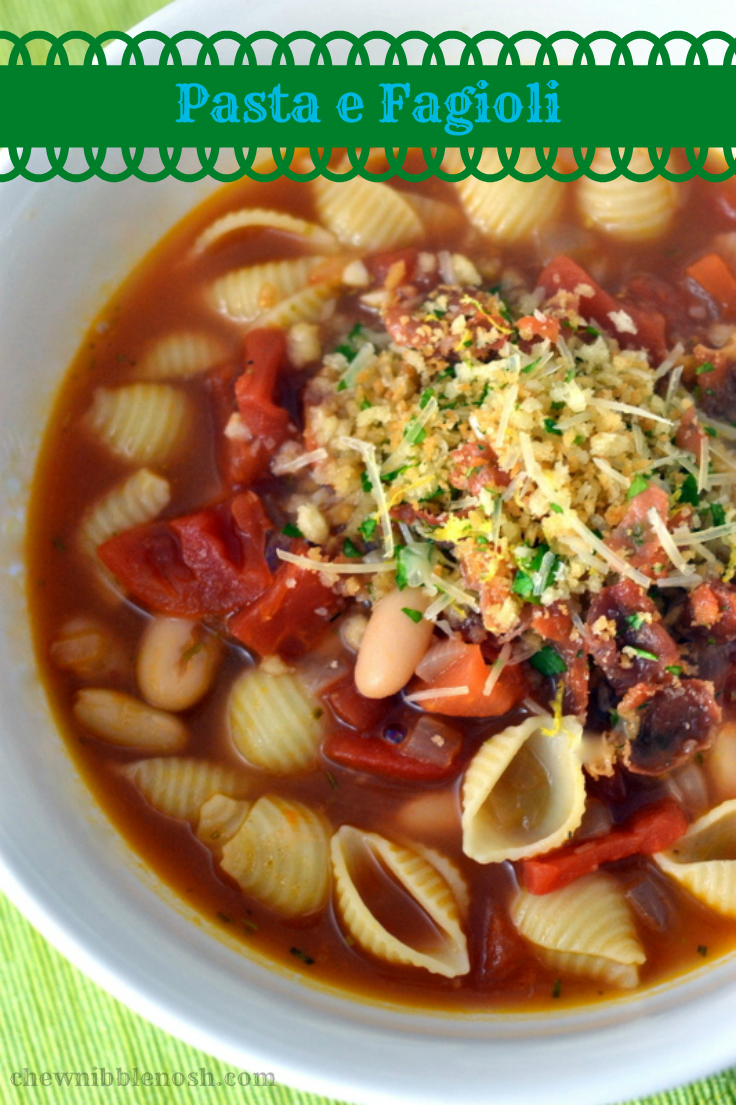 PASTA E FAGIOLI
Adapted from Cuisine at Home
Pasta e Fagioli
Author:
Prep time:
Cook time:
Total time:
Ingredients
For the Topping:
2 oz. prosciutto, diced (about 1/2 cup)
3 Tbsp. olive oil, divided
1 cup Panko bread crumbs
1/4 cup Parmesan cheese, shredded
1/4 cup minced fresh parsley
1 tsp. lemon zest
For the soup:
1 cup dry small pasta shells (once cooked, you'll want to reserve 1 1/2 cups of the cooking liquid)
2 cups onion, diced
3 cloves garlic, minced
1/2 Tbsp. crushed dried rosemary
1 tsp. anchovy paste (you can usually find this near the tuna in your grocery store)
1/2 tsp. red pepper flakes
1/4 cup dry white wine
2 1/2 cups chicken broth
1 (28 oz.) can diced tomatoes in juice
2 (15 oz.) cans cannellini or other white beans, drained and rinsed
salt and pepper to taste
Instructions
Cook the pasta in salted boiling water according to the package's directions. Drain, but reserve 1 1/2 cups of the cooking liquid to use in the soup. Set drained pasta and reserved water aside.
Toast the bread crumbs in 1 Tbsp. of olive oil in a nonstick skillet until golden, about 4-5 minutes, stirring occasionally. Remove from the heat and allow to cool.
In a large soup pot, saute the prosciutto in 2 Tbsp. of olive oil, over medium heat, until crisp. Transfer the prosciutto to a paper towel lined plate and set aside.
Add the diced onion to the drippings in the pot and cook over medium heat for 5 minutes, until softened and starting to brown.
Add the garlic, rosemary, anchovy paste, and pepper flakes. Cook 1 minute.
Deglaze the pan with the white wine, scraping to get all of the browned bits off of the pan. Allow to simmer until the wine is nearly evaporated.
Stir in the broth, tomatoes, beans, and reserved pasta water. Bring the soup to a boil, reduce heat to medium-low, and allow to simmer for 15 minutes.
Remove from the heat and add the cooked pasta. Season to taste with salt and pepper, if needed.
Combine the crisped prosciutto with the toasted breadcrumbs, Parmesan, parsley, and lemon zest. Sprinkle the topping over each serving of soup.
ENJOY!