Directions
Roasted chicken is quintessential comfort food on a chilly night, and it also happens to be something my kids will eat without complaining.  So, it's a win-win.  Usually, though, roasting a chicken takes a little more time than I usually have to spend on dinner during the week, so we don't have it as often as my kids would like.
I was so excited when I ran across this recipe.  Not only did it involve a quick-roast method that I was interested in trying, it also features a delicious, quick side dish of sautéed artichoke hearts and pancetta, mixed with fresh thyme, garlic and lemon.  How could that possibly be bad, right?
For the chicken, you'll need three pounds of bone-in chicken pieces.  I used split breasts and drumsticks, and I cut the breasts in half.  I patted all of the pieces dry with paper towel, and then seasoned them well with salt and pepper.
I poured some olive oil into my large skillet, and let it heat up until it was shimmering hot, before adding the chicken, skin side down.
After about five minutes, the chicken skin was beautifully golden and crispy.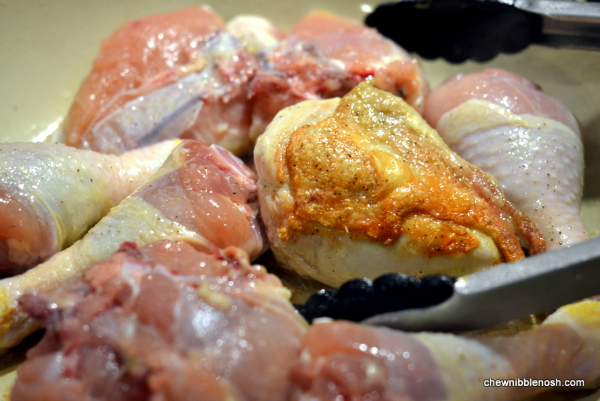 At this point, I transferred my skillet to the oven and roasted the chicken, still skin side down, for fifteen minutes.
Fifteen minutes…for roasted chicken.  That's it!
As the chicken was roasting, I chopped up my garlic, minced some fresh thyme leaves, chopped up some pancetta, juiced my lemon, and patted two packages of frozen artichokes that I'd been thawing out until they were dry.
If you're not familiar with pancetta, you should really take this opportunity to try it.  It's a rolled, Italian bacon, that's usually studded with a bit of black pepper, and it's readily available at your deli counter in the grocery store.  You just have to ask for it.  Its flavor is still smoky and salty, like regular bacon, but the flavor is a little more subtle.  I think you could absolutely substitute regular bacon in this recipe, but if you can try it with pancetta, give it a try.
 After fifteen minutes, the chicken was cooked through and I removed it from the oven and transferred it to a plate, skin side up.  I tented it with foil, while I got to work on my artichokes.
I added the pancetta to the drippings in the skillet, and allowed it to sizzle up nice and crispy.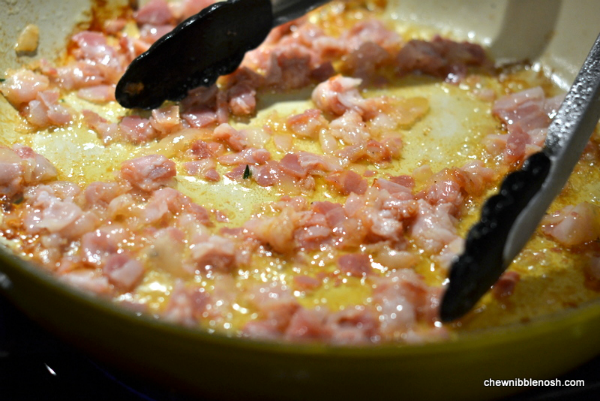 To that, I added in my artichoke hearts, and let them brown up in the pan for a couple of minutes without stirring them.  This allowed them to crisp up nicely along the edges, and heat through.
Once they were browned, I added in my garlic and thyme (Can you imagine how amazing this smells?), and tossed the mixture together until the garlic and herbs were beautifully fragrant.
Then, to finish it off, I deglazed the pan with the lemon juice and a bit of chicken broth, making sure to scrape up all of the browned bits from the chicken and artichokes into the sauce.  I let the sauce thicken a bit, seasoned it with salt and pepper, and we were ready to eat!
The chicken was perfectly buttery and crisp on the outside, and so tender and juicy on the inside.  The artichokes and pancetta were so tasty that I could have easily eaten every single last bite of them in the pan, but then my family would have felt slighted, and we can't have that.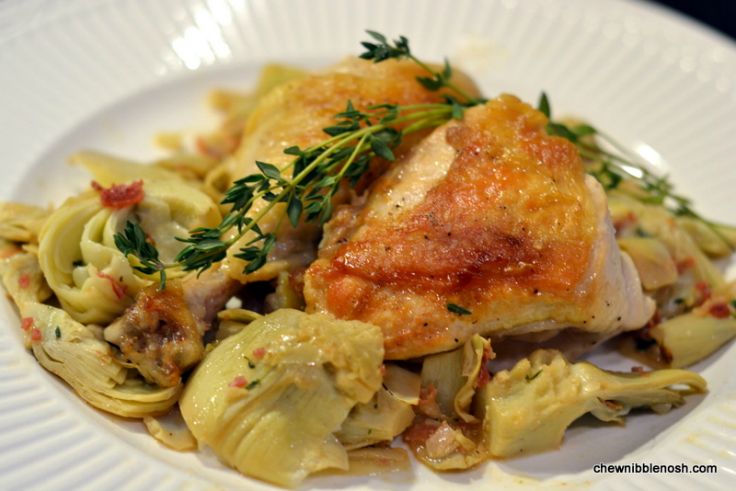 ROASTED CHICKEN WITH ARTICHOKE HEARTS AND PANCETTA
Adapted from Cook's Country
Roasted Chicken with Artichoke Hearts and Pancetta
Author:
Prep time:
Cook time:
Total time:
Ingredients
3 lbs. bone-in chicken pieces (I used split breasts, that I cut in half, and drumsticks)
salt and pepper
1 Tbsp. olive oil
3 oz. pancetta, chopped fine
18 oz. frozen artichoke hearts, thawed, quartered, and patted dry with paper towels
3 cloves garlic, minced
2 tsp. fresh thyme, minced
1/2 cup chicken broth
2 tsp. lemon juice
Instructions
Adjust the rack in your oven to the middle position and preheat the oven to 450*F.
Pat the chicken pieces dry with paper towels, and season well with salt and pepper.
In a large ovenproof skillet, heat the oil over medium-high heat until it shimmers. Add the chicken pieces, skin side down, and cook until the skin is well browned, about 5 minutes.
Keep the chicken skin side down, and move the skillet to the oven.
Roast the chicken until the breasts reach 160 degrees and drumsticks/thighs register at 175, about 15 minutes more.
Transfer the cooked chicken to a platter, skin side up, and tent loosely with foil to keep warm.
Return the skillet to medium-high heat on the stovetop, and add the pancetta to the drippings in the pan. Cook the pancetta about 4 minutes, until it's nice and crisp.
Add the artichokes, and allow to cook, without stirring, until they are browned on the edges, about 2 minutes.
Stir in the garlic and thyme, and stir until fragrant, about 30 seconds.
Deglaze the pan with the chicken broth and lemon juice, making sure to scrape up any browned bits in the bottom of the pan. Cook until slightly thickened, about 2 more minutes. Season with salt and pepper to taste.
Serve the artichoke mixture with the roasted chicken.
ENJOY!