Directions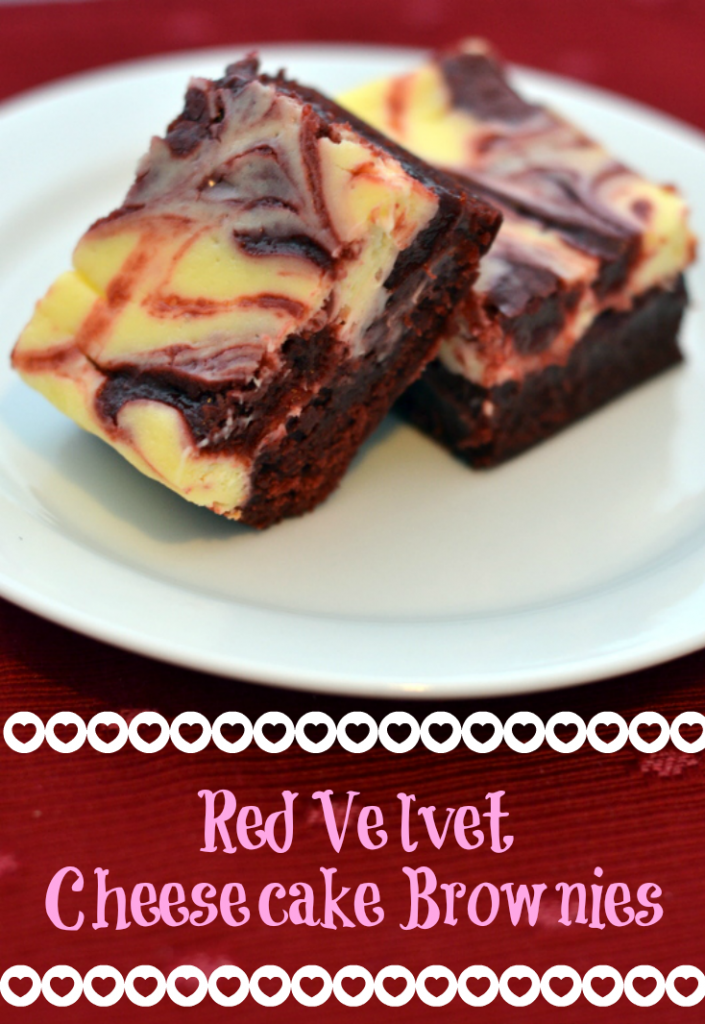 Looking for something sweet for your sweetheart this Valentine's Day?  These brownies are not only beautifully festive, but they are also unbelievably tasty.
I have this amazing neighbor.  She's a wonderful friend, wonderful mom, and also a wonderful baker.  She bakes up the most delicious treats, and we've managed to be lucky enough to be her guinea pigs on more than one occasion.  A couple of weeks ago, she texted me asking if it was OK to send down some Red Velvet Cheesecake Brownies to try.  (Did she really need to ask?  Heck yes!  Send them down!) She wanted to know if they were good enough to send in for the teachers.  We were her taste testers.  Tough job, eh?
Needless to say, we were all very sad when our plate of brownies was empty, so I told the girls I'd be sure to make some up soon.  I got the recipe from Julie right away, and did indeed, bake some up.
And we ate them all up.  Quickly.
They are so good.
Red Velvet cakes are traditionally chocolate flavored, but deep red in color.  Oftentimes, they aren't chocolaty enough for me. These brownies only have a few tablespoons of cocoa powder in them, but are so perfectly chocolaty and fudgy.  I don't know how it happens, but I'm a believer.  They are perfect.
To make the brownie batter, I creamed together some butter and sugar with my mixer, and then added in some eggs.  Then, to that, I added the cocoa powder, salt, a dash of vinegar, some vanilla, and an excessive amount of red food coloring.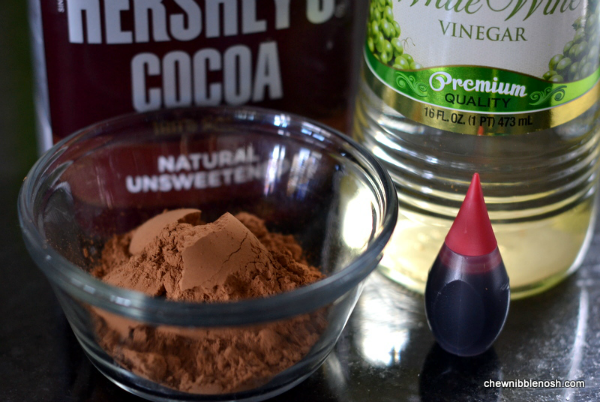 As the batter mixed, I just kept dropping in dribble after dribble of food coloring, until I had the rich red coloring I was looking for.  I mixed in some flour, just until it all came together, and my brownie batter was done.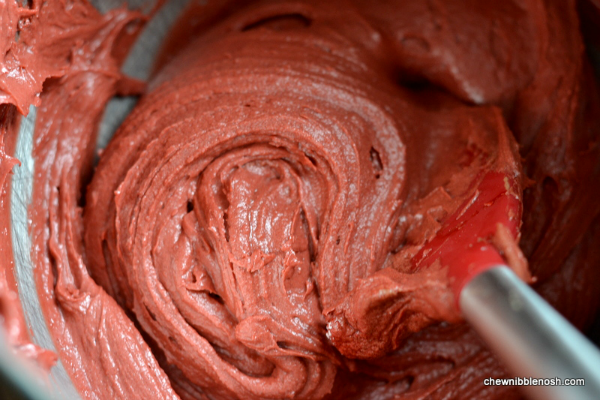 I spread the batter into an 8×8 baking dish that I'd sprayed with nonstick spray and lined with parchment paper.  I made sure to save a bit of the batter to swirl into the topping.
Then, in another bowl, I whipped up a quick cheesecake layer of a block of cream cheese, one egg, some sugar, and vanilla.  I poured that over the top of the brownie batter, and then dropped spoonfuls of the brownie that I'd saved over the top.  I grabbed a knife, and swirled it through the top layer, to make it beautifully marbled.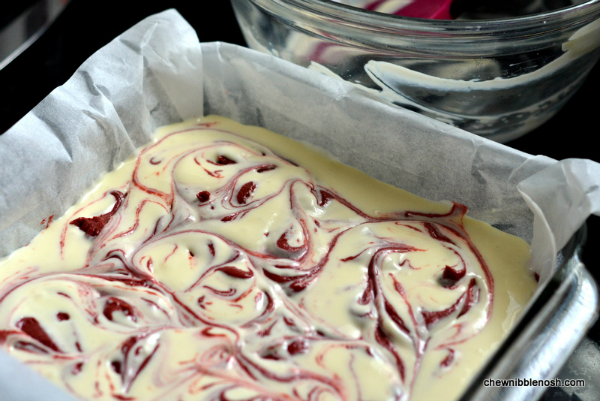 Then, into the oven it went.
All in all, I baked it for around thirty minutes. I started checking it at twenty minutes, though.  I didn't remove it from the oven until the cheesecake layer was set and didn't jiggle too much.
I let the brownies cool completely in the pan before removing and slicing them.  They are best served at room temperature, but I did store them in the refrigerator in between dessert times!
These are so good that I definitely don't need the Valentine's Day excuse to make them again.  Look for Red Velvet brownies for Easter, Memorial Day, Arbor Day…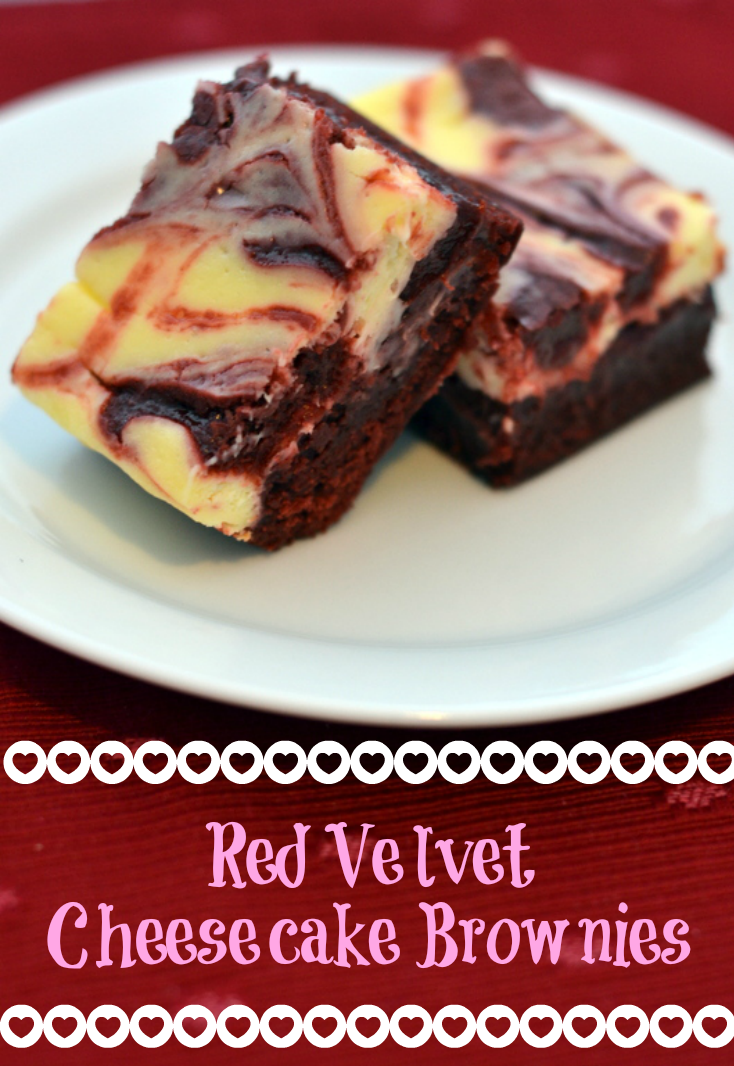 RED VELVET CHEESECAKE BROWNIES
Adapted from LauraInTheKitchen.com
Red Velvet Cheesecake Brownies
Prep time:
Cook time:
Total time:
**Store the cooled brownies in the refrigerator, but bring to room temperature before serving.
Ingredients
Brownie Batter:
1 stick butter, softened
1 cup sugar
2 eggs
3 Tbsp. cocoa powder
1/4 tsp. salt
1 tsp. white wine vinegar
1 tsp. pure vanilla extract
red food coloring
3/4 cups all-purpose flour
For the cheesecake layer:
8 oz. cream cheese, at room temperature (I used low-fat)
1 egg
3 1/2 Tbsp. sugar
1 tsp. pure vanilla extract
Instructions
Preheat oven to 350*F.
Spray an 8×8 inch baking dish with nonstick spray, and line with parchment paper. Make sure that the parchment comes up the sides of the pan.
In a large mixing bowl, cream together the butter and sugar with a mixer. Add the eggs, and beat well to combine.
One at a time, add the cocoa powder, salt, food coloring,vanilla, and vinegar, mixing well before each new addition. (Just keep dropping in the food coloring until you have the red you're looking for.)
Add the flour last, and mix just to incorporate into the batter.
Reserve 1/4 cup of the brownie batter and set aside. Spread the rest of the mixture into the prepared pan.
In a different bowl, cream the cream cheese, sugar, egg and vanilla together until it's nice and smooth. Pour the mixture over the top of the brownie batter.
Using two spoons, drop dollops of the brownie batter over the top of the cheese mixture. Take a butter knife, and swirl the dollops together and around, creating a marbled pattern on top.
Bake at 350* for approximately 30 minutes. Check to make sure the layers are set before removing from the oven. If they are really jiggly, leave them in a little bit longer, but keep an eye on it!
Cool completely on a wire rack before removing and slicing. Store brownies in the refrigerator, but bring to room temperature before serving.
ENJOY!