Directions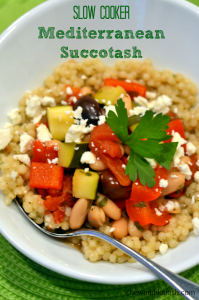 I just love it when simple and healthy come together just right to create the perfect meal for a busy night.  This is one of those recipes.  It couldn't be simpler, even for a slow cooker recipe, and is perfect for those nights when you're playing taxi driver all night long and have to catch a meal somewhere in between trips.
Traditional succotash is a stewed combination of lima beans, corn, and tomatoes.  It's a cozy, home-cooking type dish, and is often served as a side.  This version features more Mediterranean flavors, and creamy white beans in place of the lima beans.  And when it's served over some couscous, it makes for a hearty, healthy meal.
To begin, I chopped up some fresh zucchini and red bell pepper.  I minced some garlic, and sliced a handful of kalamata olive in half.
All of the vegetables went into my slow cooker, along with two cans of Cannellini beans, a can of diced tomatoes, and a cup of chicken broth.  You could easily substitute vegetable broth for the chicken, to make this a truly vegetarian dish, but I just used what I had on hand.
I gave the mixture a good stir, popped the lid on, and set it to cook on low for four hours.
Before serving, I juiced a lemon, cut up some fresh parsley, and grabbed some Balsamic vinegar.
The lemon juice, vinegar, and parsley all went into the pot, along with a hefty dose of pepper.  The lemon and vinegar help perk up the flavors of the veggies a bit, so they taste beautifully fresh.
Once that was all mixed in, we were ready eat!  It's that simple!  I served the succotash over some pearled couscous, and sprinkled the top with some crumbled feta cheese to finish things off.
Yum!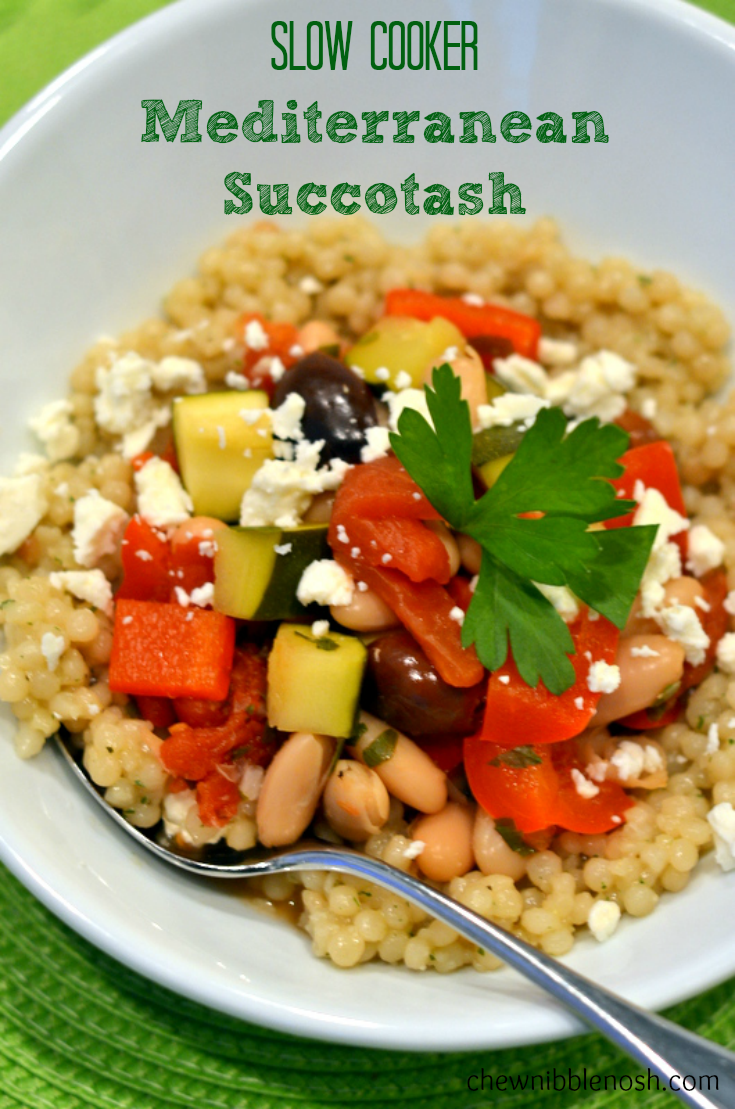 SLOW COOKER MEDITERRANEAN SUCCOTASH
Adapted from Cooking Light
Slow Cooker Mediterranean Succotash
Author:
Prep time:
Cook time:
Total time:
Ingredients
1 cup chicken or vegetable broth
1 cup chopped zucchini
1 cup chopped red bell pepper
1/2 cup pitted Kalamata olives, halved
2 cloves garlic, minced
2 (15 oz.) cans cannellini beans, rinsed and drained
1 (14.5 oz) can diced tomatoes with basil, garlic and oregano
1/4 cup chopped fresh parsley
2 Tbsp. Balsamic vinegar
2 Tbsp. lemon juice
1/4 tsp. black pepper
cooked pearled couscous
1/4 cup crumbled feta cheese
Instructions
Place first 7 ingredients in a 4-quart slow cooker. Stir well. Cover and cook on LOW for 4 hours.
Stir in parsley, vinegar, and lemon juice. Add black pepper, stir well.
Serve over cooked couscous and sprinkle with crumbled feta.