Directions
With Saint Patrick's Day right around the corner, it seemed like as good a time as any to pull out this recipe that I found awhile back.  I've needed an excuse to make this, and pretending that I'm Irish for a day seemed like the perfect excuse. Have you ever tried Colcannon?   If you haven't, you've missed out a warm, cozy, traditional Irish dish of mashed potatoes and cabbage, or kale. Seasoned with scallions or leeks, butter, salt and pepper, it's a simple, soul-warming, comfort food, you-eat-it-at-your-mother's-table type dish.
This rendition takes mother's table and brings it into the twenty-first century.  Who doesn't love mac & cheese?  And combined with bacon, sautéed cabbage, onion, garlic and leeks, and a creamy three cheese sauce, this is a perfect dish for a comfy family dinner or to wash down with a green beer on Saint Patrick's Day.
I started by prepping all of my ingredients.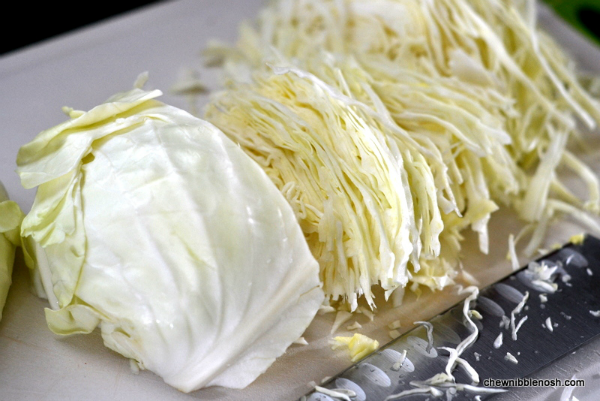 I thinly shredded a half of a head of cabbage, minced some garlic, sliced two leeks into thin rounds, sliced an onion, and diced up a good amount of thick cut bacon.  As I was prepping all of this, I cooked my macaroni in boiling salted water on the stove top.
I also shredded up a cup of sharp white cheddar cheese, Monterey Jack cheese, and creamy Havarti for my cheese sauce, and set all of that to the side.
Then, it was time to build the mac.
I sizzled up the bacon in a large pot until it was nice and crisp, and then removed the bacon, leaving behind a bit of the drippings to saute my onion and garlic in.  Once it was softened, I added in my cabbage and sliced leeks.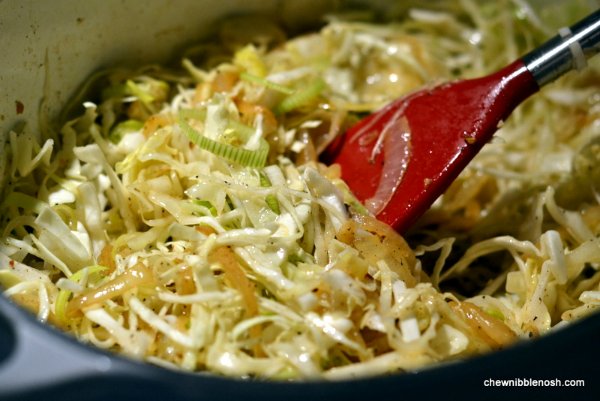 I cooked this mixture down until the cabbage had wilted and softened.  I could have stopped and probably eaten this right then and there, it smelled so good, but…I pushed on in pursuit of the perfect St. Patrick's Day mac & cheese.
To the softened cabbage, I added two cups of refrigerated shredded hash brown potatoes.  I folded the potatoes in, and moved the mixture to a large bowl to rest while I made my cheese sauce.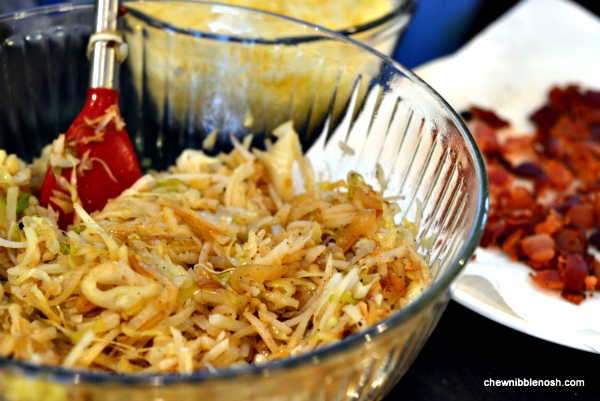 The cheese sauce was simple enough.  What wasn't simple was taking photos of the process, because I had to have one hand on the whisk the entire time.  So, you'll just have to trust me that melting some butter, whisking in some flour, and then adding some warmed milk, whisking until smooth and creamy and then stirring in the shredded cheese was nice and easy.
When it was done, I added in the cooked macaroni.
To that, I added in my sautéed cabbage mixture, and then bacon, and then I poured the entire lot into a greased 9×13 inch baking dish.  This makes a LOT of macaroni and cheese.  I hope you're hungry!
Before I popped it into the oven to bake, I sprinkled the top with some crunchy Panko breadcrumbs and a little more of the three-cheese mixture.
The dish baked for about twenty-five minutes, until it was nice and bubbly.  To finish it off, I set it under the broiler for just a couple of minutes to toast up the breadcrumbs and cheese on top.
Can you imagine how good this smells?
 This dish was everything I thought it would be.  It's absolutely delicious, different, and the perfect cozy dish to serve to friends and family on Saint Patrick's Day…or any day really, because it's just that good.
IRISH COLCANNON MAC & CHEESE
Adapted from AllThingsMacandCheese.com
Irish Colcannon Mac & Cheese
Prep time:
Cook time:
Total time:
Ingredients
1 lb. elbow macaroni pasta, cooked al dente
2 cups refrigerated shredded hash brown potatoes
8 slices thick-cut bacon, diced
4 cloves garlic, minced
1 large yellow onion, thinly sliced
4 cups thinly shredded cabbage, about 1/2 a head of cabbage
2 leeks, cleaned and white parts sliced
1 tsp. black pepper, divided
1 1/2 tsp. salt, divided
3 Tbsp. butter
3 cups 2% milk
3 Tbsp. flour
1/2 tsp. paprika
1 cup (4 oz.) shredded Monterey Jack cheese
1 cup (4 oz.) shredded sharp white cheddar cheese
1 cup (4 oz.) shredded Havarti cheese
1/2 cup Panko bread crumbs
sliced green onions for serving
Instructions
Preheat the oven to 350*F. Grease a 9×13 inch baking dish with nonstick spray and set aside.
Cook the pasta according to the directions on the box. Drain, and set aside.
Heat a large pot over medium high heat. Add the diced bacon, and cook until bacon is crisp. Remove the bacon with a slotted spoon. Pour off most of the bacon grease, leaving about 1 tablespoon in the pot.
Return the pot to the heat, and add in the onions and garlic. Saute until softened, about 5 minutes.
Add in the sliced cabbage and leeks. Season with 3/4 tsp. salt and pepper. Cook until softened, about 5 more minutes. Stir the potatoes into the cabbage mixture. Transfer the mixture to a large bowl and set aside.
Pour the milk into a small saucepan and warm over medium heat, until it's barely at a simmer.
Melt the butter in the large pot over medium-high heat. Whisk in the flour, and cook about 10 seconds. Gradually whisk in the warmed milk and stir until the mixture is thick and creamy and the flour has dissolved. Season with remaining salt and pepper.
Toss the three cheeses together in a bowl. Set about 1/2 cup of the cheese aside, and add the rest to the pot, stirring until the sauce is smooth and creamy.
Add the pasta to the sauce, stirring to coat.
Stir together the pasta, sauce, cabbage mixture, and bacon until everything is well coated and combined. Pour into the prepared baking dish.
Sprinkle the top with the Panko breadcrumbs and reserved cheese.
Bake, at 350*F, for 25-30 minutes or until bubbly and heated through.
Broil for just a couple of minutes before serving, to toast up the breadcrumbs and cheese on top.
Serve, sprinkled with sliced green onions.
ENJOY!