Directions
You can usually tell how simplistic a meal is here on Chew Nibble Nosh by how many pictures there are of the process.  This meal was so easy to throw together, that I only have three pictures.  So, if you're looking for quick and easy, and something you can just throw into the Crock Pot and walk away from, this is your meal.
It's no secret that I love a good short rib, and I love sweet, salty Korean BBQ as well. Throw those two entities together, and I'm a happy camper.  After a few hours in the slow cooker, these short ribs are melt-in-your-mouth tender.  I served them alongside some steamed rice and broccoli, and they made for a delicious easy dinner for a busy night.
I started by whisking together some soy sauce, rice wine vinegar, and dark brown sugar.  Then, I minced some garlic, chopped a couple of green onions, diced up a pear for sweetness, and sliced up a knob of ginger.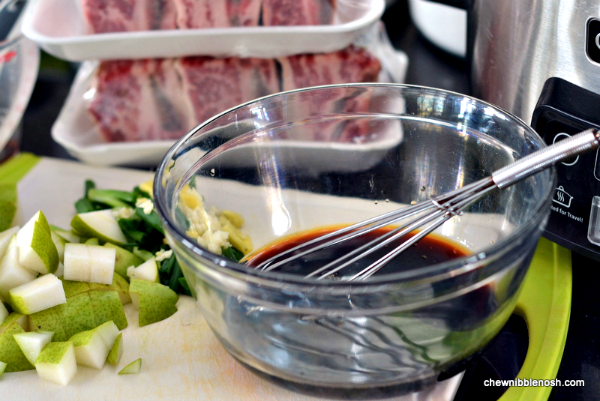 I added the ginger, garlic, and green onions to the soy sauce mixture.
Then, it was as simple as adding my bone-in short ribs to the slow cooker, pouring the soy sauce mixture over the top of them, and sprinkling the diced pear around the meat.
I turned the short ribs over a couple of times to make sure they were well coated in the sauce, before popping the lid on and walking away for a few hours.
Overall, the short ribs need to cook for 5-6 hours.  I turned them mid way through, so that every bit of meat would have time simmering in the sauce.
When it was time for dinner, the meat was tender, sweet, caramelized, and falling right off the bone.  I served it over rice, with some sesame seeds, green onions and a drizzle of the sauce over the top.  My family was content, my belly was full, and I'd spent a whopping fifteen minutes or so on making a wonderful dinner.  Shhh…nobody needs to know.  It will be our little secret.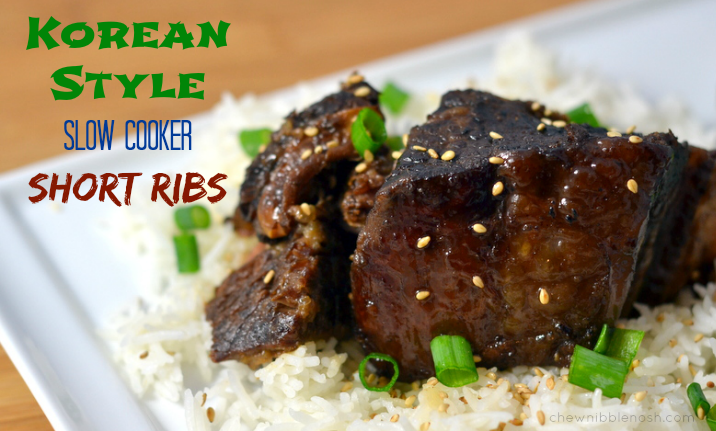 KOREAN STYLE SLOW COOKER SHORT RIBS
Adapted from Cooking.com
Korean-Style Slow Cooker Short Ribs
Recipe Type
:
Korean-Style Slow Cooker Short Ribs
Author:
Prep time:
Cook time:
Total time:
Ingredients
2-3 lbs. bone in beef short ribs
1/2 head garlic, peeled and chopped
1-inch knob ginger, peeled and sliced
1/2 cup low-sodium soy sauce
2 Tbsp. rice wine vinegar
2 Tbsp. dark brown sugar
1 medium-sized pear, chopped
3 green onions, chopped, plus more for garnish
sesame seeds for garnish
steamed rice
Instructions
In a small bowl, combine the soy sauce, vinegar, and brown sugar. Stir until the brown sugar has dissolved. Add the ginger, garlic, and onions to the sauce. Stir to combine.
Place the short ribs in the slow cooker. They will be kind of snug in there.
Pour the sauce mixture over the short ribs. Turn the short ribs in the mixture to coat evenly.
Sprinkle the pear around the short ribs.
Cover with lid and cook on LOW for 5-6 hours, until the meat is tender and falling off the bone.
Serve with rice, and sprinkle with green onions and sesame seeds.
ENJOY!