Directions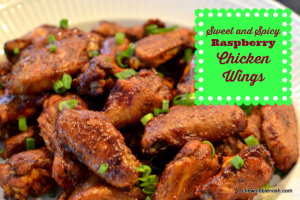 March Madness kicks into gear this week, and it's extra exciting around here because my hometown of Indianapolis is home to this year's Final Four!  When many people think of Indiana, basketball comes to mind.  (Well, that and corn, if we're being honest.)  But, basketball is a way of life for Hoosiers across the state, and nothing gets this place pumped up like a few weeks of nail-biter games which culminate in a giant party in our hometown.
So, today, we're focusing on some game food.  I think it's safe to say that these wings may be the best chicken wings I've ever made.  The raspberry glaze is crazy good, and the wings bake up juicy and tender, with so much flavor.  They have just the right amount of heat, the right amount of sweet, and the right amount of tangy.  They were a huge hit with my friends, and I have a feeling they'd be a huge hit with yours too.
I started by making that incredible raspberry glaze.  In a medium-sized saucepan, I sautéed some onions and garlic in a bit of oil.  Once they were tender, I stirred in a heap of fresh, juicy raspberries, some brown sugar, molasses, apple cider vinegar, Worcestershire sauce, ketchup, mustard, and Tabasco.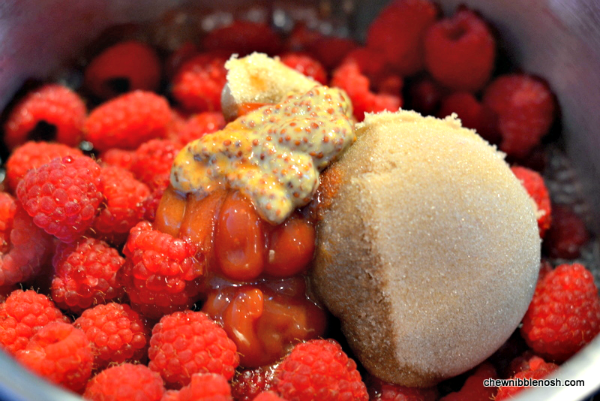 There's a lot going on in this sauce, and it works together perfectly.
I cooked the mixture on the stove-top for about ten minutes, until the sauce was slightly thickened and the raspberries were starting to break down.  At that point, I transferred the mixture to my blender and pureed it into this beautiful, raspberry red sauce.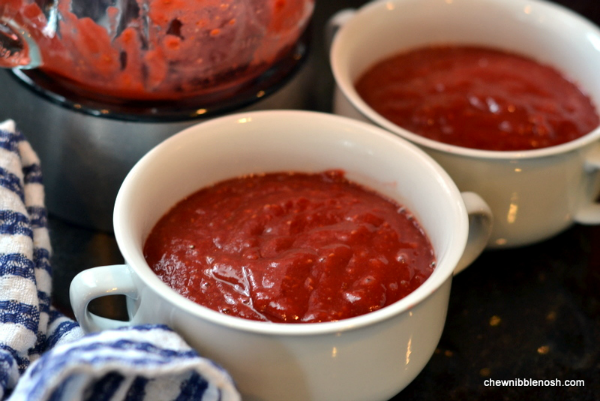 The recipe makes enough for two portions.  One, for glazing, and one for dipping.  Make the sauce up ahead of time and let it cool to room temperature, so it gives the flavors some time to mingle.
This sauce is mind-blowingly good.  In fact, when we fire up our grill for the first time this season, I may just have to adapt this recipe for larger chicken pieces, salmon, or pork, and use it for dinner.  It's just so good!
When I was ready to cook up my wings, I tossed them in a large bowl with some chili powder and kosher salt until they were well coated.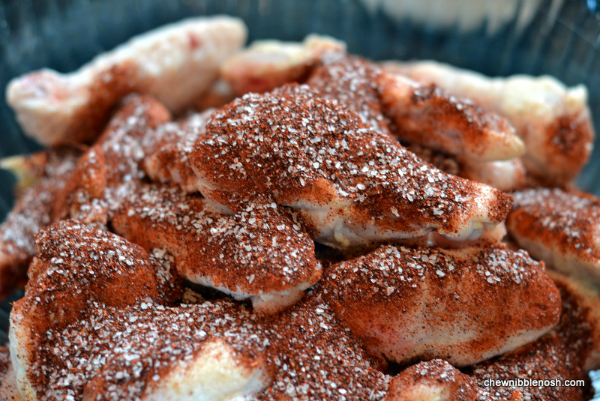 I lined them up on a baking sheet that I'd lined with foil and sprayed with nonstick spray, and they went into the oven for about thirty-five minutes.  I turned them mid way through to make sure they were browned evenly.
They smelled so good, we probably could have stopped right there and been happy, but once they were cooked through, I brushed them with that amazing sauce, and popped them back in for a few minutes, before turning them over,  basting them again, and giving them a couple of minutes more.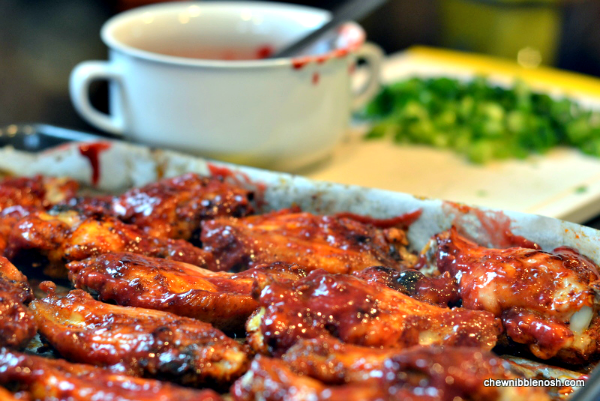 I served the wings alongside the extra sauce that I'd set aside, and my friends absolutely loved them.  Next time, I think I'll even put some traditional blue cheese dressing on the side as an option too.  I think the sweet spice from the wings would really work well with the tang of the blue cheese.
May the best team win! (MSU! MSU!) And may your bellies be full and content, even if your team doesn't look so hot.
Happy March Madness!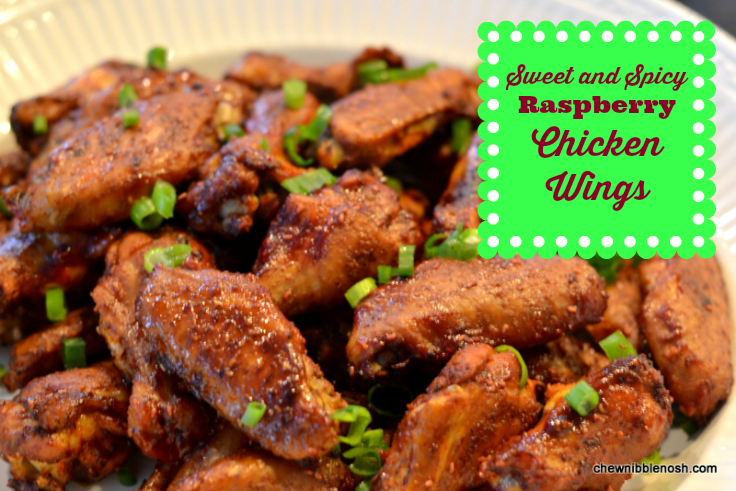 SWEET AND SPICY RASPBERRY CHICKEN WINGS
Adapted from Driscoll's Berries
Sweet and Spicy Raspberry Chicken Wings
Author:
Prep time:
Cook time:
Total time:
Ingredients
For the Raspberry Sauce:
1 Tbsp. canola oil
1/2 cup diced yellow onion
2 cloves garlic, minced
2 (6 oz.) pkgs. fresh raspberries
1/3 cup plus 1 Tbsp. packed brown sugar
1 Tbsp. molasses
2 Tbsp. apple cider vinegar
2 Tbsp. Worcestershire sauce
2 Tbsp. ketchup
2 Tbsp. grainy Dijon mustard
1/2 tsp. Tabasco hot pepper sauce
For the Chicken:
4 lbs. chicken wingettes
2 Tbsp. chili powder
1 Tbsp. kosher salt
Instructions
To make the sauce:
Heat the oil in a medium sized saucepan over medium heat. Add the onions, and cook until softened, about five minutes. Add the garlic, and cook until fragrant, about a minute more.
Add the raspberries, brown sugar, molasses, vinegar, Worcestershire sauce, ketchup, mustard, and Tabasco. Stir to combine.
Bring to a simmer, and then reduce the heat to medium-low. Cook, stirring occasionally, until the sauce is slightly thickened and the raspberries have started to burst, about 10 minutes.
Transfer the mixture to a blender, leave the lid slightly ajar to let the steam escape, and puree until smooth.
Pour the sauce into two bowls, one for basting and one for dipping, and set aside to cool.
To make the wings:
Preheat the oven to 425*F.
Dry the wings off with paper towels, and place them in a large bowl.
Sprinkle the wings with the chili powder and salt, and toss to coat them evenly.
Line a large rimmed baking sheet with foil. Spray the sheet with nonstick spray.
Line the chicken wings up on the baking sheet.
Roast for 35 minutes, turning once, until chicken is cooked through and the juices run clear.
Brush with some of the raspberry sauce, and return to the oven for 2-3 minutes until the sauce begins to bubble. Turn the wings over, and baste with more sauce. Return the wings to the oven for 2-3 minutes more. **If you want them to crisp up a little more, place them under the broiler for a bit, but keep an eye on them!
Serve the wings, warm, with the remaining sauce.
ENJOY!