Directions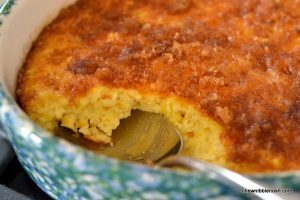 Every summer, I have a love affair (of sorts) with corn.  It's just so good in the summer.  It didn't take me long after moving back to Indiana for me to realize that I'm back in corn heaven.  I'm surrounded by the stuff.  In fact, there's an Indiana amusement park whose ads clearly state "There's more than corn in Indiana!".  There is more than corn, thankfully, but I'm pretty glad that there's an over abundance of the stuff.
 I'm always trying to figure out ways to incorporate corn into our summer meals, and this recipe is my latest discovery.  My mom actually came upon it first and made it for us one night, (Thanks, Mom!), and I quickly followed suit.  It's the perfect accompaniment for a summer BBQ, and pretty easy to throw together.  I've had a lot of corn puddings in my day, but never one like this.  It's light and fluffy, and beautifully corny, with a sweet crunchy topping.
I started by slicing off the kernels from four corn cobs.  You could do this with a knife (Here's a set of simple instructions.) or there are plenty of tools out there to make the job a little easier.  Personally, I love my OXO Corn Stripper.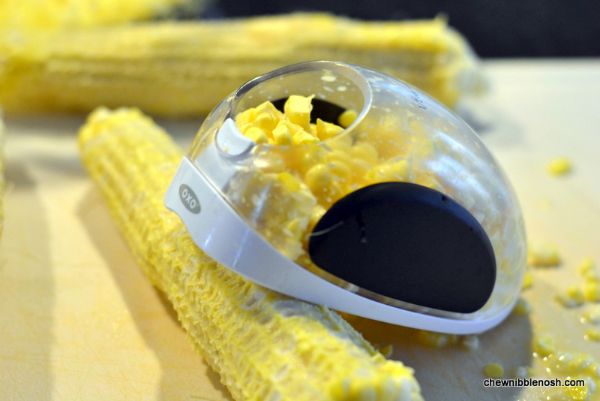 Once the corn was prepped, I got together the base for my pudding.  I whisked together four eggs, some half-and-half, and a bit of baking powder.  Then, I melted some butter in my pan and stirred in just a couple tablespoons of sugar and flour, creating a sweet roux. I took that off the heat, and whisked in my egg mixture until it was nice and smooth.  Then, I stirred in my fresh-cut corn.
Once the corn was mixed in, I poured the pudding mixture into a prepared baking dish and it went into the oven for about thirty minutes, until it was golden on top and set in the middle.
Before serving it up, I drizzled the pudding with just a little more butter, and then sprinkled the top with a mixture of brown sugar and cinnamon.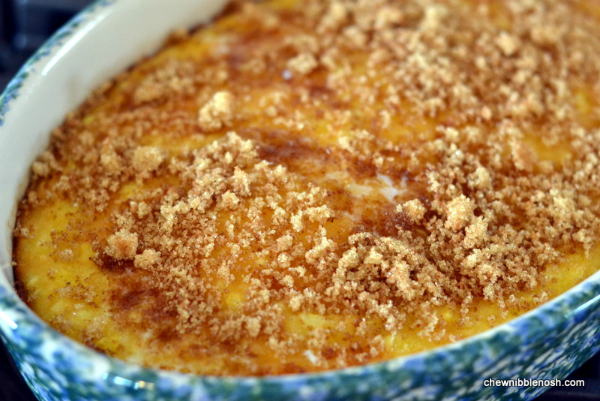 It went back into the oven for just a few minutes to crisp up the top.
The pudding was a huge hit at our 4th of July cookout, and I know it will make more appearances on our dinner table this summer.  In fact, just writing about it makes me think it might end up on our table again this weekend.  It's a good thing there's a lot of corn in Indiana, eh?
CHOCTAW CORN PUDDING
Adapted from Sugar Beach: The Junior League of Ft. Walton Beach Cookbook
Choctaw Corn Pudding
Author:
Prep time:
Cook time:
Total time:
Ingredients
4 eggs, beaten
1/2 cup half-and-half
1 1/2 tsp. baking powder
1/4 cup plus 2 Tbsp. butter
2 Tbsp. sugar
2 Tbsp. all-purpose flour
3 cups fresh corn (about 4 cobs worth)
For the topping:
2 Tbsp. butter, melted
2 Tbsp. firmly packed brown sugar
1/4 tsp. cinnamon
Instructions
Preheat your oven to 350*F. Grease a 1 1/2 quart baking dish and set it aside.
Combine the beaten eggs, half-and-half, and baking powder in a medium-sized bowl. Stir well, and set aside.
In a large saucepan, melt 1/4 cup plus 2 Tbsp. butter over low heat. Add the 2 Tbsp. sugar and flour, and whisk together, stirring until smooth.
Remove the mixture from the heat and gradually add the egg mixture, stirring constantly with a whisk until combined and smooth.
Add the corn and stir well.
Pour the corn mixture into your prepared baking dish. Bake, uncovered, at 350*F for 30-40 minutes or until the pudding is set in the middle and starting to brown.
Remove it from the oven and drizzle it with the 2 Tbsp. melted butter. Combine the cinnamon and brown sugar and sprinkle the mixture over the top of the pudding.
Bake, again, for an additional 3-5 minutes or until the sugar melts.
ENJOY!