Directions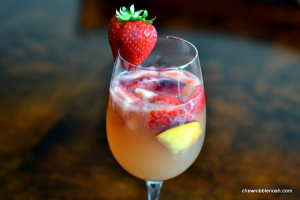 It's almost the 4th of July!  How we've gotten here so quickly, I can't comprehend.  It truly seems like it was January just yesterday.
Unlike January, where we're wanting to snuggle up with a good cup of hot chocolate, the 4th of July calls for cool and refreshing ways to celebrate.  I whipped up a batch of this light and fresh white sangria over the weekend, and realized it may be the perfect thing to sip on during the festivities.
It's a simple drink to throw together for a group, but a few hours before serving it, I needed to take a few minutes to chop up some fruit.
The blueberries don't get a chop, but the peaches, strawberries, and cherries all get split up to help release their natural sweetness into the sangria.  The fruit is, virtually, the only sweetener in this drink, so as far as cocktails go, it's good for you!  Bonus!
Once the fruit was prepared, I poured it all into a large pitcher, gave it a good stir, and poured in just a third of a cup of Brandy.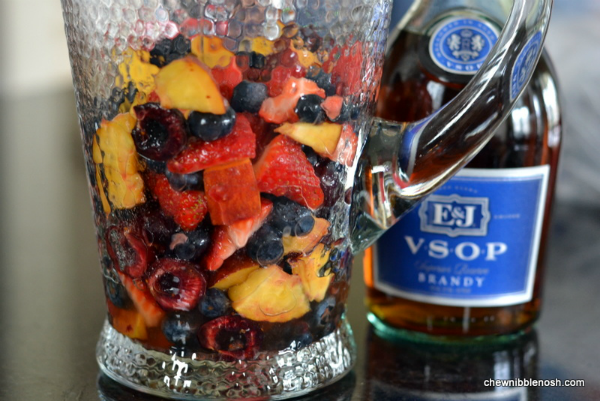 Marinating the fruit in the Brandy helps to bring out the sweetness and flavor of all of that beautiful fresh fruit.  I let the fruit marinate for about three hours before finishing the pitcher off with a cup of pineapple juice and a bottle of sparkling, chilled Prosecco.
And then, it was time to serve it up!
The sangria is deliciously light, and fresh and perfect for a steamy July day in the sun with friends and family.  And at around 140 calories a serving (less than half the calories in a glass of traditional sweetened sangria), there's not a whole lot to feel guilty about.
Have a safe and happy 4th, America!
RED, WHITE & BERRY SANGRIA
Adapted from Cooking Light
Red, White & Berry Sangria
Author:
Prep time:
Total time:
Ingredients
1 cup pitted and halved fresh cherries
1 cup blueberries
1 cup quartered strawberries
1/2 cup chopped peaches
1/3 cup Brandy
1 cup pineapple juice
1 (750 ml) bottle chilled Prosecco sparkling wine
Instructions
Combine all of the fruit in a large pitcher.
Add the brandy, and stir to combine.
Chill for at least 2 hours, stirring every once in a while to redistribute the fruit and brandy.
Stir in the pineapple juice and carefully pour in the bottle of chilled Prosecco.
Serve immediately.
ENJOY!