Directions
I apologize!  I meant to get this up and running yesterday, but the day got away from me.  Summer fun just got in the way.  Isn't that just like Summer?  It busts in, takes over and just makes you forget your responsibilities from time to time.  Well, not today, Summer.  I'm going to get this post up if it kills me…and then I'm off to the water park with the kids.
I made this for dinner last week, and it is a perfect way to finish off a hot summer day.  It's quick and easy, and fresh and light, with many of those summer flavors that I adore.  If you want to doctor it up and make it look like a restaurant taco salad with cheese and sour cream, you can.  I chose to keep it light, and to leave off the extras.  It was perfectly delicious and satisfying that way.
I started by mixing together a quick salsa of chopped fresh tomato, creamy avocado, some red onion, cilantro, lime juice and (here's the kicker) a little bit of sesame oil.  Sesame oil in Mexican food?  Yeah, I'd never heard of it either, but I trusted my cookbook and threw it in there anyway.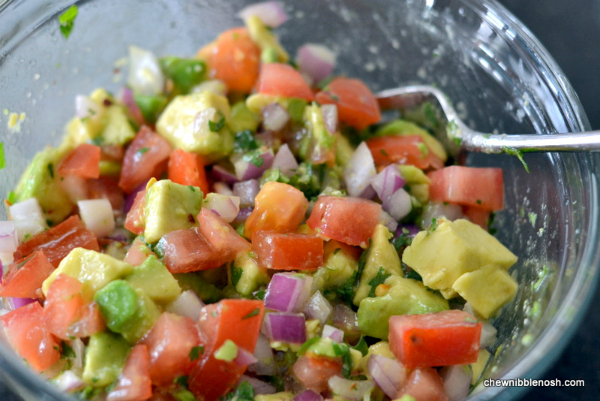 I sliced up some boneless, skinless chicken breasts and tossed them with the juice of one lime to marinate for a minute.  Then, I sautéed some halved cloves of garlic in a little more, you guessed it, sesame oil.  I removed the garlic just after it started to soften, but by that time, it had infused the oil with a little of that garlicky goodness.
Then, I sautéed my chicken breast pieces until they were cooked through and browned up a bit.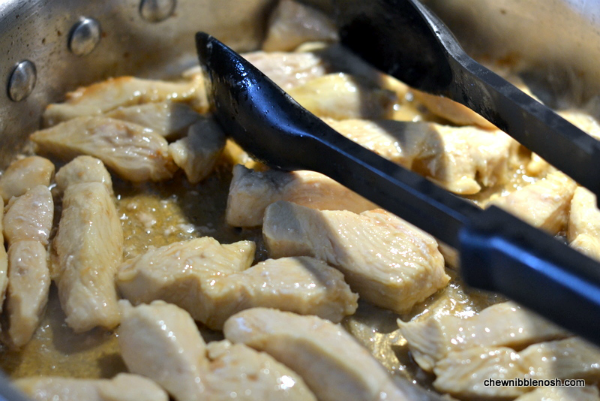 As the chicken was cooking, I got another pan hot and ready on the stove.  Then, I toasted up a few corn tortillas to serve alongside the salad.  Just a few seconds on each side and they were browned and warmed through.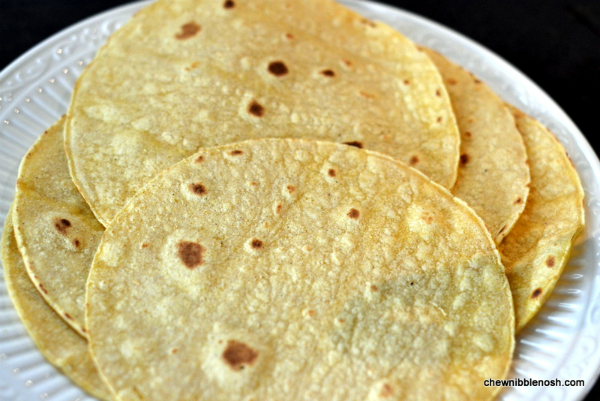 Once the chicken was done, I deglazed the pan with a little bit of chicken broth, stirred in all of the browned bits, and let it reduce just a bit.  This is supposed to be a sauce for the chicken, but if I'm being completely honest here, I forgot to use it when I built my salad!  I'm sure it does add a bit of savory flavor, but rest assured that if you either forget (like me) or just plain skip this part of the recipe, you'll still be good to go.
When it was time to eat, I filled my plate with some shredded green leaf lettuce, then topped it with some of the chicken, and a good dose of that fresh and tasty salsa.  I gave a lime wedge a good squeeze over the salad, threw a couple of tortillas on the plate, and was ready to go!
It was a deliciously light, summery meal.  That sesame oil marries perfectly with the fresh flavors in the salsa and the lime.  I was kind of surprised how well it worked!  It's the perfect dinner for "busy" summer nights after you've had a "busy" summer day lounging by the pool.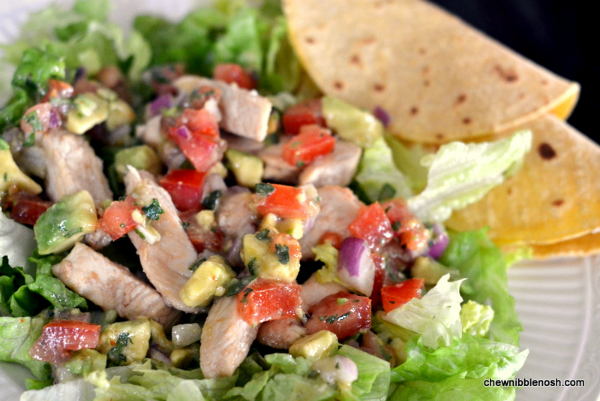 MEXICAN CHICKEN WITH SALSA
Adapted from the Williams Sonoma Kitchen Library
Mexican Chicken with Salsa
Author:
Prep time:
Cook time:
Total time:
Ingredients
For the Salsa:
1 small avocado, peeled, pitted and chopped
juice of 1 lime
1 small tomato, coarsely chopped
2 Tbsp. sesame oil
1/2 cup chopped red onion
2 Tbsp. chopped fresh cilantro
salt and red pepper flakes to taste
For the chicken
1 lb. boneless, skinless chicken breasts, sliced into 1 inch strips
2 limes
2 Tbsp. sesame oil
2 cloves garlic, cut in half
1/2 cup chicken broth
salt and pepper
1 head green leaf lettuce, chopped or shredded (whatever salad type lettuce you prefer!)
8 corn tortillas
Instructions
Make the salsa. Combine all of the salsa ingredients in a small bowl, stir well, and set aside.
Place the chicken strips in a bowl, toss with the juice from 1 lime, and set aside for a minute or two to marinate while you get your pans together.
Warm the sesame oil in a large skillet over medium heat. Add the garlic cloves and saute until softened, about 1-2 minutes. Remove the garlic from the pan and get rid of it.
Add the chicken to the pan and saute, turning the pieces as they brown up. Cook just until they are cooked through, about 2 minutes per side. Remove the chicken pieces to a plate and set aside.
Pour off the oil in the pan and put the pan back on the heat. Deglaze the pan with the chicken broth, scraping up all of the browned bits from the bottom of the pan. Reduce the liquid by 1/2, season with salt and pepper.
Meanwhile, heat another smaller pan over medium high heat and warm the tortillas, one at a time, flipping after about 30 seconds.
Arrange some lettuce on your plates, top with the chicken, drizzle on the sauce (if you remember, unlike me) and then top with the salsa. Serve with lime wedges and the warmed tortillas.
ENJOY!