Directions
I'm not usually a big preparer of "copycat" meals, because in my experience, they're never quite as good as the original.  That said, I've had this one in my files for a while now, and I figured that I should give it a try.  Why this one?  Well, there was nothing scary involved (Why do so many copycat recipes include canned "cream of somethings" soups?), it's ridiculously simple, and the Number One reason:  I was pretty sure that even if it didn't taste like the original, it would be tasty enough because I liked everything involved.
Do these taste JUST like the world-renowned, fabulous lettuce wraps you get at your local mall's P.F. Chang's?  Not exactly, but they're really close, and they're pretty darn good.  Plus, they make for a fantastic, quick and light summer meal.  We had our lettuce wraps for dinner alongside some fruit salad and we were good to go!
I started by prepping my veggies and measuring out my ingredients.  Once you start cooking, everything comes together speedy quick, so it helps to have it all ready to go.  I diced up some onion and minced some garlic, rough chopped up some water chestnuts, and sliced through a few green onions.
 I also measured out some Hoisin sauce, soy sauce, rice vinegar, ginger (I used the refrigerated paste), and Sriracha sauce, and mixed it together in a small bowl.
I browned a pound of ground chicken up on the stove top.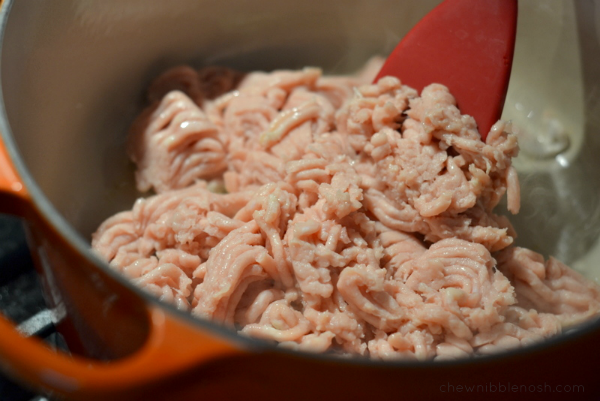 Once that was cooked and crumbled, I drained the excess liquid, and then added in the Hoisin sauce mixture, along with my garlic and onion.
I stirred the mixture, and made sure everything was well coated, and then let the chicken cook in the sauce until the onions and garlic were softened, just a few minutes.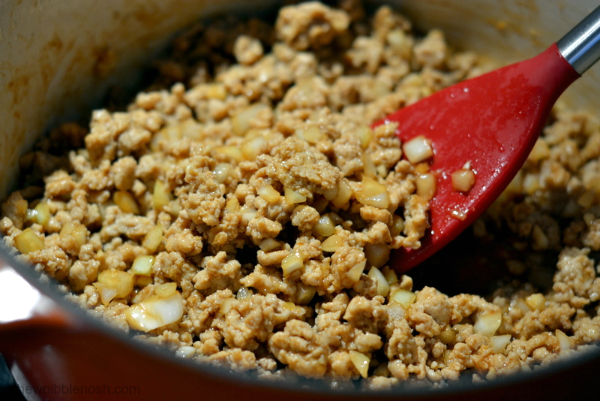 Next comes the magic.  Well, not magic so much as what I think absolutely makes P.F. Chang's lettuce wraps so great…the water chestnuts, and my sliced green onions.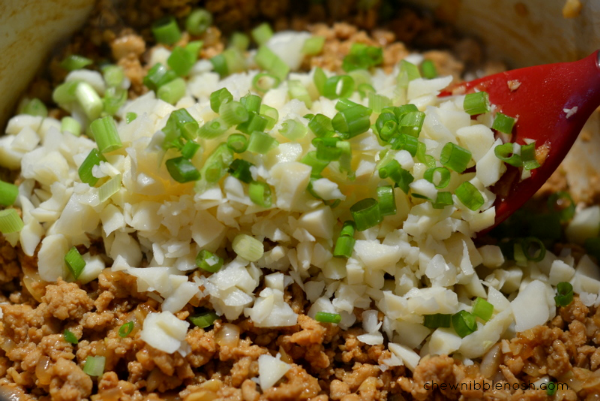 I stirred the water chestnuts and onions into the chicken mixture, and let it all come together for about two more minutes, and then we were ready to build our lettuce wraps!
It's that simple.
P.F. Chang's always uses super crisp iceberg lettuce, but I used butter lettuce.  It still has a really nice bite, and those perfect little leaves are just begging to be stuffed.
I piled in the chicken mixture, and then drizzled on just a little more Sriracha for good measure. After all, I didn't have a P.F. Chang's server there to whip up their table-made dipping sauce!
They were delicious, and so easy.   They have that sweet, tangy, crunchy, cool thing going on, just like the real thing.  We'll be having them again for sure!  Now, if I could just get the rest of their menu down pat, I'd be all set.
COPYCAT  P.F. CHANG'S CHICKEN LETTUCE WRAPS
Adapted from DamnDelicious.net
Copycat P.F. Chang's Chicken Lettuce Wraps
Recipe Type
:
Appetizer/Dinner
Author:
Prep time:
Cook time:
Total time:
Ingredients
1 Tbsp. olive oil
1 lb. ground chicken
3 cloves garlic, minced
1 small onion, diced
1/4 cup Hoisin sauce
2 Tbsp. soy sauce
1 Tbsp. rice wine vinegar
1 Tbsp. freshly grated ginger or refrigerated ginger paste
1-2 tsp. Sriracha sauce, depending on how hot you like things
1 (8 oz.) can whole water chestnuts, drained and coarsely chopped
2-3 green onions, sliced
1 head of butter lettuce, leaves removed and washed
Instructions
Heat the olive oil in a large saucepan over medium-high heat. Add the ground chicken, and cook, stirring, until cooked and crumbled. Drain excess liquid.
Add the onion, garlic, Hoisin sauce, soy sauce, rice wine vinegar, ginger, Sriracha to the chicken. Stir until well combined, and cook until the onions are translucent, about 2-3 minutes.
Stir in the chopped water chestnuts and green onions, and allow to cook for 2 more minutes.
Season with salt and pepper, and serve the mixture scooped into the lettuce leaves, with extra Sriracha if desired.
ENJOY!