Directions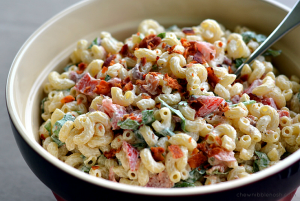 With the 4th of July right around the corner, I'm pretty sure a lot of you are in BBQ menu planning mode. If you're thinking of throwing a macaroni salad into the mix, this is your guy.  This salad is delicious, and fresh, and so easy to throw together.  There's something about a good BLT that just makes people's hearts sing.  So, turn that sandwich favorite into a scoopable summer salad, and you've got a winner!
First, I cooked a pound of macaroni noodles in a big pot of salted water.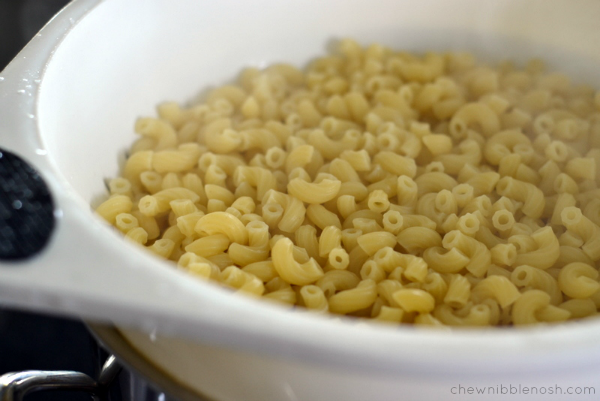 I drained the noodles and then rinsed them with some cool water, to help cool them down quickly.  Allow the noodles to cool and drain while you're working on crisping up the bacon.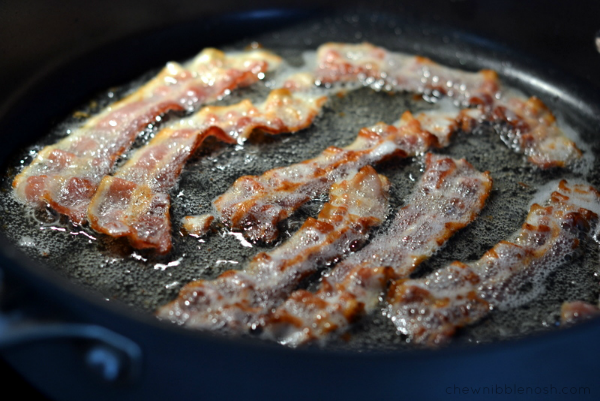 After the bacon was crisped up, I let it drain on some paper towels for a bit, while I chopped up some fresh, summer tomatoes.  I cut each tomato in half and scooped out the seeds before chopping.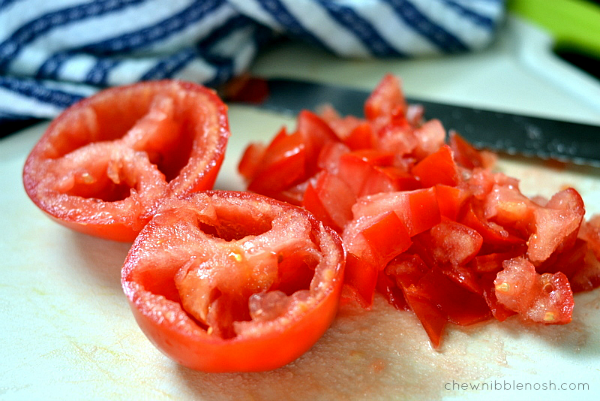 I also shredded up about a cup of baby spinach to throw in as well.
The dressing for the salad comes together in a flash.  It's simply some mayo, a hefty dollop of sour cream, some garlic powder, a few tablespoons of rice wine vinegar, and some salt and pepper.
I whisked the dressing together until it was smooth and then combined it with the pasta, tomato, spinach, and the crispy, crumbled bacon.
I let it chill for about a half hour to let the flavors mingle before serving it up.  It was a huge hit at our pre-4th of July cookout with friends over the weekend, and I hope your family and friends enjoy it as well!
Happy 4th!
BLT MACARONI SALAD
Adapted from She Wears Many Hats
BLT Macaroni Salad
Author:
Prep time:
Cook time:
Total time:
Ingredients
1 lb. macaroni noodles
8-10 slices bacon, cooked crisp
1 1/2 cups seeded, chopped tomato
1 cup chopped baby spinach
3/4 cup mayonnaise
1/4 cup sour cream
3 Tbsp. rice wine vinegar
1 tsp. garlic powder
1 tsp. salt
1 tsp. pepper
Instructions
Cook pasta in a large pot of boiling, salted water according to the directions on the box. Drain, and rinse with cool water to help bring the temperature down. Allow to drain while you cook the bacon.
Once the bacon is cooked, allow it to drain on paper towels.
In a small bowl, whisk together the mayo, sour cream, vinegar, garlic powder, salt and pepper.
In a large bowl, combine all of the ingredients, tossing the mixture carefully to make sure that the dressing is coating the salad evenly.
Chill until ready to serve. Season with salt and pepper before serving, if necessary.
ENJOY!