Directions
 In my humble opinion, one of the greatest food inventions of all time has to be the overnight breakfast casserole.  When company comes to stay and you want to treat them to something special, it's so nice just to be able to pop something into the oven that's ready to go, rather than bustling around the kitchen before your first cup of coffee.
I'm always looking for delicious, new, simple breakfast ideas and this one was a lot of fun.  I ran across the recipe a while ago, as I was putzing around on Pinterest, and it came from a blog called Inspired Taste.  It's been sitting there, on my Food board, just waiting for guests to arrive.  Last weekend, my mother and father-in-law came to visit, so I finally had my perfect testing opportunity.
I started by getting my filling together.  I changed things up a bit and I browned up some breakfast sausage instead of ham in the mix.  Really, you could use anything you like in the filling.  Think of your favorite omelette, get those ingredients mixed up, and you're good to go.  I used the sausage, a diced red pepper, some green onions and shredded cheddar cheese.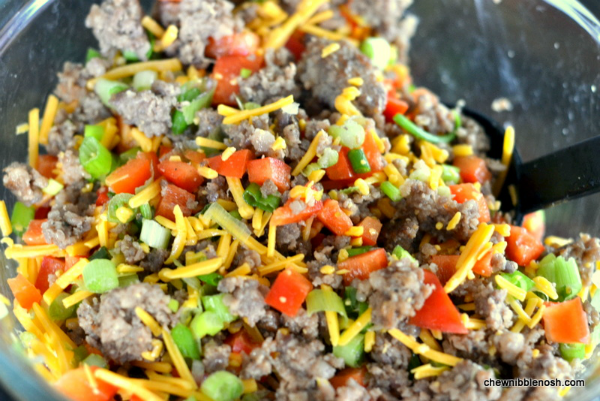 Once the filling was ready, I started rolling my enchiladas.  I got out my flour tortillas (8 inch), scooped some of my filling onto one side, and rolled them up tight, before placing them into my baking dish.  Make sure the seam side is down, so they don't roll open.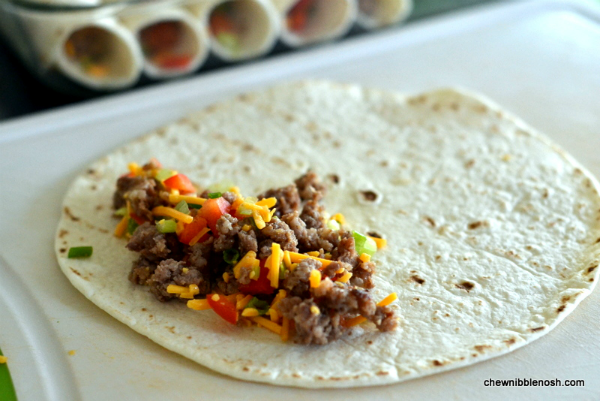 Once I'd squeezed all ten enchiladas into place (They fit.  I swear.)  I whisked together a mixture of eggs, half and half, a tablespoon of flour, and a dash of salt.  Then, I poured the egg mixture over my enchiladas.  What's neat is, the egg doesn't cover up the tortillas, but instead, fills them, leaving the top to crisp up nicely in the oven.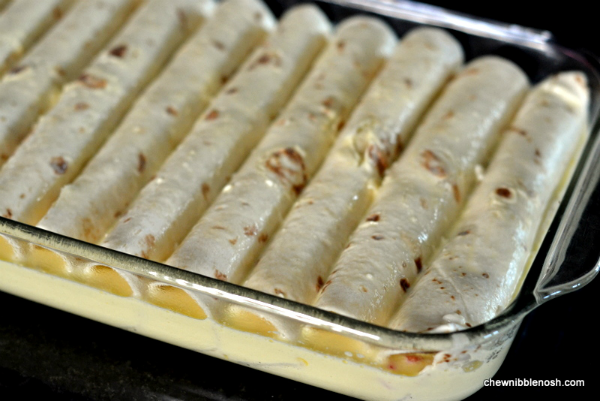 At this point, I covered the dish with foil and popped it into the fridge for a good night's rest.
In the morning, when I was ready to bake up breakfast, I removed the foil and sprinkled the enchiladas with some more shredded cheddar cheese.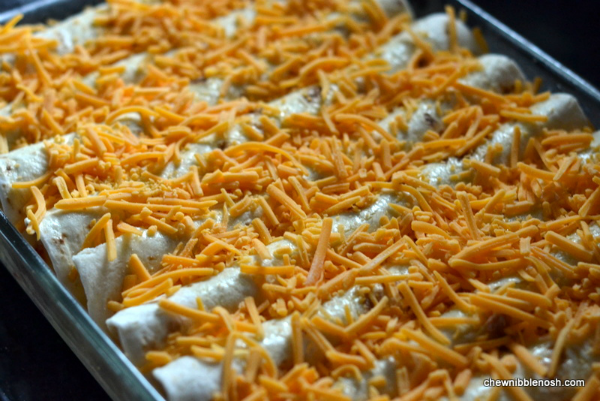 I put the foil back on the dish and the enchiladas went into the oven for about 35 minutes.  At that point, I removed the foil, and let them bake for about 15 minutes more, until the cheese on top was melted, the eggs were set, and the tops of the tortillas started to toast up just a bit.
If you like a good breakfast burrito, you'll like these.  They baked up so deliciously, that we were all really impressed.  They are very hearty and filling though, so one enchilada goes a long way.  I loved the sausage and pepper combination.  I can't wait to play around with the recipe a little more and try new combinations.
We have more company coming in this weekend, so who knows?  Maybe it will make another appearance at breakfast time really soon.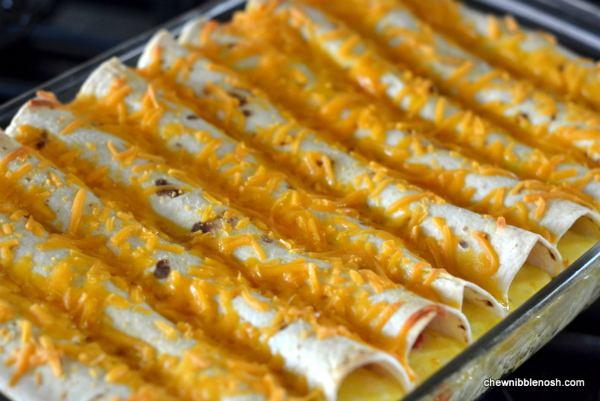 EASY OVERNIGHT BREAKFAST ENCHILADAS
Adapted from Inspired Taste
Easy Overnight Breakfast Enchiladas
Author:
Prep time:
Cook time:
Total time:
Ingredients
1 lb. roll breakfast sausage, browned and drained
1 red bell pepper, diced
8 green onions, green parts diced
2 cups shredded sharp cheddar cheese, divided
10 (8 inch) flour tortillas
6 eggs
2 cups half-and-half
1 Tbsp. all-purpose flour
1/2 tsp. salt
Instructions
Lightly spray a 9×13 inch glass baking dish with nonstick cooking spray. Set aside.
In a large bowl, combine the cooked sausage, diced peppers, green onions and 1 cup of the shredded cheese.
Lay a tortilla flat on a cutting board. Scoop about 1/3 cup of the sausage mixture close to the edge of the tortilla. Roll up tightly and place the enchilada seam side down in the baking dish. Repeat with the rest of the tortillas until the enchiladas are all snug in the dish.
In another bowl, whisk together the eggs, half-and-half, flour and salt. Pour the egg mixture over the tortillas. Cover the dish with foil and chill overnight.
In the morning, preheat your oven to 350*F.
Remove the foil from the dish and sprinkle the remaining 1 cup of cheese over the tops of the enchiladas. Cover the dish with foil again.
Bake, covered, for 35 minutes. Uncover, and bake for 10-15 minutes more, until the cheese is melted, the eggs are set, and the enchiladas just begin to toast up a little bit on top.
ENJOY!