Directions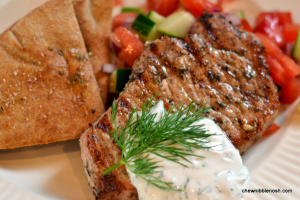 Well, after a perfectly beautiful and mild month of June, and first bit of July, summer really decided to kick things into gear this week.  The past few days have been hot!  Not pleasant hot, either, but that sticky, thick hot that smacks you in the face as soon as you step out the door and knocks the oomph right out of you.
On days like that, I have to eat light…and preferably cool.  This meal was the perfect way to end a hot, sticky day.
I love Greek flavors, and this dish kind of reminded me of a deconstructed pork souvlaki sandwich.  It's fresh and light, and just writing about it is making me wish I had everything on hand to make it for dinner tonight.  Hmmm…might need to hit up the grocery today.
I started by mixing a quick marinade for my pork.  In a large zip-top bag, I combined some red wine vinegar, oregano, olive oil, and garlic.  Then, I added in my center cut pork chops, sealed up the bag, and rubbed them into the marinade until they were evenly covered.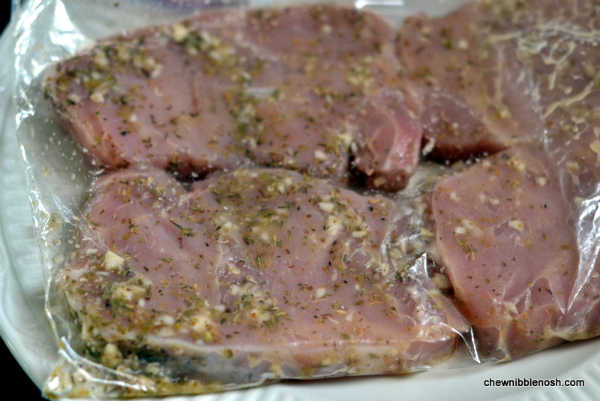 As the pork marinated, I mixed together a tangy yogurt sauce consisting of some plain Greek yogurt, chopped fresh dill, a little more red wine vinegar and a splash of olive oil.  After that was done, I chopped up some tomatoes, cucumber, and red onion and mixed them together for my relish.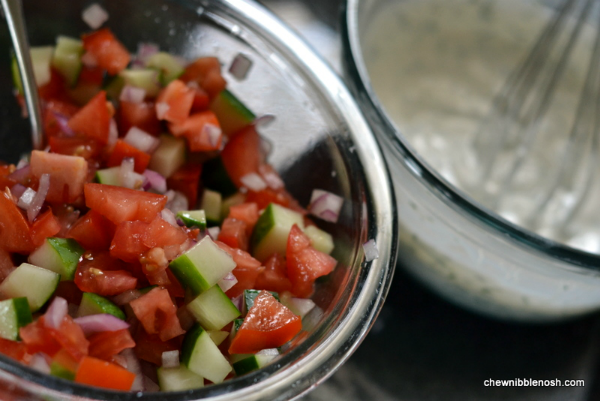 At this point, I gave Aaron the go ahead to throw the pork chops on the grill.  You could grill these inside on a grill pan, but I didn't want to heat up the house, so we went with the big grill.
While Aaron was manning the grill, I brushed a couple of whole wheat pita breads with a bit of olive oil, and then sprinkled them with salt and some more dried oregano.  I popped them into the oven for just a few minutes to toast them up a bit.
Individually, each part of this dish is tasty, but together, the flavors just go crazy.  It was so, so good, and tasted so fresh and clean.  I loved the tangy yogurt with the smoky pork and crisp fresh veggies.  Don't be dainty about it.  Pile a little bit of everything on that fork of yours! All together, it has to be one of my favorite flavor combinations, and it was a fantastic way to give us some spunk back after a hot, sticky day.
GRILLED PORK CHOPS WITH TOMATO-CUCUMBER RELISH AND YOGURT DILL SAUCE
Adapted from Cooking Light
Grilled Pork Chops with Tomato-Cucumber Relish and Yogurt Dill Sauce
Author:
Prep time:
Cook time:
Total time:
Ingredients
2 Tbsp. red wine vinegar, divided
1 tsp. dried oregano
2 tsp. olive oil, divided
2 garlic cloves, minced
4 (4 oz.) boneless, center-cut pork loin chops
3/4 cup fat-free plain Greek yogurt
1 Tbsp. chopped fresh dill
1/2 tsp. salt, divided
1 1/2 cups diced tomatoes
1 cup diced, seeded cucumber
1/2 cup diced red onion
2 whole wheat pita rounds
olive oil for brushing
oregano
salt
Instructions
For the Marinade:
In a large zip-top bag, combine 1 Tablespoon of the red wine vinegar, 1 teaspoon of the olive oil, and the minced garlic. Add the pork chops to the bag, seal it tightly, pushing out all of the air, and then rub the pork around to make sure that each chop is coated with the mixture evenly. Allow to marinate at room temperature, 20-30 minutes, turning the bag over halfway through.
For the Sauce and Relish:
In a small bowl, combine the remaining 1 Tablespoon vinegar, 1 teaspoon olive oil, Greek yogurt, chopped dill, and 1/8 teaspoon salt. Stir well with a whisk. Chill until you're ready to serve.
In another small bowl, combine the chopped tomatoes, cucumber, red onion, and 1/8 tsp. salt. Stir to combine. Set aside until it's time to eat.
Remove the pork from the marinade, sprinkle with remaining salt, and grill, over medium-high heat, for 4-5 minutes per side, or until the pork is cooked to your liking.
As the pork is on the grill, brush the pitas with some olive oil and sprinkle with salt and oregano. Bake, in a 350*F oven for about 5 minutes, until toasted and warm. Slice into pieces for serving.
Serve the grilled pork with the sauce, relish and toasted pita bread.
ENJOY!