Directions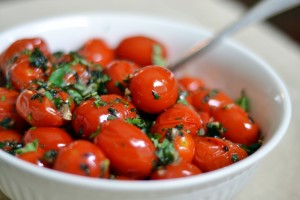 Emily, my oldest, loves broccoli.  She loves broccoli so much that on her third birthday, she asked if I'd serve a big bowl of steamed broccoli alongside the chicken fingers I had out for the kids at her birthday party.  Avery, my youngest daughter, who would rather eat my shoe than try most vegetables, also (surprisingly) loves broccoli.  Since both of my girls will gladly devour a serving of steamed broccoli, we have it with dinner a lot.  I realized recently that we may have it a little too often.  Emily walked in while I was cutting up some broccoli to steam the other night and said, unenthusiastically, "Wow…broccoli, again?  We eat a lot of broccoli. ~sigh~" and then she sulked off.
 My broccoli loving daughter suddenly thought eating broccoli at dinner was boring!  And all this time, I thought I was giving her a treat!  OK, well maybe not a treat, but you know what I mean.  It was then that I realized I am in a serious side dish rut at dinner time.  I plan out my meals each week and love to scour my cookbooks, looking for new recipes to try for the main dish, but when it comes to the vegetables on our plates, I'm pretty predictable.  I can blame most of that predictability on ease.  I'm a busy girl, especially most nights around dinner time, so I don't want to spend loads of time whipping up anything, let alone something to go on the side.
At dinner the other night, I was determined to jazz up the plate a little bit, so I looked for a vegetable I could make that we would all enjoy AND that wouldn't take me any more time than steaming up some broccoli.  I needed another go-to veggie, that would work any night of the week.  I think I found it.
I ran across this recipe from Ina Garten.  It looked simple enough, and you know what?  It is.
I started by sauteing up some minced garlic in some olive oil.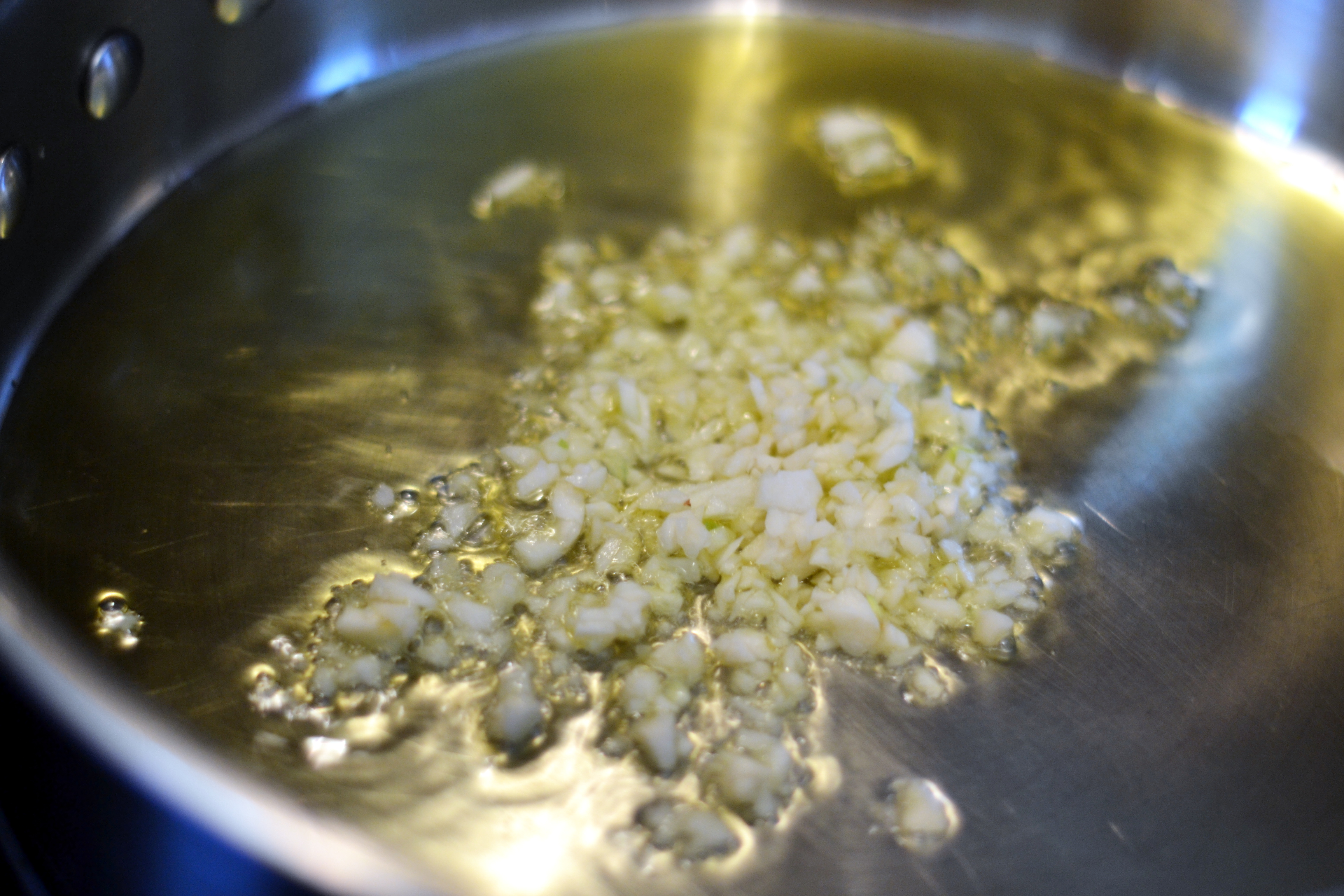 Once the garlic was fragrant, I added in the rest of my ingredients…some fresh, grape tomatoes, fresh chopped basil, parsley and thyme, and a little bit of salt and pepper.
I reduced the heat and let the tomatoes cook up just a bit.  I stirred them a few times, but just kind of let them be, for the most part.  After five minutes, they had just started to soften up and, at that point, they were ready to serve!
I put the bowl of tomatoes on the table with the rest of dinner and you know what?  They liked them!  They really liked them!
Mission accomplished!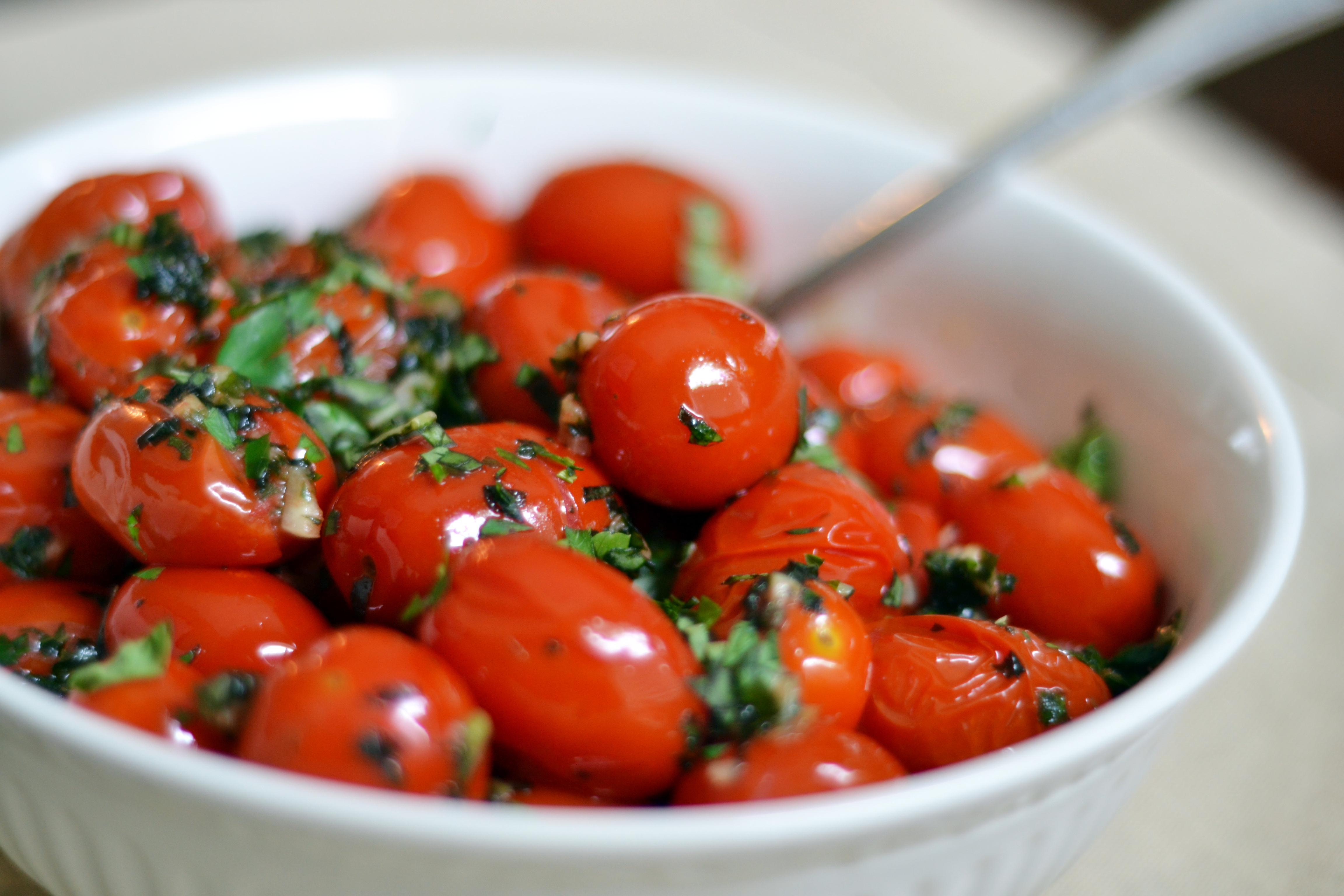 GARLIC AND HERB TOMATOES
Adapted from Ina Garten
Author:
Ingredients
3 Tbsp. extra virgin olive oil
2 large cloves garlic, minced
2 pints grape tomatoes
2 Tbsp. chopped fresh basil
2 Tbsp. chopped fresh, flat leaf parsley
2 tsp. chopped fresh thyme leaves
1 tsp. salt
1/4 tsp. pepper
extra chopped basil and parsley for garnish
Instructions
In a large saute pan, one large enough to hold all of the tomatoes in one layer, heat the olive oil over medium heat. Add the garlic to the oil and cook for about 30 seconds, just until fragrant. Add the tomatoes, basil, parsley, thyme, salt, and pepper. Stir the mixture well and reduce the heat to low. Cook for 5-7 minutes, stirring occasionally, until the tomatoes start to pucker. Sprinkle with extra chopped parsley and basil and serve. Can be served either hot or at room temperature.
Serves 6
ENJOY!