Directions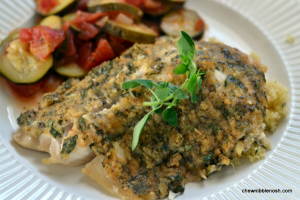 This is one of those "Don't judge a book by its cover" recipes, or in this case, "Don't judge a recipe by its pictures".  The pictures are far from glamorous, but this recipe was so simple, and so delicious, you need to give it a chance.
I'm always looking for ways to get (read: force) my kids to eat more fish.  Tilapia, since it's so mild, is one of the few fishes that they'll actually try when I put it on their plates.  They usually end up enjoying it, even though they'll swear they don't the next time I put it on their plates…out of stubbornness.  Why do kids do that?  It's like the whole baby-fussing-because-she-doesn't-want-to-nap thing.  I don't get it.  I would KILL for a nap most days.  Why fight it?  Same with dinner.  If you like it, admit it!
Sorry, off my parental soapbox.
To start, I mixed together a flavor-packed combination of chopped fresh parsley, fresh oregano, fresh thyme, white wine, bread crumbs, lemon zest, lemon juice, garlic, olive oil, salt, and pepper in a small bowl.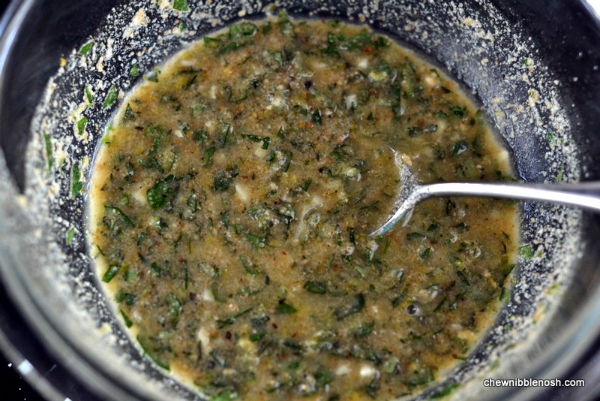 This would be my crust for the fish, but it needed to sit for a while so the breadcrumbs could absorb some of the liquid and it would be easier to spread on the fish.  After ten minutes, I had an herb filled paste on my hands.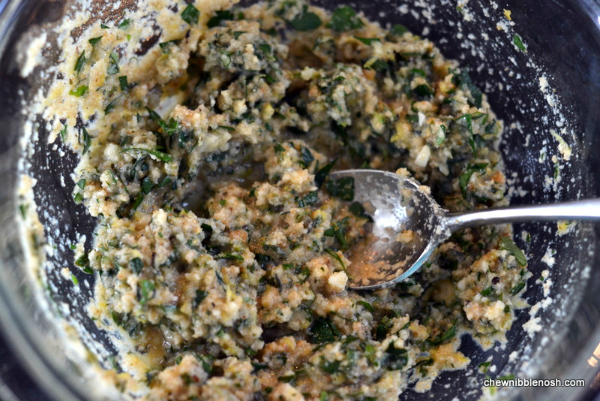 I sprayed my baking dish with nonstick spray and placed the tilapia fillets in the dish.  Then, I spread a hefty dose of the herb paste on each fillet, covering the top of each piece of fish.
Then, into the oven it went for about fifteen minutes.  Just until the crust browned up a bit and the fish was cooked through and perfectly flaky.
I served the fish alongside couscous and some zucchini and tomatoes.  It was delicious!  So flavorful, and light, and…wait for it…the kids liked it too!
(Don't ask them about it, though, because they won't admit it.)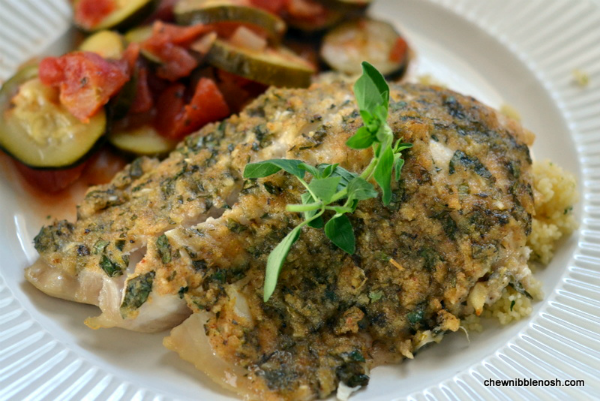 HERB CRUSTED TILAPIA
Adapted from Weight Watchers
Herb Crusted Tilapia
Author:
Prep time:
Cook time:
Total time:
Ingredients
1/2 cup chopped fresh flat-leaf parsley
1/4 cup dry white wine
3 Tbsp. Italian seasoned bread crumbs
2 tsp. grated lemon zest
2 Tbsp. fresh lemon juice
1 Tbsp. finely chopped fresh oregano
1 Tbsp. finely chopped fresh thyme
2 tsp. olive oil
1 garlic clove, minced
1/4 tsp. salt
1/4 tsp. black pepper
4 Tilapia fillets
Instructions
Preheat the oven to 375*F. Lightly spray a 9×13 inch baking dish with nonstick spray.
In a small bowl, mix together the parsley, wine, bread crumbs, lemon zest, lemon juice, oregano, thyme, oil, garlic, salt, and pepper. Let the mixture stand for 10 minutes until it forms a paste-like consistency.
Place the Tilapia pieces in the baking dish (skin side down, if there's skin on it). Spread the herb paste evenly over the pieces of fish, covering the top.
Bake the fish in the preheated oven until the fish is opaque in the center, and the crust is browned on top, about 15 minutes. (After 15 minutes, if the crust still doesn't look browned, you may want to turn on the broiler for a minute to finish it off. Keep an eye on it, though!)
ENJOY!