Directions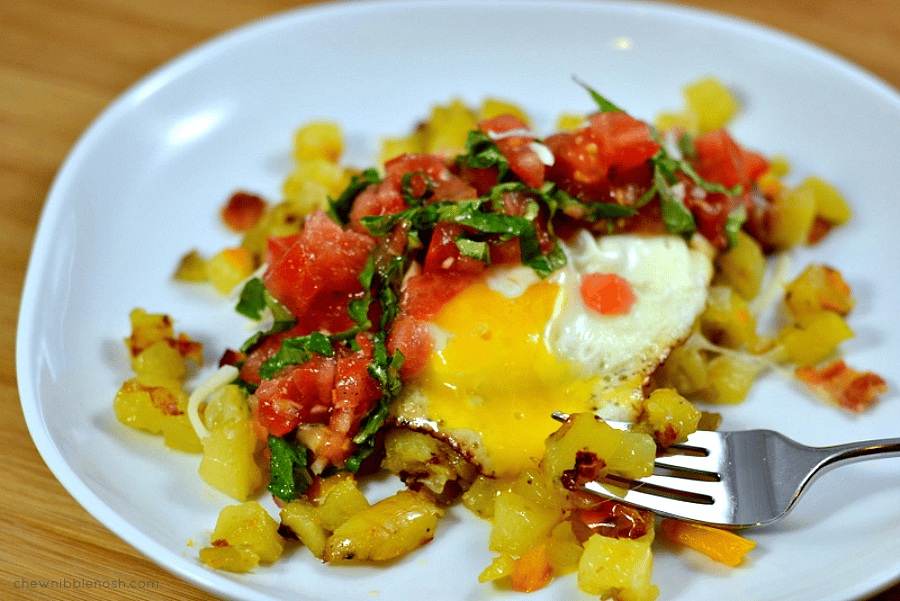 I'm just going to say this up front.  This is an awesome opportunity, so keep reading!
Ready?
My friends at Hamilton Beach sent me one of their new Professional Series 14 cup Dicing Food Processors and asked me to give it a try, and they were kind enough to offer one to a lucky Chew Nibble Nosh reader as well (keep reading to see how you can enter to win!).  My first thought was, "Sure, thanks. That's so nice of you. But, wait. It dices?"
I have to admit, I was just the tiniest bit skeptical.  I'm, admittedly, kitchen gadget obsessed, and have filled virtually every corner of my extra cabinets and pantry space with machinery that make my life easier. However, until now, not one piece of machinery or gadgetry in my collection diced at the flip of a switch.
I'm happy to report that this one honestly and truly dices, and does a whole lot more. It's a little bit dreamy, honestly. Check out Hamilton Beach's product page here and watch the video to give you a good picture of what we're looking at!  Besides the dicing feature, my other favorite feature is the slicing disk.  Unlike other food processors I've used, the slicing disk here is adjustable, with 14 different thickness settings! With the twist of a dial, you can slice anywhere from paper thin to thick and hearty.  I used it to quickly slice perfect 1/4 inch potato slices for my scalloped potatoes at Christmastime.
But, back to the dicing.  To demonstrate how well this truly works, I figured I'd bring breakfast to the dinner table and create an Italian twist on hash brown potatoes.  To begin, I fitted my food processor with the dicing blade, and fed an onion and an orange bell pepper in to the 3-in-1 Big Mouth™ feed tube (Three different sizes of feed tubes to accommodate pudgy potatoes to skinny green beans.)
That took maybe ten seconds. And the softer veggies were perfectly diced, not mushy and mutilated
Then, I got to work on the potatoes.  Two pounds of Yukon Gold potatoes…
done in seconds flat.
Impressed yet?
While I was working on the potatoes and veggies, I cooked some bacon on a baking sheet in the oven.  I removed the crisped bacon from the sheet, but left the drippings on the pan.  I added a little butter to the drippings, swirling until it was melted, and then poured in my diced veggies and potatoes.
I tossed them in the oil and drippings, sprinkled them with some salt and pepper, and placed the pan in the oven to roast.
These potatoes take some time.  The roasted for twenty minutes, got a good turn with a spatula, and then went in for another twenty.  I stirred them again, and gave them about fifteen minutes more until they started to brown and crisp around the edges.
While the potatoes were cooking, I had plenty of time to work on the rest of my dish.
It was time to dice up some fresh tomatoes for my bruschetta topping.  Keep in mind how soft and squishy tomatoes can be. Would they end up a mushy mess with the dicing function?
Nope.
Perfectly diced tomatoes were no problem for my new friend.  I mixed the tomatoes with some minced garlic, salt, pepper, and a good drizzle of olive oil and set it aside.
I also stirred some pesto into a bit of sour cream to drizzle on the finished product.
Confession Time:  I completely forgot to drizzle the pesto cream on the dish before I sat down at the table and started eating. So, you'll notice that the pictures don't have any pop of pesto cream involved. Ugh! #bloggerfail
Don't forget the pesto cream.  It's tasty.
When the potatoes were cooked perfectly, I piled them up on the cookie sheet and sprinkled them with a bit of creamy mozzarella and crumbled up the bacon I'd set aside and sprinkled it on top too.  I popped them back into the oven for a bit, just to melt the cheese, and while the potatoes were back in the oven, I sliced up a heap of fresh basil to stir into my tomato topping.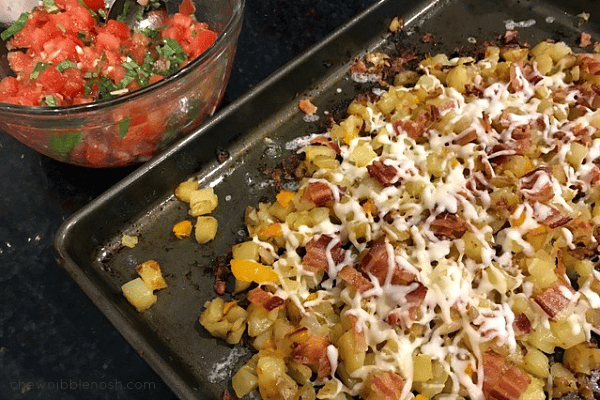 While I was sorting this all out, my husband fried up some eggs for us, and before we knew it, we were sitting down to a (beautifully diced) plate of very special hash browns, topped with a fried egg, tomato bruschetta, and (after a small delay), a zesty pesto cream.  The bruschetta topping was fresh and delicious, and lightened up what could have been a pretty heavy meal.  And don't pull a Christine and eat a few bites before remembering the pesto cream!
Now for the exciting part! Now that you've seen what this amazing Hamilton Beach Pro 14 Cup Food Processor can do, how would you like to enter to win one?  Just click on the box below and enter to win!  Big thanks to Hamilton Beach for this fabulous giveaway!
[promosimple id="af9c"]
Good Luck!
ITALIAN BRUSCHETTA POTATO HASH
Italian Bruschetta Potato Hash AND a Hamilton Beach Pro Giveaway!
Author:
Prep time:
Cook time:
Total time:
Ingredients
For the potato hash
5 slices bacon
1 onion, peeled and diced
1 red, orange or yellow bell pepper, seeded and diced
2 lbs. Yukon Gold potatoes, cleaned and diced
1 Tbsp. butter
1 cup shredded mozzarella cheese
For the Bruschetta Topping
3 tomatoes, diced
3 cloves garlic, minced
1 Tbsp. extra virgin olive oil
1/4 chopped fresh basil
salt and pepper, to taste
For the Pesto Cream
1/2 cup sour cream
3 Tbsp. prepared basil pesto
4 Fried eggs, optional
Instructions
Start with the potatoes…
Place the bacon on a nonstick baking sheet and place in the oven. Set oven to 400* and cook bacon until crisp. Remove the pan from the oven, place the bacon on a plate lined with paper towels, and leave bacon grease in the pan.
Add the pat of butter to the pan and swirl until the butter melts.
Add the diced pepper, onion, and potatoes to the pan and toss to coat. Sprinkle with salt and pepper and roast for 20 minutes.
Stir, flipping the potato mixture with a spatula, and roast for 20 more minutes.
Stir again, and roast for 10-15 minutes more, or until potatoes are done to your liking.
Crumble the reserved bacon over the potatoes, and sprinkle with mozzarella cheese.
Return the pan to the oven for a bit to melt the cheese.
Make the bruschetta topping
While the potatoes are cooking, combine the diced tomatoes with the minced garlic, olive oil, salt and pepper.
Add the basil, and stir, right before serving time so the basil keeps its bright color.
Make the pesto cream.
Stir together the sour cream and pesto. Keep refrigerated until ready to use.
To assemble:
Scoop some of the finished potatoes onto a plate. Top with a fried egg, if desired, and spoon on the tomato-basil topping. Drizzle with pesto cream before serving.
ENJOY!
*The product featured in this post was provided to me by Hamilton Beach.  All opinions are my own.