Ingredients
1

Red pepper, thinly sliced

1 cup

Carrots, cut into matchstick strips

1 small

Red Onion, sliced thin

2 tsp.

Ginger, refrigerated paste

1 cup

Lite Coconut Milk (unsweetened)

1 1/2 Tbsp

Fresh Lime Juice

2 cups

Napa Cabbage, thinly sliced

1 cup

Rotisserie Chicken Breast, sliced thin

Fresh Chopped Cilantro, for garnish
Directions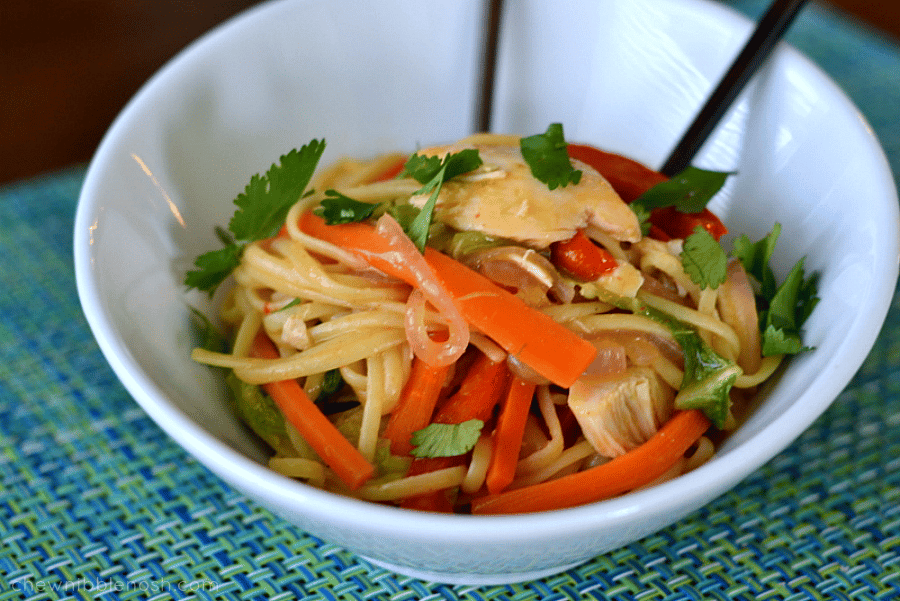 I'm back!!!
I'm excited to be working on the blog again, after Chew Nibble Nosh has basically been in a holding pattern for the last few months.  My friend and I were putting some finishing touches on a new design, in hopes that the site is much more accessible, functional, and user-friendly.  Pictures are bigger and brighter, recipes are easier to find and print off, and the site should load a lot faster than before…among other things.  Honestly, the new design is kind of like a treasure trove, and I need play around with it for a bit, so expect things to change a bit in the coming month or so.  It's still a work in progress, but it's live!  So, here we are. Thanks for being so patient. It's a new day, on a new updated site, so let's start talking about a new recipe!
If you're anywhere on social media lately, I'm sure you've run across pictures and videos of these miraculous "One Pot" meals, where everything for the meal, usually including dry pasta, is thrown into a pot and cooked together, saving time and looking like a fabulous option for those of us who grow increasingly busier by the day.  If I'm being honest, I haven't heard many positive reviews of them. A few friends had tried them, and reported back to me with complaints that the liquid boiled out before the pasta could cook, or that the veggies were mushy by the time the pasta was cooked, and the overall flavor was pretty flat. I'd had a couple of friends ask me if I had a One Pot recipe that actually worked.  And I didn't, until a couple of days ago.
I have to admit, I was a little skeptical when I came across the recipe for these Coconut Curry Noodles, but then I read it from start to finish, and thought that it might just work.  There was a lot of flavor going on, strong flavors like red curry paste, ginger, and coconut milk. The veggies were sturdy, and those that weren't, were stirred in at the very end. And the proportion of liquid to pasta seemed like it wouldn't be a problem.  The only thing I thought it was missing was a little protein, so I decided to add in some sliced rotisserie chicken.
Obviously, if everything is going in one pot, you really have to be on top of your prep game before you start, and everything needs to be sliced and diced beforehand.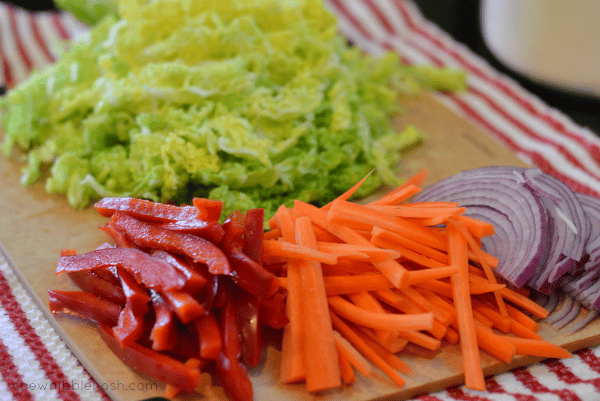 Looks like the perfect meal for a beautiful spring day!
Once the veggies were prepped, I mixed together the ingredients for my "sauce".  This is the liquid that the dish, including the pasta, was going to cook in, so I wanted to make sure it was well blended and seasoned.
I combined a cup of Light Coconut Milk, three cups of vegetable broth (feel free to use chicken broth), a rounded tablespoon of red curry paste, and a couple of teaspoons of refrigerated ginger paste.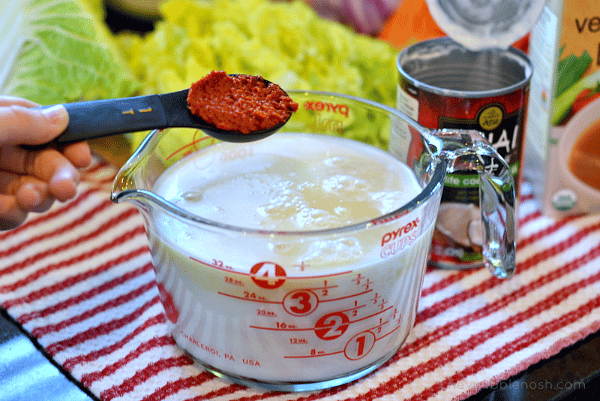 Then, it was time to load up the pot.  I poured in my liquid, and added in six ounces of linguine (just under half a box), the carrots, pepper and red onion.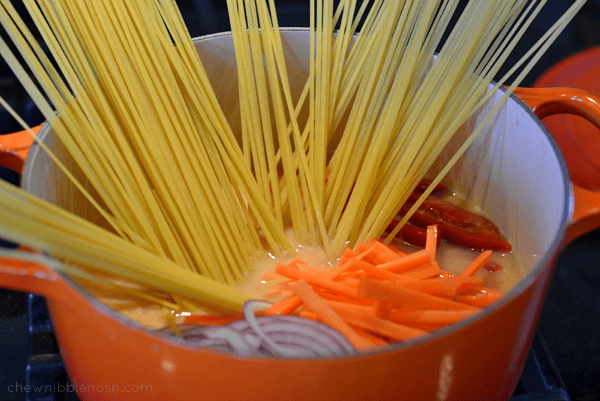 I cranked my stove to high and let the liquid come to a boil. As the pasta softened, I carefully stirred the mixture, making sure all of the dry pasta got into the sauce. Then, I let the pot bubble away for about eight minutes, turning the noodles and veggies occasionally just to make sure those noodles didn't stick to the pot.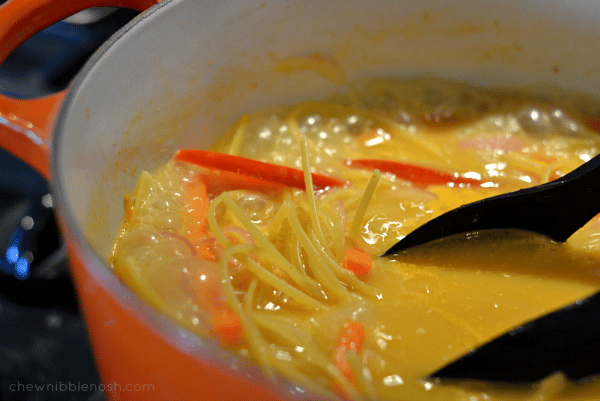 Once the noodles were just about done, I added in the sliced cabbage, and turned it carefully into the sauce until it was all mixed in. It doesn't take long for the cabbage to wilt down.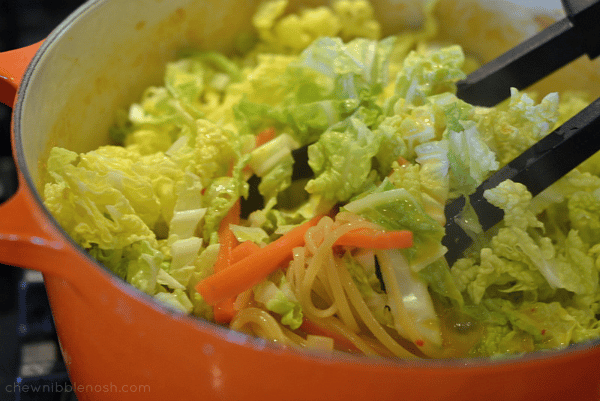 I cooked the mixture for a minute or two more, until the noodles were done to my liking, and then finished the dish off by stirring in some fresh lime juice and zest, a dash of salt, and the sliced chicken I'd set aside.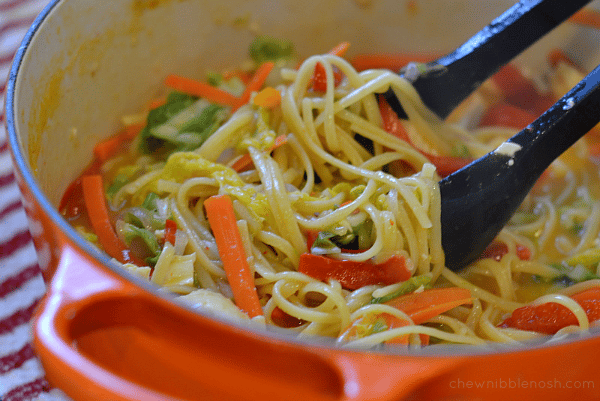 Can you see the sauce?  No dry noodles and veg here!  The coconut milk and broth had thickened into a silky, delicious sauce for the noodles and veggies, and the last-minute lime juice and zest gave it a huge punch of fresh flavor, right at the end.  No blah, flat noodles here.  I sprinkled a bit of chopped cilantro over the top and we were ready to go.
After going into this dinner with a bit of skepticism, I have to say that I was really pleased.  The veggies weren't mushy or overcooked, in fact the carrots were perfectly crisp tender, and yet the pasta still had the perfect bite.  The sauce was zippy, and had thickened nicely as it cooked. It was full of coconut curry flavor, but could certainly be taken up a notch if you really like your spicy, with a good dash of Sriracha once it's in your bowl. My entire family thought it was really tasty, and it will definitely be put into dinner rotation around here in the coming month, as May kicks off and life officially gets crazier.  (Am I the only one whose schedule EXPLODES every May?  I don't think I am.)
Hope this opens up some time for you, come Crazy May.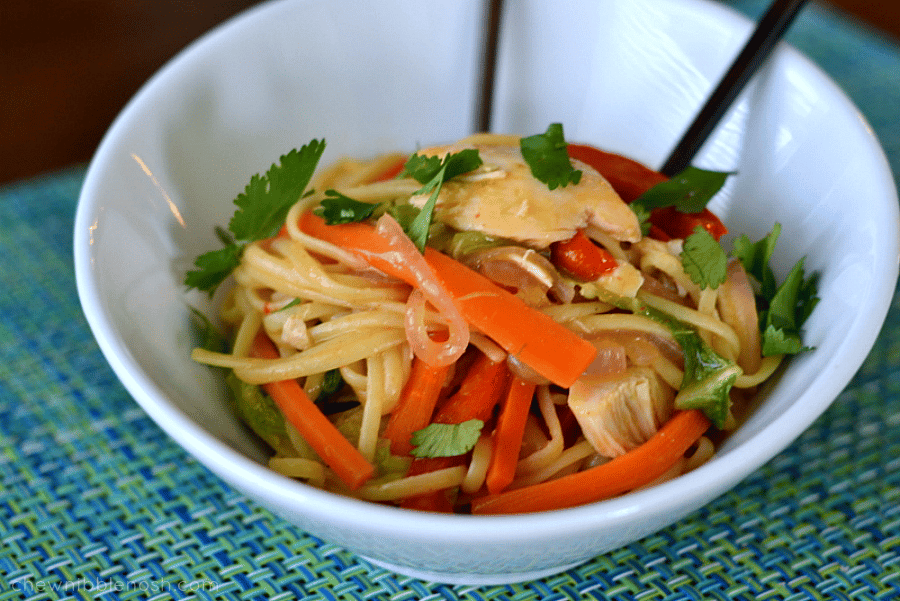 Adapted from Weight Watchers
Steps
| | |
| --- | --- |
| | In a medium sized bowl or 4-cup measuring cup, combine the broth, coconut milk, curry paste and ginger. Pour the liquid into a large soup pot. (Make sure the pot is big enough for the pasta to bubble around in and expand in the pan, along with all of the veggies. My 4.5 quart pot worked perfectly.) |
| | Add the pasta, red pepper, carrot, and sliced onion to the pot. |
| | Bring the mixture to a boil over high heat. Cook, uncovered, for about 8 minutes. Make sure you stir the pasta around every so often with tongs to keep it from sticking. |
| | Stir in the cabbage, and sliced chicken if adding. Cook, stirring, until pasta is al dente and cabbage and chicken are warmed through, about 2 more minutes. The sauce should be thick and silky. |
| | Stir in the lime zest, juice, and salt. Heap into serving dishes and top with chopped cilantro, and Sriracha if a little more heat is desired. |
| | |