Directions
Remember that outdoor concert I went to?  The one I where I brought those sweet little blueberry cheesecakes?  Well, I brought these fabulous little pinwheels there too.  My friend Lynda was generous enough to share the recipe with me after we enjoyed them immensely at our Indy 500 picnic back in May, and I've been looking for a reason to make them ever since.  Thankfully, this concert popped up, and it was the perfect reason to break out Lynda's recipe.
These little sandwiches are delicious, and filled with so much flavor in each bite.  There's a zesty peppered cream cheese spread on the tortilla, and then Italian meats and cheeses layered in, along with crunchy Romaine.  They slice up into beautiful, portable little roll-ups and will be a hit at your next gathering.  Or, what a great addition to your kid's lunchbox!  My girls are back in school now (Did you hear the angels sing?) and I'm always looking for exciting ways to easily brighten up their lunch boxes.
To start, I put a block of cream cheese, some Italian seasoned breadcrumbs, grated Parmesan cheese, roasted red peppers, and sliced banana peppers into my food processor.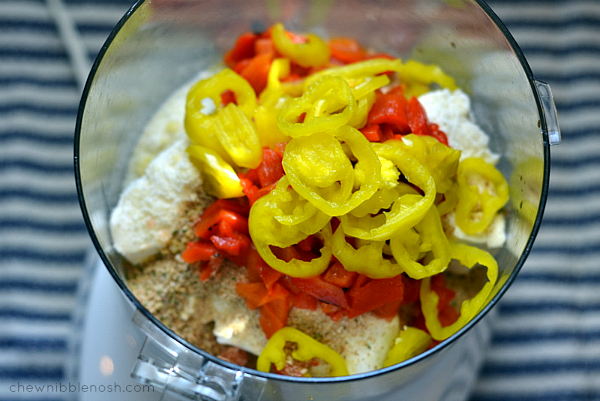 I gave it a good whirl until the cheeses and peppers were combined well.  Then, I got to work on building my wraps.
First, I spread a layer of the cream cheese mixture over a large tortilla.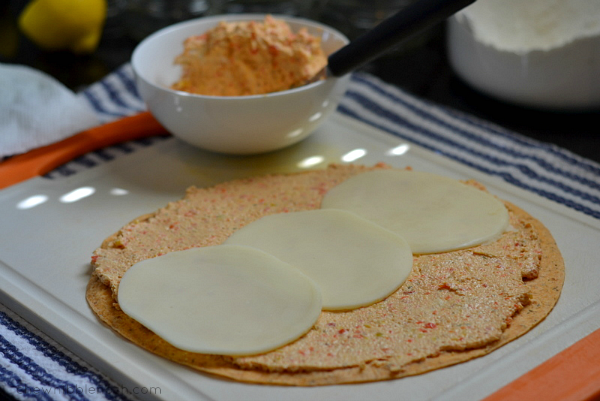 Then, I laid out three slices of Provolone cheese over the center of the tortilla.
I covered all of that with some Genoa salami and pepperoni…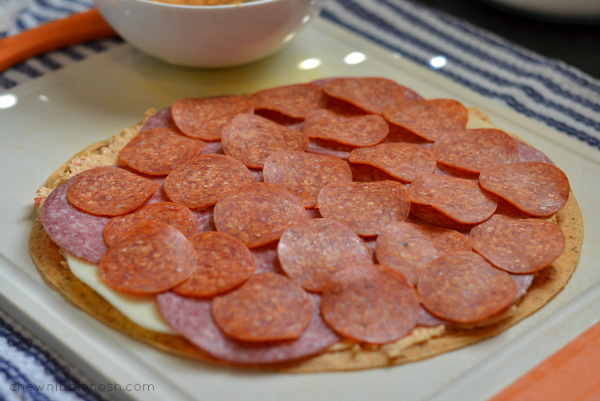 covered the meat with some fresh, crunchy Romaine…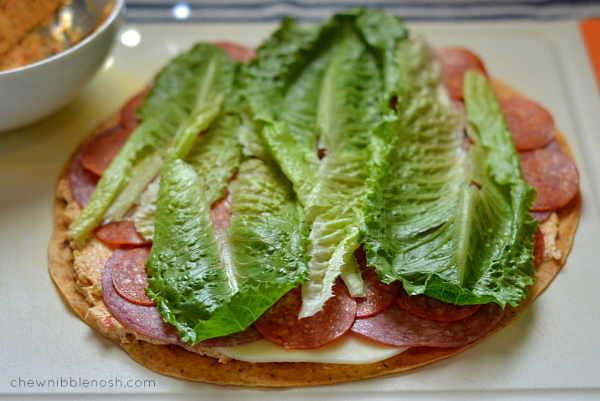 and then rolled up the wrap as tightly as I could, holding in all of the fillings as I rolled. (Make sure as you roll that you're rolling so that there's Provolone in every pinwheel, and not just in the middle section!)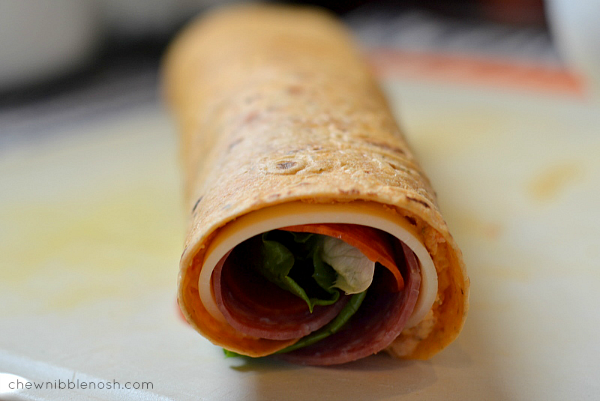 I continued with two other large tortillas and the rest of the fillings, and then wrapped each roll tightly in plastic wrap and popped them into the fridge to set up for a bit.  They need to chill for at least an hour.
Before we left for the concert, I sliced each roll up into perfectly beautiful pinwheels.  I packed them into a container and popped them into our cooler, alongside the cheesecakes, for a beautiful summer night with friends and fireflies, under the stars.
ITALIAN DELI PINWHEELS
Italian Deli Pinwheels
Author:
Prep time:
Total time:
Ingredients
3 large "wrap sized" tortillas, any flavor
3/4 lb. thinly sliced Genoa salami
1 (6 oz.) package pepperoni slices
1/2 lb. Provolone cheese (9 slices)
Romaine lettuce
1 (8 oz.) package cream cheese (I used reduced fat)
1/4 cup Italian bread crumbs
1/4 cup grated Parmesan cheese
2/3 cup roasted sweet red peppers, coarsely chopped
2/3 cup sliced banana peppers
Instructions
Make the cheese spread. In the bowl of a food processor, combine the cream cheese, bread crumbs, Parmesan cheese, and peppers. Combine until smooth and creamy.
For each roll up…
Spread 1/3 of the cheese mixture onto 1 large tortilla.
Place 3 slices of Provolone down the center of the tortilla.
Cover the cheeses with sliced salami.
Cover the salami with pepperoni slices.
Layer in leaves of Romaine to cover the pepperoni.
Carefully roll up the wraps, holding in the fillings, as tightly as you can.
Wrap in plastic wrap and refrigerate for at least an hour.
Slice with a serrated knife into pinwheels and serve.
ENJOY!
Adapted from www.tornadoughalli.com