Directions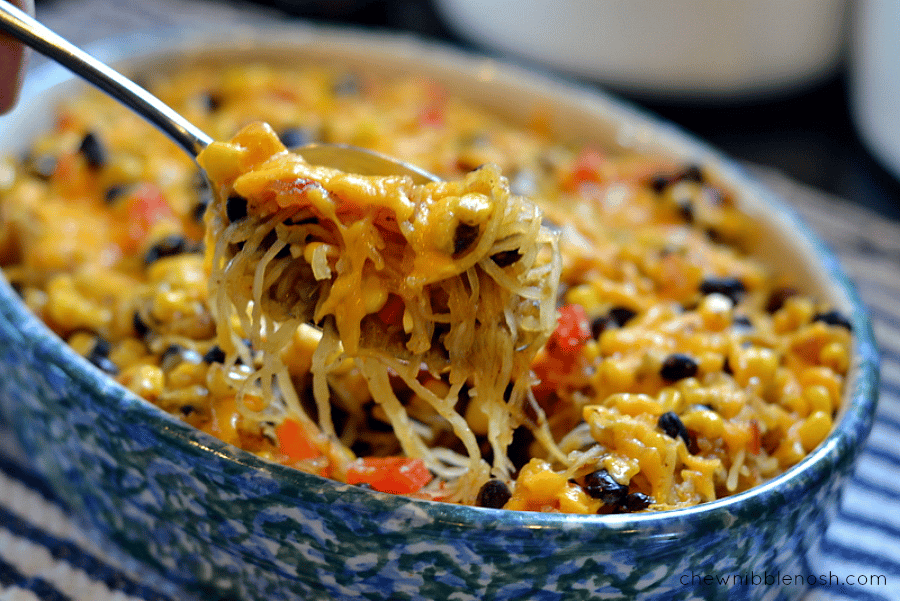 Every time I have spaghetti squash, I say to myself, "Self, we need to have spaghetti squash more often." It's such a great, healthy vehicle for so many things, and this latest creation, a deliciously cheesy southwestern inspired cozy casserole of sorts, was a dinner highlight last week. It was fresh and good for us, and surprisingly filling.  A little went a long way, and after a summer of indulgences, I need a few more meals like this one.
I started by roasting my squash, whole, in the oven for just under an hour.  I pricked it with a fork all over, set it on a cookie sheet, and just popped it right in. While the squash was roasting, I had plenty of time to prep my other ingredients.
I finely chopped some garlic, fresh jalapeno, red bell pepper and red onion.  I also poured out a cup of frozen corn and let that thaw for a bit, and I rinsed and drained a can of black beans.
Once the squash had roasted, I let it sit for about fifteen minutes before I cut into it.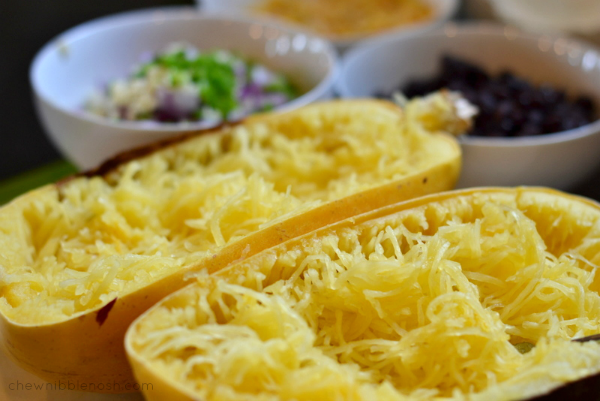 I removed the seeds from each half, and then used a fork to fluff the "spaghetti strands" away from the sides of each half of the squash.  Once completely fluffed, I scooped the squash into a large bowl and set it aside while I got the rest of my dish together.
Into a skillet went the onion, garlic, jalapeno, and red pepper.  I cooked it down for a minute or two, allowing it to soften up a bit, and then added in my spices.
A hefty dose of cumin, oregano, chili powder, salt and pepper were stirred in and I let that cook for a minute more until the spices were fragrant.  Then, I added in my black beans and corn and the juice from a lime, and gave it a good stir.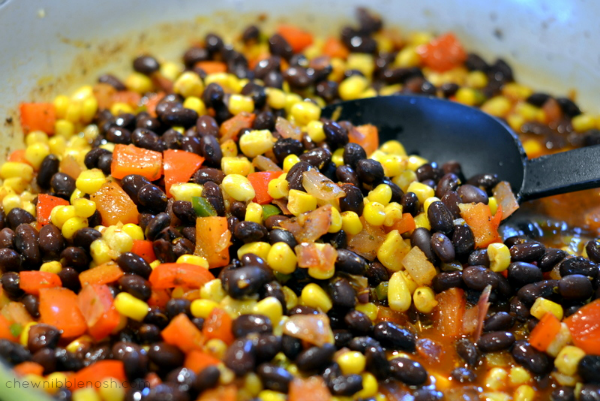 This, honestly, smelled so good that I probably could have heaped a serving into a bowl and gone to town right then and there, but instead, I poured the corn and bean mixture into the bowl with the squash and stirred it all together.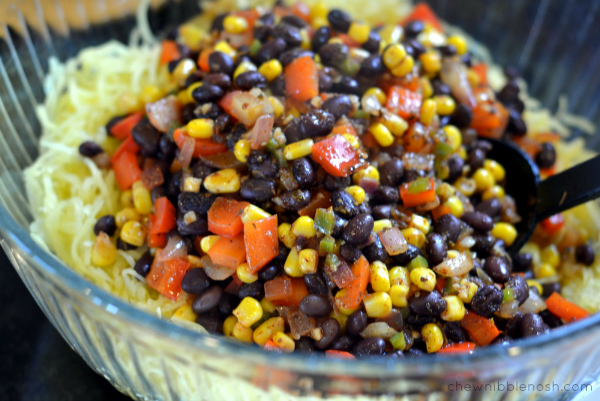 Once it was all mixed together evenly, I poured the mixture into a baking dish that I'd sprayed with nonstick spray.
I evened out the top, and then sprinkled a cup of shredded cheddar cheese over the top before popping it in the oven.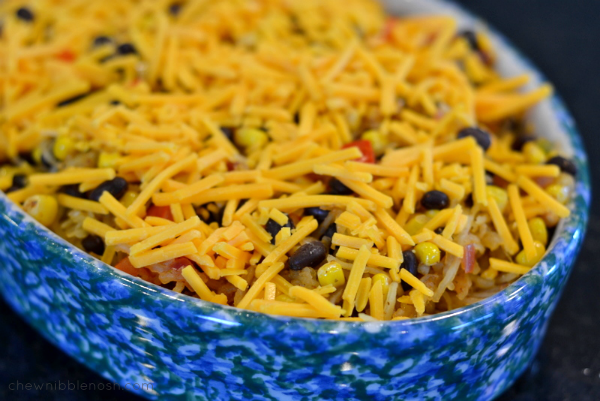 I baked it until the cheese was melted and gooey, and the dish was warmed through, about eight more minutes.
It was simple and hearty, and packed with so much spicy, fresh flavor.  I paired with a simple salad, and that was all we needed.  It was DELICIOUS, and a great alternative to a heavy pasta dish on a warm summer night.  My husband declared it a keeper.  I did too!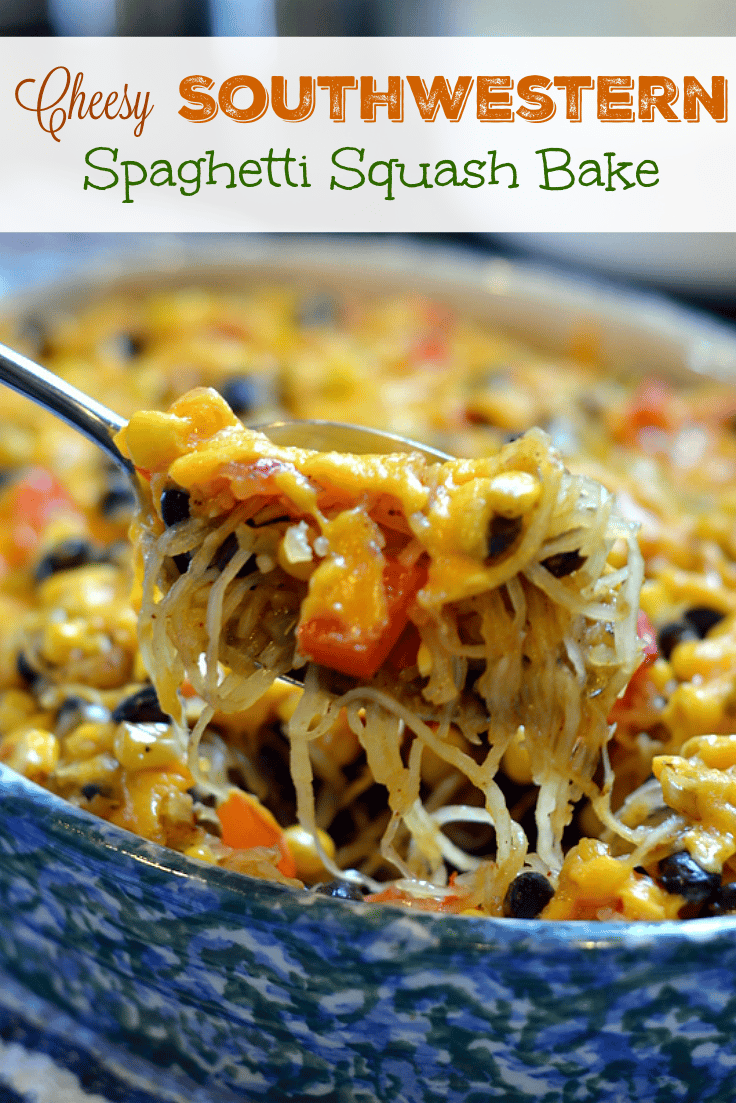 CHEESY SOUTHWESTERN SPAGHETTI SQUASH BAKE
Cheesy Southwestern Spaghetti Squash Bake
Author:
Prep time:
Cook time:
Total time:
Ingredients
1 large spaghetti squash
1 1/2 Tbsp. olive oil
3/4 cup chopped red onion
3 cloves garlic, minced
1 jalapeno pepper, seeded and minced
1 medium red pepper, seeded and chopped
1/2 Tbsp. cumin
1/2 Tbsp. oregano
1/2 Tbsp. chili powder
kosher salt and pepper
1 (15 oz. ) can black beans, rinsed and drained
1 cup frozen corn, thawed
juice from 1 lime
1 cup grated sharp cheddar cheese
sour cream and chopped cilantro, for serving, if desired
Instructions
Preheat your oven to 375*F. Take a fork and prick holes all over the squash. Place the squash on a cookie sheet and roast for 45-50 minutes, flipping midway through. Allow to cool for about 15 minutes before cutting into it.
Slice the squash in half, lengthwise. Remove the seeds, and then use a fork to pull the "spaghetti" strands away from the sides. Scoop the squash spaghetti into a large bowl and set aside.
In a large skillet, heat the olive oil over medium-high heat. Add the red onion, garlic, jalapeno and red peppers. Cook, stirring, for 2-3 minutes until the veggies begin to soften a bit.
Stir in the cumin, oregano, chili powder. Saute' another minute, Season with salt and pepper, to taste.
Stir in the beans, corn, and lime juice. Cook for another minute, stirring, until well combined and warmed through.
Add the bean mixture to the bowl with the squash. Stir until well combined, and season with salt and pepper if needed.
Spray a 2-quart baking dish with nonstick spray. Pour the squash mixture into the dish. Sprinkle with the cup of cheddar cheese.
Bake, at 375* for 5-10 minutes, until the cheese is melted and the dish is warmed through.
Serve with sour cream and chopped cilantro, if desired.