Directions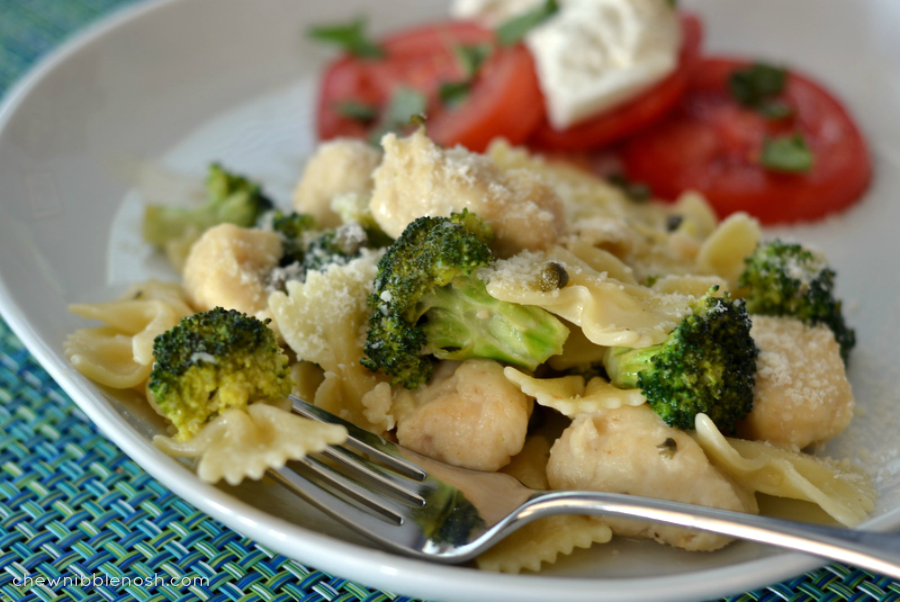 Some of the best recipes don't come from cookbooks, or generation after generation of family, time-tested tweaks.  Sometimes, the recipes on the back of a grocery store package are pretty darn good.  (Toll House cookies, anyone?)  This recipe, for our family, quickly became one of those back-of-the-box favorites after I found it on a box of pasta that I'd grabbed at Publix when we lived in Georgia.  I've tweaked it a bit from the original, but the ease, simplicity and taste of the one I found on the back of the box are still front and center.  It's an easy weeknight meal, and perfect for those first few days back at school when everyone is trying to get back in the swing of a routine.
I started by getting together some fresh broccoli, and a bright, juicy lemon.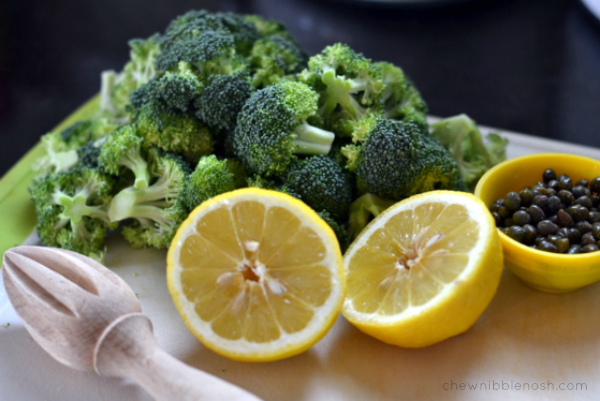 I also measured out a couple of tablespoons of capers so they were ready to go when needed.  Once you start cooking, this is one of those meals that comes together pretty quickly, so it pays to have everything in place.
Next, I sliced some chicken tenders into large chunks, and tossed them in a freezer bag with some flour and seasoned salt.  I shook the bag until all of the pieces of chicken were coated evenly with the seasoned flour mixture.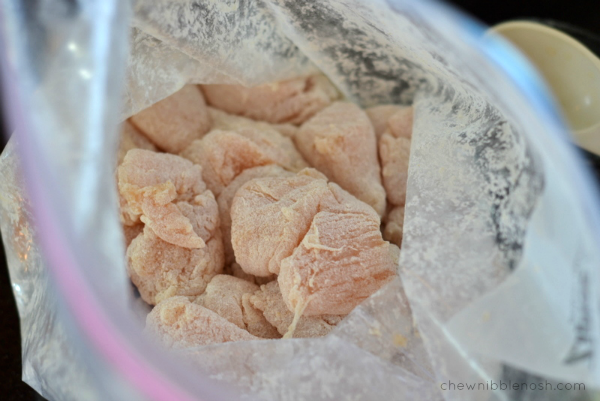 While this was all going on, I'd been boiling my Farfalle pasta in salted water on the stove top.  I drained the pasta and set it aside.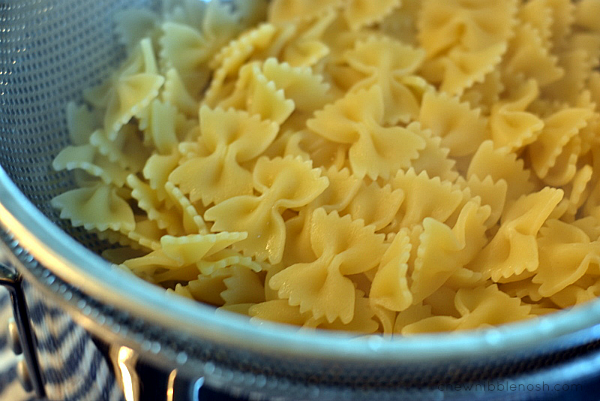 Next, it was time to start cooking.  Into my skillet went a quarter cup of garlic butter.  You know the stuff.  It's over by the regular butter in the store, but already seasoned with garlic and herbs, and great for garlic bread.  (I used Land O'Lakes Garlic & Herb butter).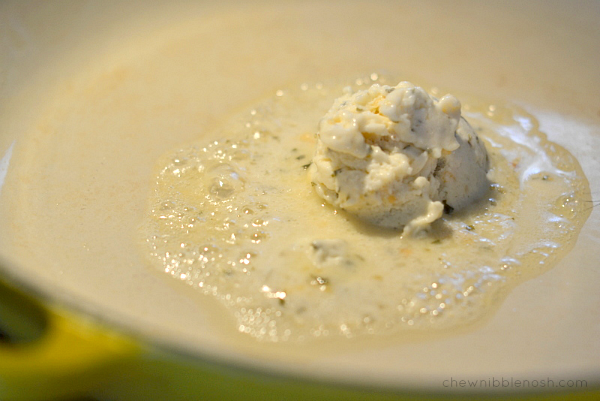 Garlic Butter!  It's not just for bread!
I sautéed my chicken pieces in that flavorful garlic butter for a few minutes, until they'd just started to brown.  Then, I added in my broccoli florets and a little bit of chicken stock, just to help that broccoli along.
I cooked the chicken and broccoli together for a couple of minutes more, and then stirred in the capers and a sprinkle of chicken bouillon.
I deglazed the pan with a little dry white wine, and then finished off the sauce with the lemon juice and just a touch of heavy cream.
I let that simmer together for another few minutes, just to finish cooking the chicken and broccoli, before stirring in my cooked pasta.
And then, I just served it up with a sprinkle of Parmesan and called it a day.
LEMON GARLIC CHICKEN PASTA WITH BROCCOLI
Lemon Garlic Chicken Pasta with Broccoli
Author:
Prep time:
Cook time:
Total time:
Ingredients
8 oz. Farfalle Pasta
1 1/2 lb. chicken tenderloins
1/4 cup flour
1 tsp. seasoned salt
2 cups fresh broccoli florets
1/4 cup garlic butter (I used Land O'Lakes Garlic & Herb)
1/2 cup chicken broth
2 Tbsp. capers
1 tsp. chicken bouillon granules
1/2 cup dry white wine
juice from one lemon
1/4 cup heavy cream
Instructions
Cook pasta according to al dente directions on the package. Drain and set aside.
In a large zip-top bag, combine the flour and seasoned salt.
Slice the chicken tenders into bite sized pieces, and add to the bag with the flour. Close the bag and shake until the chicken is completely coated with the flour mixture.
In a large skillet, melt the garlic butter over medium-high heat. Add the chicken pieces and cook, stirring occasionally, until the chicken is no longer pink and starts to brown.
Add in the broccoli and the chicken broth. Reduce heat to medium. Cook for 2 more minutes, stirring.
Stir in capers and chicken bouillon. Cook 1 minute.
Deglaze the pan with the wine, scraping up the browned bits. Add the lemon juice and cream. Reduce heat to low, and simmer for 3-4 minutes.
Stir in the cooked bowtie pasta and serve.
ENJOY!